A while back in August, I received two pair of Lyssé Leggings to review! However in the 100+ weather, it had been too warm to play in!
This all changed though when I went to New York for Fashion Week!
Lyssé Leggings promised to deliver:
Elimination of "The Roll"
Four-way stretch
Hidden control panel
Tagless comfort
 My Lysse Leggings Review:
And to my surprise, they actually did! With the barrage of leggings that I have accumulated over the fall seasons, I must admit that the Lissé Leggings sure did hold me in! On top of feeling snug and comfortable, the stretch and movement was a thing of happiness as I walked all over Manhattan (or at least from Cab to Curb!) Being 5'8", these leggings were actually QUITE long enough for me and then some! Even better, they were thick enough to be of substance and not see through, but thin enough to not overheat you or too bulky for boots!
I even rocked the cropped ones to a Pilates class and was feeling good in them! No pilling in between the thighs! I did not feel like I was about to start a fire- YES…. I think I have found a new STAPLE for my Fall Wardrobe!
What's the deal behind Lyssé Leggings?
Well. Lissé Leggings was the brainchild of Beth Gold Cohen, an avid shopper and former buyer for Macy's NY! After searching for a pair of leggings that did NOT give her muffin top, Beth quickly resolved to create them herself. And so Lissé Leggings™, named after the French word for smooth, and pronounced Li-SAY, were born.
As a size 16/18, I can comfortably rock the XL or 1X! Available up to a size 3X (that is a SIZE 30!!!) are the Tight Ankle, Bootcut Legging, High Waisted Legging,  and the Basic Capri!
Currently, I am in LOVE with the Stretch Knit Pleather Knee Leggings: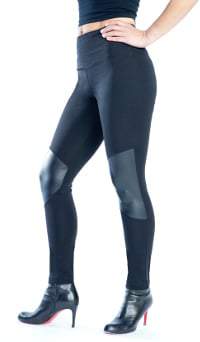 Make sure you check out Lyssé Leggings and follow Lysse Leggings on Facebook!