I have never been a lashes type of girl. I have tried I think twice! And those were professionally applied single lashes that lasted me a week. I have tried the strips a time or two for a shoot, and those puppies came right off.
But what gets me even more, is even thinking of trying to apply them in my 90+ degree heat. In the summer, I want the least fuss, the least makeup, all with the best look. THAT, is a feat in and of itself, but you have to love technology yes?
This is where Le Curler by Lancôme comes in.
Funny thing, I never learned about lash curlers until I think my junior year in high school. I sit on the other side of the lash craze with the most curliest lashes! I honestly thought everyone had curly lashes like me, until I found the most interesting of contraptions: The Lash Curler.
So, in the quest to have the best full lash look without fakes lashes (one less application for the sweltering heat), Le Curler by Lancôme is their latest innovation for instant lift and lasting eyelash curl. I saw this and was intrigued. Who doesn't want or dream of a fuller lash look without the glue of your lash melting away throughout your day (True Story and why I will not don fake lashes anymore!)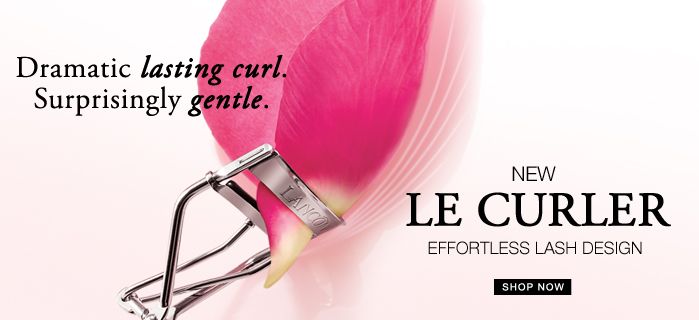 What is Le Curler?
"Le Curler is a curler that has a specially designed hinge and no-slip grip to give you ultimate control and prevent pinching and pulling for the most dramatic lash result. The unique silicone pads guard against lash breakage and cushion every lash for a sweeping, crease-free curl. The precise curved design of the curler fits any eye shape and lash type, and easily captures all of your lashes."
Cannot get any better than that- yes?
Have a tip for eyelash curlers to share? Looking for curler tips? Lancôme was already a step ahead of you on this! They have a handy FB app that allows you to share and read the best practices! HA! Love it!
What is quite handy, at least for me, are the videos that Lancôme fashioned for the three types of lash ladies: the First Time Curler Girl, the Savvy Curler Girl, the Blogging Curler Girl and the Makeup Artist Secret! To give you a better idea of the Le Curler in action, I have the First Time Curler Girl video for you to see!
Want to learn more? You can get the Le Curler and shop additional beauty picks at Lancome! Don't forget to follow them on Facebook and give them a Tweet on twitter!
What do you think? Are you a Fake Lash Lover? Or are you a Lash Curler lover? Or better yet, do you steer away from both and let Mascara do its thing? I want to know!