Earlier this weekend, I shared a funny comic strip that quite a lot of you fell in love with too! I realized that I had to shine more of a light on Busty Girl Comics and the tongue in cheek illustrations that mirrored those of us who are blessed with a little bit up top.
Are you familiar with this series? Way too much goodness and realness here that I had to make it today's plus size art feature! Are you ready?
I mean think about it. We make jokes, share laughs, and empathize about the girls- from button ups, to what we stash in there, to the hilarious helpful life-hacks that showed itself in the comic strip above!
Thanks to Paige "Rampaige" Halsey Warren, this series serves as a lighthearted reminder that we are not alone, someone else relates and feels our pain- and makes it look damned good!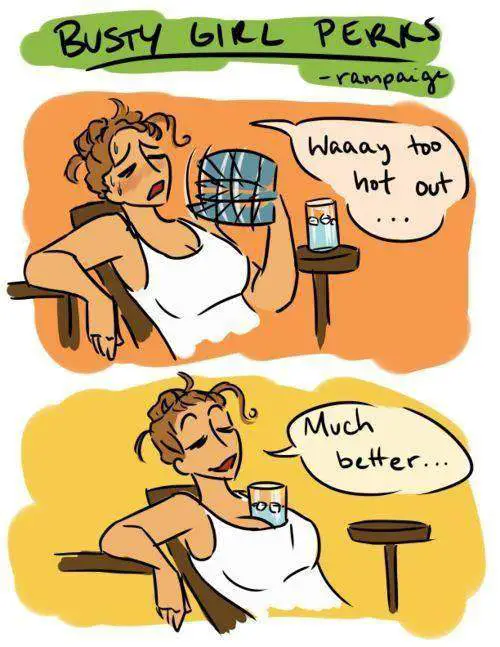 So please continue to scroll and share those that touch you the most! Get ready to laugh and chuckle like I did! I know you will at least high five one of these!!!
Art Spotlight: Busty Girl Comics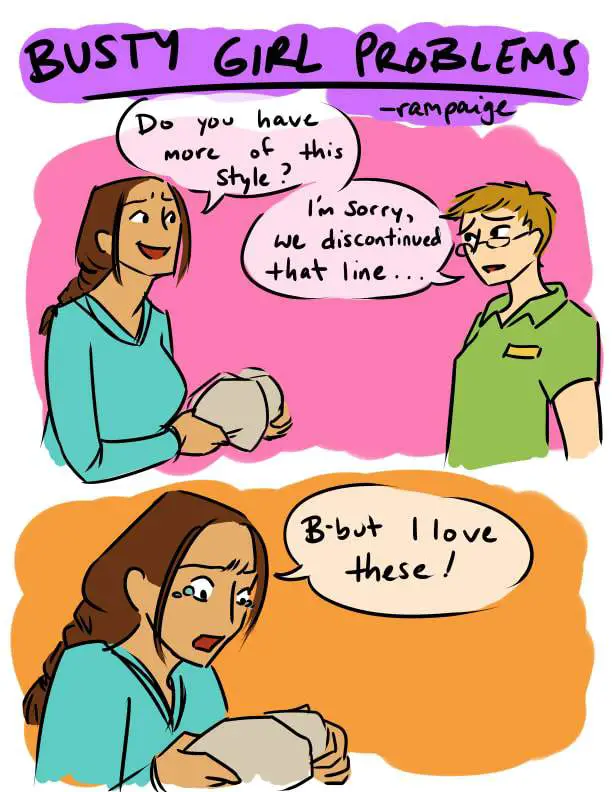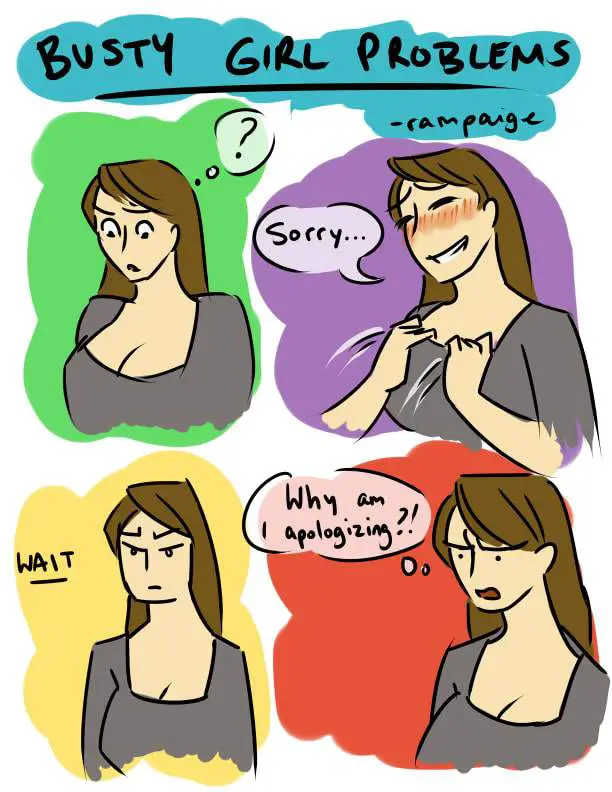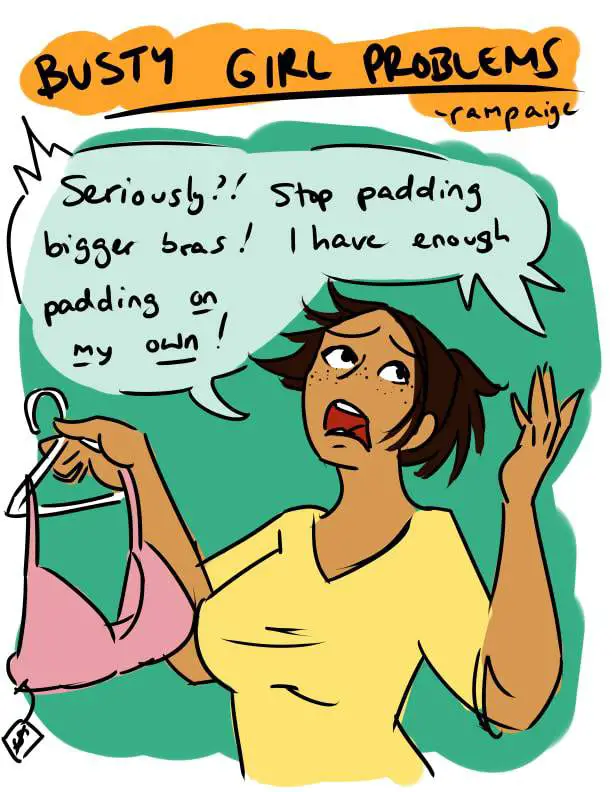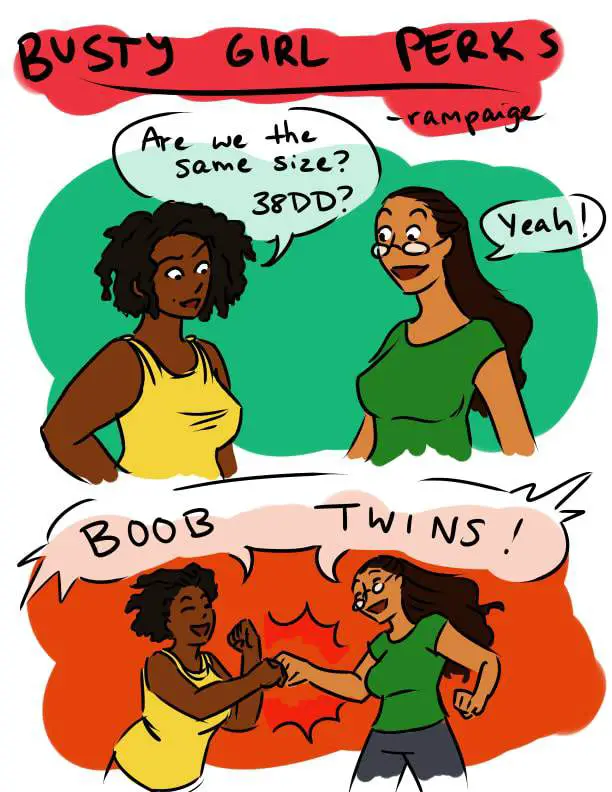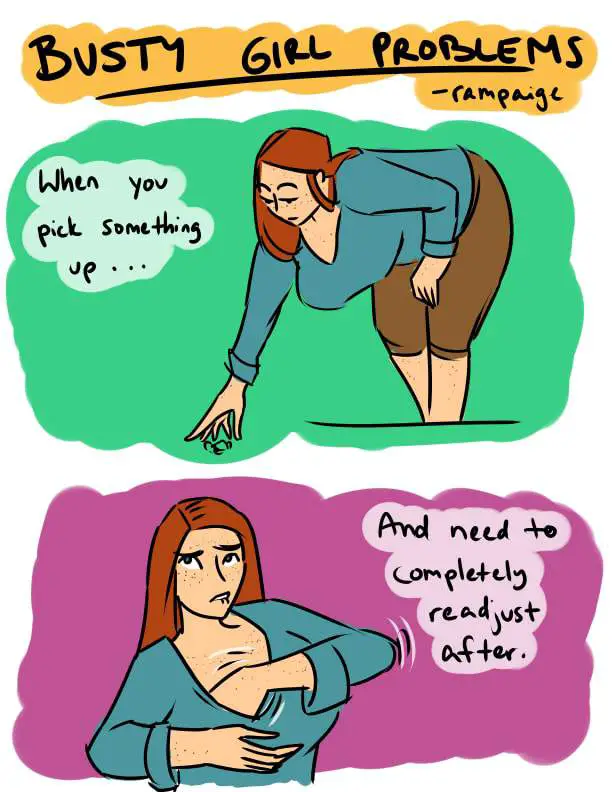 They are good yes? I found myself chuckling through them and there are many many more to read, relate, and reflect on!
About Busty Girl Comics
Busty Girl Comics was a daily webcomic that ran from January 2012 to December 2012. They were made by Paige "Rampaige" Halsey Warren to visually vent the frustrations she and her friends and family always joked about.

Eventually, Busty Girl Comics became a bit of a support network too, with over 90,000 followers and 250,000 daily readers helping each other find the resources to answer their busty-related questions.

After 300 comics and 2 guest weeks, the series came to a close so Paige could work on other projects.

To check out her other comics, go to PaigeOneComics.com or PaigeHalseyWarren.com to see her portfolio.
You can also read though all the amazing comics over at BustyGirlComics.com and you can also shop these comics too! YESSSS!
She has a store here!
And if you wanted to commission some of her work, you can do so here!
Make sure you also like BustyGirlComics on Facebook too!
How about that!
Which one speaks the loudest to you? DO you have a fave? Did you see the one I shared on Facebook? Let's laugh and talk about it below!