So, my mind has been thinking and wondering around the ideal of what it's like being plus size in the media- especially after Jennifer Hudson's insights of "Not Knowing She Was Plus Sized" in September's Self Magazine. [Inserts Eye Roll here]
Anyways, this had me thinking, especially after Boris Kojoe's Twitter comments (bless his heart), about the plus sized celebrities who have embraced their curves, weight loss or not, have been open, positive, and confident in their curves- the Women who thumb their noses to Hollywood's ideal and hold their head up high and EVEN capitalize on their curves AND still manage to live a full life (Go Figure!).
Those women whose moxie, sass, confidence, zaniness, and style have continually bucked the ideals and norms, who have lived life for THEM, who have celebrated the art and work they do and who are non apologetic about their curves, weight, or looks.
I want to interview them.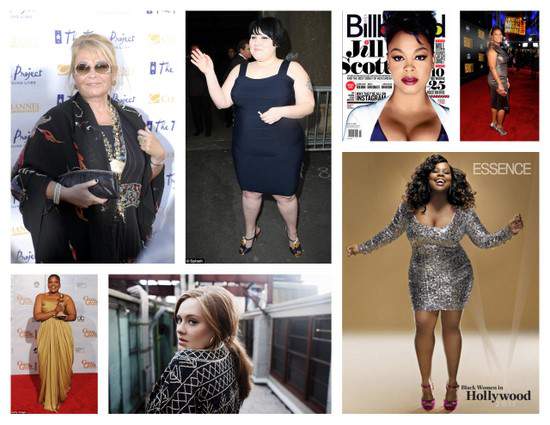 Being that Curvy.Confident.Chic. is the mission of this blog, I'd love to delve into the minds of these plus size women who stay on the red carpet, big screen, or in my Spotify playlist. SO without further ado. I share with you these 8 plus size celebrities whom I'd die for a chance to interview and get into of their minds:
1. Adele
"I like having my hair and face done, but I'm not going to lose weight because someone tells me to. I make music to be a musician not to be on the cover of Playboy."
Asides from the fact that her musicality stirs up something new in my soul, I love her confidence, sass, and shoot-from-the-hip honesty.
Adele's style is also something to note. I do not think I have EVER seen her NOT looking fashionable.
On the covers of Rolling Stone, Out, Elle, Q, Glamour and Billboard- this sultry, sexy, sassy, and amazingly talented singer is one who I'd love to have a drink with and just chat about life and love with. Oh and fashion too.
2. Queen Latifah
I feel like I've set the example for loving your body no matter what size it is, but I also can set the example for being healthy as well. I'm trying to just be an inspiration to people who just want to get healthy. It's not about losing 100 lbs., because that's not who I want to be. But, it is about being really healthy.
(source)
All hail the Queen.
This red carpet plus size rapper, singer, actress, now designer's style is one definitely for the books! While I'd love to play dress up in her closet (I am still dreaming about that white jumpsuit she wore) and I sooo miss the Curvation line (remember that?)
I 'd want to delve into her experiences in the media and the roles she has taken as an actress and how or if her weight played a role in it. Also, knowing she used to work with Susan Moses, I want to know has finding looks for her gotten easier or harder?
3. Beth Ditto
"It's kind of like a drug… it's a performance. It's funny how something so normal and mundane that you see every day – your body – can be controversial. The shock value is intense. It's like carrying an art piece around with you all the time. […] It's really about making an art piece out of what you've been handed..(BlackBook)
Breaking stereotypes, crushing stigmas, and challenging the status quo- this is the fierce and edgy Beth Ditto.
I love her outspoken, in your face, cross the line, speak her mind, and have no shame having moxie that Beth Ditto has. I feel that after one conversation, we'd famously go shopping, and chat over drinks what her next collection would look like!
4. Mo'Nique
"Let's be healthy big people." (Jet Magazine)
Miss Mo'Nique is a comedienne-turned-actress-now-tv-show-host who has always intrigued me.
Following her through her career makes me feel as if I know her, yet I have always wanted to know more. Media and its spotlight can do weird things to you- yet she has been one not to conform- even if it cost her.
I would sip some wine with Mo'Nique, talk about the challenges, struggles, and the no-holds-barred reality of being plus size in Hollywood.
5. Amber Riley
"I love my breasts, my face, my butt," but most importantly, "I love myself."(People)
First- I love her. Her style, playfulness (although I wish she replied to a tweet), Miss Amber Riley has been slaying it on the red carpets! I would love to know her thoughts about media and her reception, and if her weight for her, has ever been an issue.
I love her confidence in bold colors; darling hemlines- she makes me smile!
I'd dig into her mind about fashion and her love for it (from what I've deduced) and then, yes… we'd go shopping!
6. Roseanne
"It's okay to be fat. So you're fat. Just be fat and shut up about it." (Source)
I think growing up watching Roseanne saved my life at times.
This woman at the time was crazy, happy, playful, and had a husband and family and was living the life! She made life work for her and with her newest show out right now- I could only begin to imagine the hilarity that Roseanne and I could have and chat about. I MEAN THE STORIES and knowledge she could kick down?
Yeah… this would be a colorful ride!
7. Jill Scott
I love food. I'm not afraid of it. I can't imagine starving myself and being happy; I'm too visceral. Life is to enjoy, and there's nothing like having dessert after a good meal. I eat what I want to, but I have to make sure that I run, that I walk, that I take Tae Bo, that I'm physically active, or it doesn't work."(source)
SO there you have it! Seven plus size celebrities that I would love to chat with about the media, Hollywood, self confidence, and their own battles and/but ultimately go shopping with! The question is, who has connects? Hehe while this is a wish list, I am on a mission! J
Q. Which plus size celebrity would you want to interview or learn more from and why?