As we ready ourselves for fall, the perfect pair of plus size denim is always one of those things that are at the top of the list of must haves-the scariest and most difficult thing for women to find! This is not lost on straight size women as well!
But as I was reading Glamour's guide, I thought to do a plus size version, with a few of the places to shop, the looks, and a few more suggestions if you are bold and daring!
So what are you looking for in denim? Will this season's trends sit in your closet? I think regardless of season these 7 Plus Size Denim Must Haves will ease your denim woes once you find them that work for you! Also, have you checked out my plus size denim guide? There I break down cuts, washes, shapes and what to expect BEFORE you go shopping!
Here we go!
The 7 Plus Size Denim Must Haves in Your Closet
Skinny light/medium blue jeans
My TRUSTY Torrid Stiletto jeans are a perfect example of denim this style that can be rocked soooo many ways.
I loved them sooo much I bought two black pair. YES, THAT good. Over the knee boots, chunky sweaters, flowy tunics, blazers and everything else in between, the skinny jean is a tried and true and new staple!
White jeans
YES, you can rock white denim, the key here is FIT and the amount of lycra used and woven into the denim.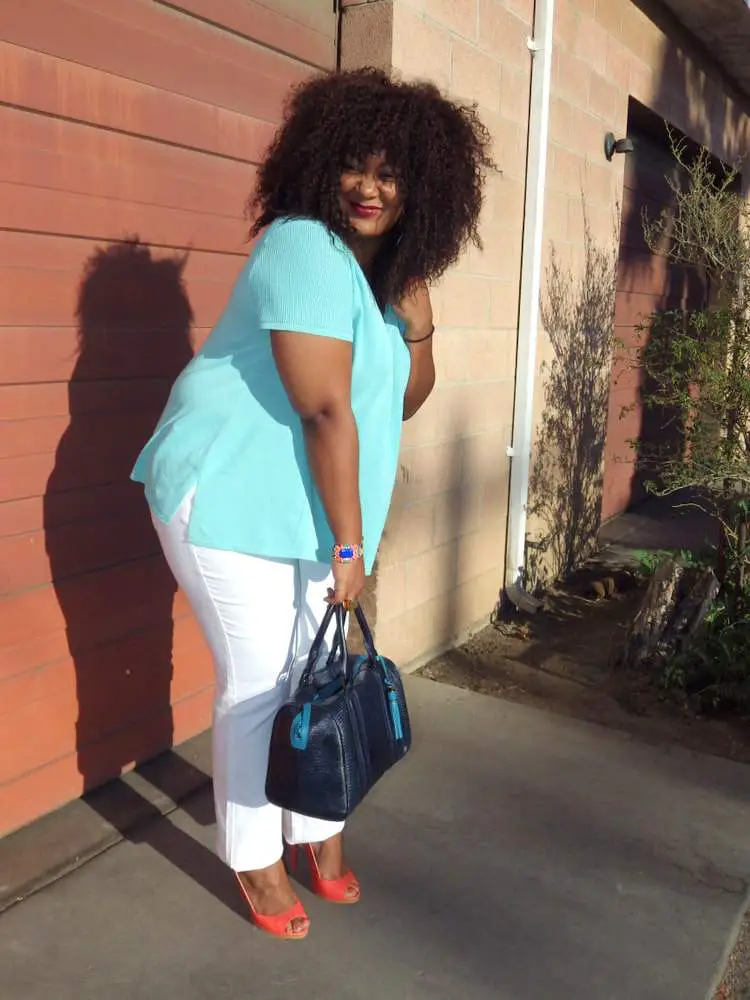 I would err on the side of less stretch here, just enough to glide over the bum, but not too much that you loose shape after five minutes. Think 2-3% at most.
You can shop these at Ashley Stewart, Lane Bryant and Simply Be!
The trouser jean
I love my trouser jeans! I have had these Simply Be ones for years and they always look brand new.
TRUST, I will be rocking them much more often this fall. In a darker hue, they can be dressed up AND down seamlessly With a blouse and a blazer, they offer a great alternative to casual Fridays at work!
A denim pencil skirt
I am kinda mad about getting rid of the one I had.
Here, I am inspired by this look from ConzapatosNeuvos.com
But no worries, I will find another! I do see why they referenced this. A denim pencil skirt is such a classic silhouette, offering a great alternative to a basic black pencil skirt! Like this one from SimplyBe.com!
Black skinny jeans
Second to the skinny jeans, we love a great pair of Torrid Stiletto jeans, these are always a great option to leggings, or trousers!
A great option to denim, especially if you really want to make your outfit THAT much more fancier.
A denim jacket
A great option for those casual days, the denim jacket or blazer is quite cool. Such as this Torrid Denim Jacket…
I remember having both and effortlessly grew out of them both, I am now on a hunt for both and with this season's sporty trend transitioning into the fall, I am here for all of this!
Denim button up
Head to toe denim, yes, I like this. I am here for all of it.
It has taken me a minute to get with it, but I have safely arrived to this conclusion of its chic appeal! Not only head to toe, but paired with a bold midi skirt, I can get with this program! Can you?
+1 For the bold and daring- Overalls!
In the summer it was shortalls and I tiptoed in this trend, feeling quite playful and bold in these Addition Elle ShortAlls on sale for $30!!!
But for the fall, full length overalls are coming in with a vengeance! I have seen them sooo many different ways! Grunge is one way, but I do find myself gravitating to the polished contradiction!
Could you? Would you? Check out these from Addition Elle (coming soon), City Chic, and Ashley Stewart!
+2 Another emerging MUST HAVE? Boyfriend Jeans!
Currently, I think I have four pair of these style of jeans. They are sooooo comfortable.
You can rock these extremely dressed up OR down and funky! It is all about your mood and style! I have two I love from City Chic!
We must add that when you do have your essentials, there isn't a need to have 25 pair of random denim in your closet and picking out the perfect look with your denim is THAT much easier! I promise. 😉
If you feel that this has helped you, make sure you pin this and share!
Make sure you check out my Plus Size Denim Fit and Style Guide to help you along your way!
What do you think about these denim must haves? Do you have all of these? What are you searching for to round this out?