In my quest to rock more heels AS well AS play in the Cali "Winter" in my boots, it is not cool enough for tights and thick socks, yet I need something to keep my feetsies comfy! Today, for example, its 80 degrees as a high and 40 as a low… bananas right? SO dressing strategically is a must.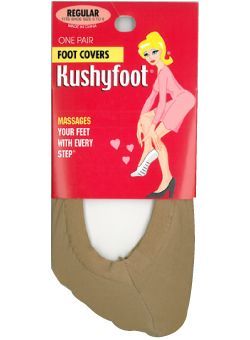 One of the things that I have found was something sent to me. Kushy Foot. I happen to see these at Duane Reade in New York! So, as an option to wearing the thick socks or daring NOT to go barefoot, I slid on these Kushy Foot "Foot Covers" that "massages your feet with every step!"
Interestingly enough, these bad boys were quite comfortable! I do have only one concern though… for my size 10 feet, depending on the fabric choice, it is almost too small. In the lace ones they kept falling off my heels L, but the regular solid ones were quite the comfy delight!
HOWEVER, I realized that I had on the wrong size! In plus, they have the fun low cut, lace front, and regular Kushy Foot Socks in sizes 9-12, and these are the ones I need to get my feet in!
And at no more than $20.00 (for the ones I mentioned in plus!), you cannot go wrong! I suggest you also check out their full range of products: from Toe Covers, Trousers and Knee Socks, and Flats to go!