I am a nail polish hound! While I am not too keen on wearing nail polish on the fingernails (I opt for the toes to razzle dazzle) and go for a clear or nude hand, on the toes is where I play up the colors!
I had the pleasure of getting to know the eco friendly (well, BEYOND ECO- they are  vegan-friendly and toxin-free!) and ever so popular brand, Ginger + Liz! I said popular right! Well, on the heels of coverage in WWD, Essence, The Zoe Report, Marie Claire, MTV Style, InStyle, amongst a barrage of others, this brand caught my attention on Twitter and I was intrigued!
So these lovely ladies shot me over their holiday limited edition collection and I was too geeked! These are the colors I received: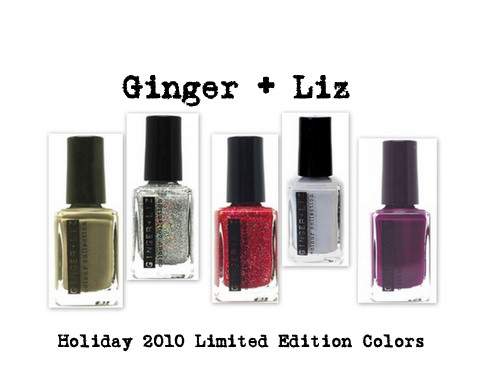 From left to right: Take it or Leave it, Take a Chill Pill, Big Daddy Kane, Can you Keep a Secret, and Who's the Boss!
I received them in perfect time too, because I rocked Take it or Leave it with Take a chill pill on top on my toes for the Two Point Oh LA Ball that Happened on the 11th of December- and guess what? THEY STILL LOOK BRAND NEW! Not a chip in sight!!!!
Seriously!
Impressed.
Every polish is priced quite well at $12- quite worth it as it is Toxin Free, LONG Lasting, Intensely Hued, Innovative, and FLY!
While I got the holiday collection, there are so many more colors that are catching my eye- like these:
Blowin' My Money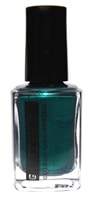 Got my Grove Back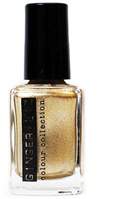 Hold the Drama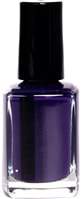 Chase Me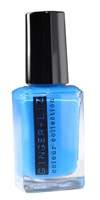 Have you had the pleasure of checking out Ginger + Liz? Make sure you head on over to their site and Tweet Ginger + Liz on Twitter!
Marie Denee
I am the Editor in Chic of The Curvy Fashionista. Often goofy. Forever emo. Always a Virgo. You can find me somewhere grooving to 90s R&B.