What happens when you mix new designer collections, spa treatments, literal trunk shows and cars?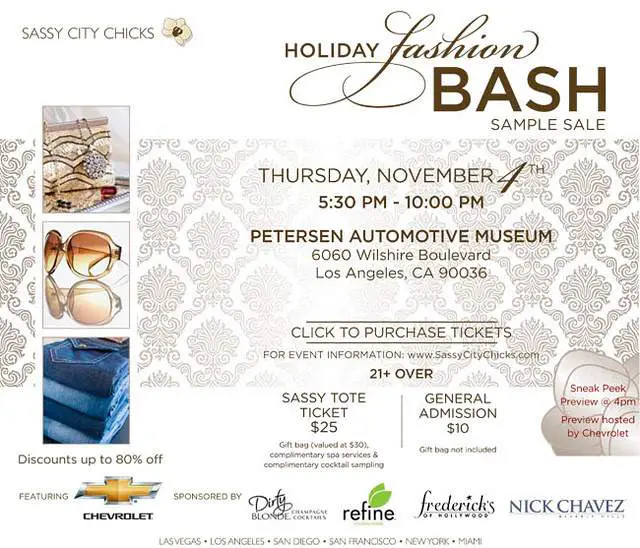 You get the second annual
Labels & Liquor event hosted by Sassy City Chicks!
Join me on Thursday, November 4th at the Petersen Automotive Museum, at 5:30 pm to celebrate the Holiday Fashion Bash!
Prepare to be pampered, as Sassy City Chicks provides:
With a DJ providing Gaga-worthy jams, guests can take a dance break between booths and sample a complimentary cocktail as well. The signature Sassy Spa Lounge will also return as one of the most sought-after spaces on the show floor, featuring courtesy mini treatments from a selection of LA's hottest salons.

Chevrolet will also spice up the show floor by featuring two of its hottest new cars in a designer trunk show. Two of the Sassy City Chicks favorite designers will be invited to showcase their designs in the trunks of the cars, a surefire way to draw a crowd of shoppers.
On top of the lovely spa treatments, the oodles of fashion, and mingling with friends, have fun with your exclusive Sassy City Chicks Holiday Gift Guide! For you devout fashionistas who purchase a Sassy Tote Ticket, you will also be gifted with a horde of health & beauty products- SCORE!
So in addition to all these goodies, The Curvy Fashionista has an exclusive promotion for you!!!
The first 50 shoppers to enter 'CURVYLA' at checkout will receive a FREE Sassy Tote Ticket! (value $25).
Don't want to risk not winning? Then enter LA12 at checkout for 50% off a Sassy Tote Ticket or GEN AD for free general admission (gift bag not included).
Purchase your for the Sassy City Chicks Labels and Liquor Holiday Bash NOW!