With NYFW wrapped, and as I am still recapping all the jewels of fashion, back home in LA, Two Point Oh LA and Los Angeles fastidiously prep for the west coast's debut of Fall 2011 for Los Angeles Fashion Week.
To bring in the fabulous fall fashion, Two Point Oh! LA hosts the Pre-Fashion Week party with over 100 beauty and fashion bloggers, fans of fashion, and industry pros from in and around southern California with the 3rd Pre-Fashion Week Party!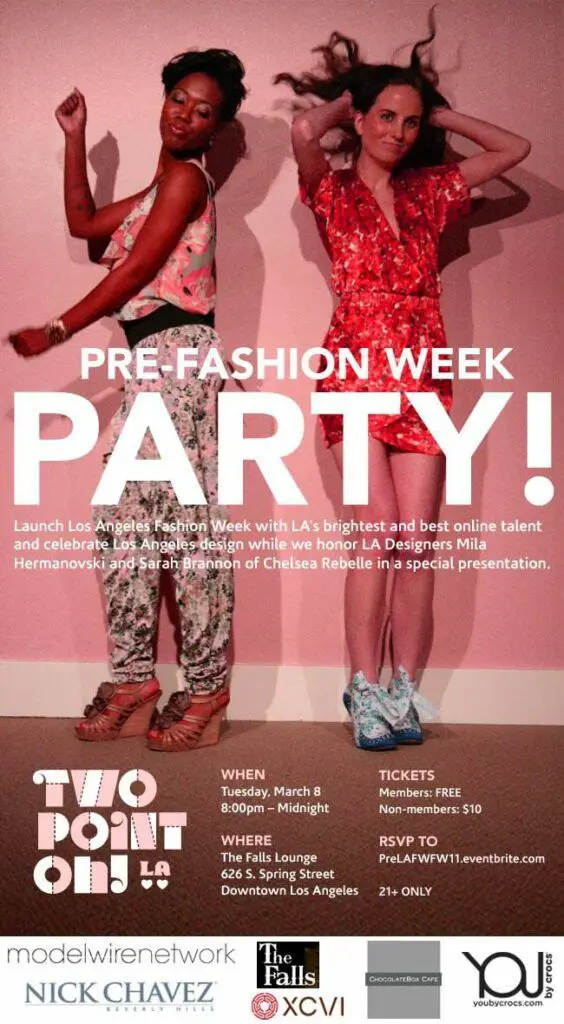 The scene is set at The Falls Lounge in Downtown Los Angeles. In addition to the season's fashion week, the Two Point Oh! LA Pre-Fashion Week party will feature its own fashion presentations and awards. The group will honor the work of Mila Hermanovski, renowned costume designer and Project Runway runner up, who unveiled her Spring/Summer collection last season and Sarah Brannon of Chelsea Rebelle, a Los Angeles mainstay and celebrity (and blogger!) favorite on the LA fashion circuit.
This year's event will also feature presentations from our sponsors You by Crocs and Modelwire, goodies from The Chocolate Box Café and the ever ubiquitous fashion week gift bag sponsored by XCVI.
So the question is, will I see you there?