I love the time we are in right now for plus size fashion. Designers are experimenting, retailers are making concessions, and the consumers are demanding more options. What does this mean? We are at a place where there is healthy competition in plus size fashion and style at various prices!
Why am I sharing?
Well, we have been invited to NY to participate in the JMS Style Symposium!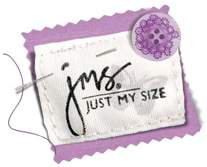 GEEKED!
Why? Why JMS?
Well, any way that I have the chance to share with brands, retailers, designers, and others what WE want, NEED, DESIRE in fashion, it is ALL GOOD! I love to mix my high fashion with low prices any day! But for sake of community, any way we can make progress, it is bound to have a trickle down and up effect!
Just My Size recognizes that "plus size fashion and its influencers are leaders in the mainstream voice, speaking openly and proudly about the challenges, concerns, and successes of the plus size woman and women in general"- how's that for all the progress made!
Well, joining me in this JMS Style Symposium are plus size fashion bloggers from across the globe:
Fab Finds Under 50
Madison Plus
Plus Size Mommy
ME! The Curvy Fashionista
Plus Model Magazine
Full Figure Plus
Daily Venus Divas
Fat Chic
About.com (Plus Size Fashion)
SKORCH
The Budget Fashionista
We all share different points of views, but all with love for plus size fashion and the community! We will have a roundtable discussion with JMS executives, the topics for discussion include:
The Impact of plus size fashion in the fashion world
Plus size women designing clothes for the plus size woman
Fashion forward and fashion affordable
The role of social media in plus size fashion
In addition to this roundtable, we will have the opportunity to watch the JMS Fashion Show! Do you remember the one from last spring?
With all I shared, I need a favor!
I need for you to tell me your biggest frustrations for shopping for plus size fashion! I would love to bring YOUR feedback to the JMS Style Symposium. What is your wish list? What are you looking for in fashion that has not been made available to you?
Please share changes within fashion that you would LOVE to see made for you and all your fabulous and fashionable curves!
You can learn more about the brand at JustMySize.com!
SOUND OFF!
***Disclosure: In compliance with FTC guidelines, JMS is paying for my trip to New York, my lodging and my flight. I will use this opportunity to bring as much information from YOU to those at JMS!***