Join LA FATshion Bloggers and The Curvy Collective
Are you flocking to Los Angeles for Full Figured Fashion Week(end)? Are you going to be in town tonight Wednesday, October 27th, before the festivities kick off?
YES?
Then join us for an informal meet and greet as we put Twitter avatars and Facebook profile pics to the real fashionistas and fashionistos behind them!
Here are the details: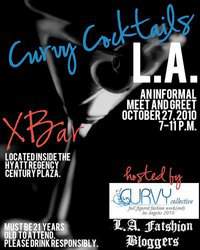 What: Curvy Cocktails LA
Where: X BAR 2025 Avenue of the Stars Los Angeles, CA 90067
When: October 27th, 2011
Time: 7- 11pm
Please visit Facebook for more information about Curvy Cocktails LA.
***Don't forget***
Tomorrow is the Opening Night of Full Figured Fashion Week(end) LA!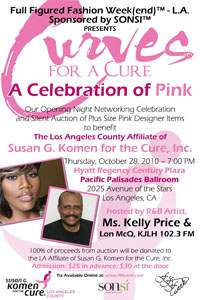 Hosted by R&B Diva, Kelly Price and KJLH's Lon McQ, Curves for a Cure: a Celebration in Pink is our silent charity auction, raising funds for October's Breast Cancer Awareness!
Designers such as Jibri, Monif C., Fennimas, Igigi, and more have donated items for you to bid on! Portion of the proceeds will benefit the Susan G. Komen for the Cure- Los Angeles chapter! So you can BID for a CAUSE!
More information on Full Figured Fashion Week(end) here!
Will I see you tonight and the rest of this weekend????