Sometimes, I am jealous of New York, especially in times like this. Back for its 7th annual event, The Fat Girl Flea Market is back- bigger and badder than ever!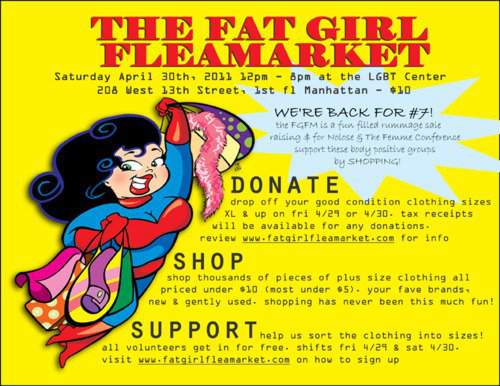 This shopping event and fundraiser is a fabulous time to clean out your closet, perfect for the change of seasons, and replace your clothes with newness at an uber fraction of the cost! Proceeds from the Fat Girl Flea Market go to n o l o s e and The Femme Conference.  You have the chance to support these body positive groups by fashioning your curves- through (wait for it…) SHOPPING!
On April 30th, from 12-8pm, shop till your heart is content with clothing from a size 14 up to a 5x! With nothing over $10, and many only $1, you are sure to find a score or two or ten!!
Here is a sample of the price list for Fat Girl Flea Market:
Accessories $1
Dresses $10
Lingerie (still to be determined but $5-$10)
Outerwear $10
Pants/Legging/Non Skirt Bottoms $3
Shirts/Sweaters $3
Shoes $2
Skirts $5
Swimwear (one piece & sets) $10, separate pieces $5, coverups $5
Tees/Tank Tops 2 for $1
Do you want to DONATE?
Donations can be dropped off at the LGBT Community Center :
208 West 13th Street in NY
Friday April 29th between
Saturday April 30th (the day of the event)
Please limit your donation to 1-2 bags of clean clothing in sizes 14+.
For those outside of NY and who still want to donate: Email info(at)fatgirlfleamarket for more info.
For more information about Fat Girl Flea Market, please check out the Fat Girl Flea Market Tumblr and the Facebook Event Page!
So, my NY Curvy Fashionistas, are you going?