I squealed when I saw this range. When I saw the newness of the LALA Belle Spring collection, I wanted it. Arriving in my mailbox, I caught glimpses of sexiness. Sex appeal. Sultry contemporary plus size pieces that I haven't seen done for our sizes in a minute. Or ever? I dunno.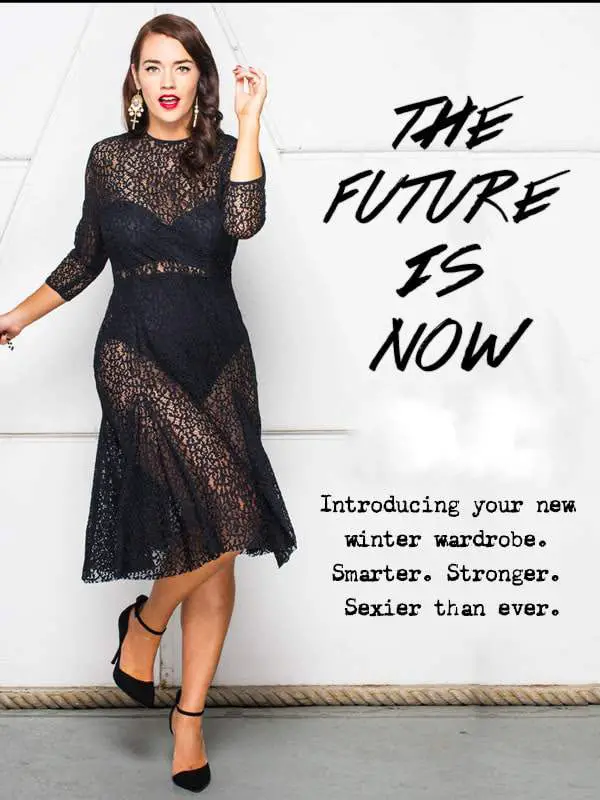 All I know is that this new range? It is SEGZY. NOT FOR THE SHY. But for that Curvy Fashionista who is bold, daring, confident, and who lives life on the edge here… while these pieces can be tempered to suit various styles and aesthetics, the imagery had me at hello.
Think I am exaggerating? Take a peek:
The LALA Belle Spring Collection
Are you familiar with LALA Belle?
"LALA BELLE is a plus-size fashion label founded in Sydney, Australia, in 2010 by 24-year-old Charina Warne.

Like Google's mantra is to not be evil, LALA BELLE'S ethos is to not make plus-size clothes that suck. Inspired by Charina's love of Givenchy and Alexander Wang and her quest to find designer fashion labels that work for her size 22 frame, LALA BELLE garments boast tailoring that flatters and materials that support. The idea is not to replicate what's on the market for straight sizes, but to give plus shoppers something BETTER."
You see what I mean here? Dark, brooding, sultry, seductive, and bold. This LALA Belle Collection has me thinking things. Great things. Bad things.
I must share that LALA Belle is NO STRANGER to The Curvy Fashionista. We have featured their luxe pieces for quite some time, actually, since their launch!!!! I love them from a afar!
Now, I wouldn't be able to rock out in my bra and chonies, but best believe, I would do a black fitted slip underneath!!! Ohhhh, and if I had a shaper that was in MY COLOR? Ohhhh hell yes. Hahahahahah.
Basically I have ideas.
You can shop the LALA Belle Collection NOW! With AU Sizes 14-26 (US Sizes 10-22) you can rock out in a few of these pieces now! They DO SHIP INTERNATIONALLY and to P.O. BOXES! I must also note, LALA Belle is a CONTEMPORARY Plus size line, so with the intricate detailing, be prepared to drop a few pennies on this luxe label! Seriously!
Shop LALA Belle Here!
This is sooooooo good. Don't you think?
Which pieces are you enamored with? I cannot wait to test one of these puppies out! I cannot wait!