Have you heard of the Miss & Teen Plus USA Pageant?
Well, no worries, this is what I am here for! I am really excited to share with you that I have been tapped the official blogger and Social Media Ambassador for this amazing competition!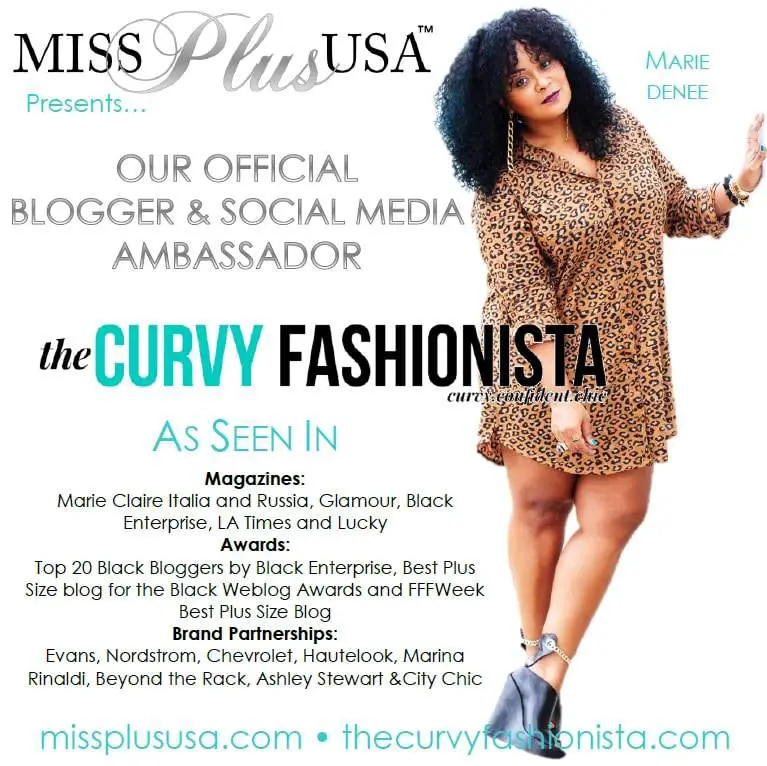 Yes, think of me as your inside track inside what is going on for all things Miss Plus USA! Because I love programs that help build confidence, when they approached me, I had to be involved! Confidence and fashion? I am here for it! So, what does this mean? This means that over the next few months, on my blog and via my social media channels, I will be your go to girl for the deets and news!
SO first things first… What is this pageant?
The Miss and Teen Plus USA Pageant:
"We are national multiphase competition for Women ages 20-30 and Teens ages 14-19 who wear a double-digit size. Our Mission is to provide a platform and opportunity for the average size woman through tasteful competition, requiring a healthy lifestyle, class, eloquence and volunteerism. Our goal is that each participant gains confidence, and the ability to properly represent themselves and the cause they are most passionate about, equipping them with skills and an experience that will last a lifetime!"
Sounds really cool right? Well, if this I something that you are interested in (or know someone who would be), keep reading!
To enter, please check out this video from CEO and founder, Latasha…
The Deadline to enter is APRIL 30th, 2014!
What Do You Win?
Upon being crowned, Miss and Teen Plus USA will receive appearance wear evening gowns from Sydney's Closet, while keeping their curves smooth with HookedUp Shapewear. They will also have a secured opportunity to walk in Elite Curves International's Haute Curves L.A. Fashion Week Show and will receive a conditional contract with prestigious plus size agency, IPM Model Management.
And who knows what else that will be added!
You can learn more about the pageant, check out the FAQ, and follow along with all Miss Plus USA news here:
Pinterest: pinterest.com/OfficialPlusUSA
How cool is this right? I am really excited to be a part of this and to share in the excitement! What do you think? Make sure you share this with your girlfriends!