Okay. So, as I approach 30, sooo wired saying that, but as I approach 30, I realize that there are certain things that I must do to ensure my health, and luckily enough- after reading the recent Essence Age Issue and their suggestion for women in their 30's, I was just on the right track!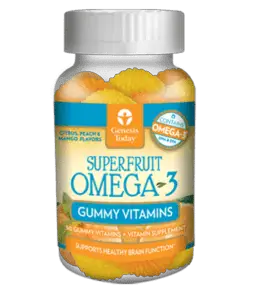 Because I am a nerd and wanted to share with you some more of me and my little tips and tricks along the road of fashion, I thought you should know more about what makes me smile- both Literally and Seriously!
Often I am asked how I am able to do all that I do, and still be able to smile, tweet, and write all at the same time while maintaining a positive demeanor… I take vitamins- actually Genesis Today's Superfruit Omega-3 Chewy Vitamins (JUST like the Flinstone chewables when we were like 6! I think the fact that these puppies were chewy sold me before anything else). Other multi-vitamins I have tried have left quite unfortunate experiences with me (throwing up, nauseous, and other things..) and this balance gives me JUST what I want and need!
BUT…
Why vitamins and how is this pertinent to fashion?
Well… with the proper nourishment, your vitamins are like the inner foundation for your outer beauty; for your heart for circulation, skin, hair, complexion, and pep in your step! I have tried so many too! And with me quickly approaching 30- taking Omega 3 supplements have literally given me extra life!
According to Omega-3.us (yes there is a website, and YES I checked out its benefits before playing with these vitamins, Omega-3 helps in these 7 areas!
Freedom from pain and inflammation.
Better brain function and higher intelligence.
Feeling better with much less depression.
Lower incidence of childhood disorders.
Superior cardiovascular health.
Protection from heart attack and stroke.
Reduction of breast, colon and prostate cancer.
I know this post is a bit random from my day to day posts, but I wanted to share some the things that make it possible for me to play with you possible! But I want to know….
DO you take vitamins? What have you realized works for you as you get older, wiser, and finer with age?
Approaching the dirty 30's I want to be as aware as possible of the things I can do to keep all my wheels turning smoothly!