The media has been a stir the last couple of days surrounding London Fashion Week and designer Mark Fast's use of sizes 12 and 14 (US 10-12) models. The reason behind the stir? The fact that one- he used "plus size" women to strut the runway and two- his stylist walked out on him because of this.
In the Daily Mail, Mark Fast shares that "The decision to use fuller girls is something we have been talking about. There's an idea that only thin and slender women are able to wear Mark's dresses and he wanted to combat that. We wanted women to know they didn't have to be a size zero to wear a Mark Fast dress – curvier women can look even better in them."
The models used in the show were Hayley Morley, 21, a size 12, Laura Catterall, 20, a size 14 and Gwyneth Harrison, 25, a size 12-14.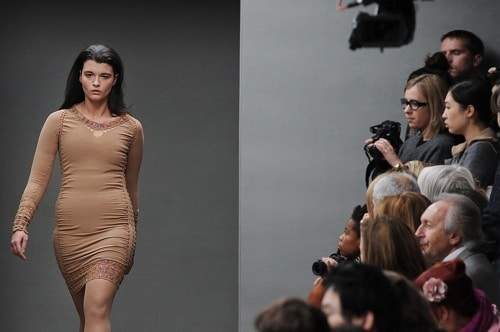 Throughout this media frenzy, the real project behind using size 12 and 14 models is being lost in the array. Mark Fast, along with designers William Tempest, Hannah Marshall, PPQ, Sykes and David Koma are all participants in Caryn Franklin's new fashion initiative,"All Walks Beyond the Catwalk."
Caryn Franklin, noted for championing diversity with magazine i-D, created this exhibition to break the mold of what is seen on the runway, stating, "Working with designers early in their career to introduce this shift is crucial."
These designers agreed to have their latest collections photographed on diverse models. The result was the foundation of this initiative to be revealed at Somerset House on Friday, September 18th.
About All Walks Beyond the Catwalk
This fashion initiative, All Walks Beyond the Catwalk, endeavors to change the perception of industry standards for young designers and the somewhat elitist vision of beauty within the fashion industry. The exhibition, complied of the young designers photographed collections, features models aged 18 to 65, in UK sizes 8 to 16.
Score one for the attempt to diversify the catwalk! What are your thoughts?
Keep it Curvy.Confident.Chic.
Marie Denee
I am the Editor in Chic of The Curvy Fashionista. Often goofy. Forever emo. Always a Virgo. You can find me somewhere grooving to 90s R&B.