I love a good awards season. Yes, I do. Last night was no exception! For the 2012 SAG Awards, we watched and searched for what plus size celebrities were wearing. There were some amazing hits and some terrifying lows, but for the Curvy Fashionistas nominated, it was a mixed bag!
So, what I have done is created a little poll under each look and I need for you to share with me if you loved it or hated it! Now the Oscars are when we expect the full drama with fashion, even Donna Karan sat out dressing the stars to wait for the Oscars AND with Haute Couture wrapping up its fashion week, you can be sure that we will see quite a few looks from the runway on the red carpet… But, that is another post!
So here is what our three 2012 SAG Awards Nominees rocked:
Amber Riley
Amber riley is one to take risks on the red carpet, and last night was no exception. Rather than going for a traditional gown, Ms. Amber Riley rocked out in a cocktail lace Badgley Mischka dress with her girls wrapped up in a bow. She paired her dress with shoes from JustFab.com! But I was a bit confused at the look… I wanted DRAMA from her- hopefully we can get it for the Oscars?
[poll id="2″]
Melissa McCarthy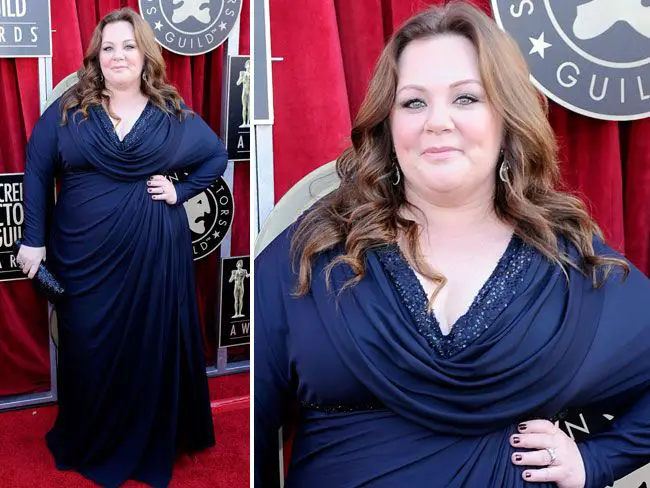 Hair down, loose waves, kicking makeup, and a plunging neckline… While I love the dress on her and she got a little more glam, I really wanted a COLOR on her. Her Badgley Mischka Dress did give us more to look at! I must add… But she is almost there … almost!
[poll id="3″]
Octavia Spencer
Octavia Loves her some Tadashi Shoji and he loves the curvy girls! For Octavia, I really dug the look for her! This gray was definitely a different shade we have seen and I loved this for her! I can only imagine what she will be rocking for the Oscars! COLOR!!!!
[poll id="4″]
One thing is for sure, the ladies took risks, stepped up the glam factor, only to leave us wanting more and excitingly awaiting what they will fashion for the Oscars! I will have a post in a few days with my picks for them for the red carpet!
Place your Votes above and then tell me who, from these Curvy Fashionistas, was the best dressed?
[poll id="5″]