Why not reward yourself with a weekend full of style! Thanks to our Plus Size Celebrity inspirations, TCF has some great plus size looks just in time for the weekend! Whether it's brunch with the besties, a casual first date, or a night on the town, we got you covered! Ready to get started? Let's get into it!
Shop These Celeb-Inspired plus size Looks!
As The Curvy Fashionista editors, we write about stuff we love, and we think you'll like too. We often have affiliate partnerships, so we may get a share of the revenue from your purchase.
Paloma Elsesser, Plus Size Model
The natural beauty of Paloma Elsesser has been adored by many, however, it's her courageous heart and strong stance for the plus size community that has made her a star. From the runway to the cover of prestigious fashion publications, Paloma is undeniably a picture of inspiration for her hard work and success. Inspired by this look featured in OfficeMagazine.net, our celebrity inspiration is wearing a pair of beloved boyfriend jeans, with a soft white tee and a pair of chandelier earrings. This is a great look for a casual first date, paired with a great clutch and strappy kitten heels.
Shop Similar Plus Size Looks:
Jari Jones, Plus Size Celebrity
Jari Jones is definitely a plus size celebrity and a force to reckon with. Known for her accolades as a cast member, script consultant, acting coach, and producer of Port Authority, Jari Jones has certainly made her mark in the world. This actress, filmmaker, model, and LGBTQ rights activist has great style and exemplifies what "motivation" looks like. Jones is working one of the season's must-haves in this fabulous pic – giving "the fever" in a gold, pleated dress, gold accessories, and a dark cherry lip. The pleated dress is a great look for a night on the town or a dinner date, paired with a chic jacket.
Shop Similar Plus Size Looks:
Alessandra Garcia-Lorido, Plus Size Model
Alessandra Garcia-Lorido, daughter of 'The Godfather' fame Andy Garcia, is a plus-size model that has taken the fashion world and social media by storm. On or off the runway, Alessandra has an amazing look, poise, and confidence that is hard to miss. She represents a culture of "knowing who you are and loving it", with her relatable content about everything from her skincare regimen to being in the kitchen. In a matching skirt and sweater set, Alessandra looks very well put together, but youthful and fun.
The matching set for Spring is an easy "get up and go" option that should be at the front of your closet. Dress it up or down with a classic pump or funky ankle boots—an excellent look for cocktails or an early dinner on Sunday.
Shop Similar Plus Size Looks: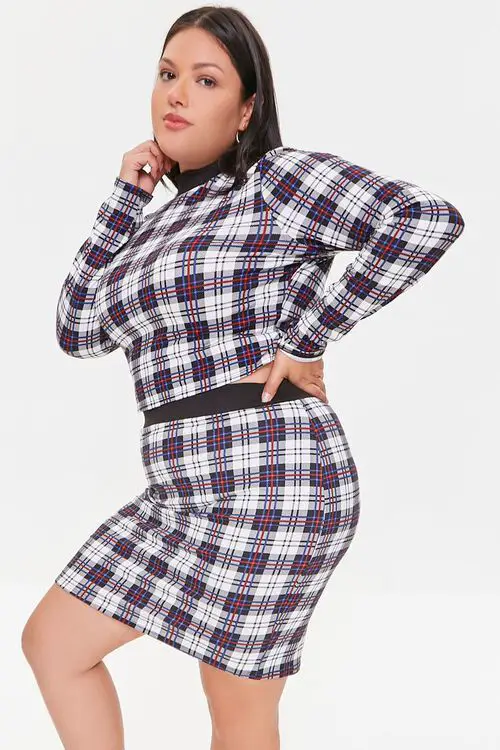 Chenese Lewis, Plus Size Celebrity
Forbes called her "One of The Original Plus Size Influencers." Many would call her a trailblazer in the plus size community. We call her fierce, talented, and accomplished. Chenese Lewis is an actress, model, advocate, and entrepreneur that motivates all to reach for the stars.
Ahead of the trend, Chenese is wearing a pretty green in one of her many Instagram posts. Green is one of the season's hottest colors and definitely a color to try. The color green has been featured in countless publications worldwide – from different shades of green in everything from dresses, cardigans, and purses to gloves. Try it out on the weekend and have fun!
Shop Similar Plus Size Looks:
Jen Ponton, Plus Size Celebrity
Actor, writer, and producer Jen Ponton is the epitome of a leader in the plus size community. As an activist, she uses all of her gifts and talents to take a stand and to show the world that hate is a small-minded emotion with the unwillingness to accept the truth. And the truth is…Plus Size is beautiful!
Jen is beautiful in this color-blocking fit. A hot pink jacket with a popping red dress? Wow! A great color combo for this powerhouse's website pic!
Shop Similar Plus Size Looks:
Do you love these celeb-inspired plus size looks? Who's your celebrity inspiration? What looks are you thinking of trying this Spring? Check out the TCF Shop for great finds!