A few months back, I shared with you my crazy need for a better laptop. A better tool that would be both functional, sleek, lightweight, and that will allow for me to LIVE how I wanted to. BUT, you know what I realized about this process? Finding the perfect laptop is quite bananas. I mean, unless you are an uber tech nerd like my brother in law or a few of my blogger buddies like Scott Hansleman or Brotha Tech, it is quite easy to get overwhelmed!!
I mean, you have size, memory, brand, duration of use, specs, tricks and special effects… Buying a laptop is more overwhelming than shopping for a pair of shoes! OR choosing a boyfriend for that matter…
WHY an Ultrabook? See I have been traveling, have events and conferences to attend, and need to updates on the fly. A traditional laptop is too heavy and bulky, and frankly, not as chic for my needs, and I am trying to save my back. I needed something light, fast, GREAT on battery life, and something I could bust out anywhere and folks would be intrigued (joke, not really).
BUT, I think Intel heard our cry and confusion.
You see, they have created this crazy hilarious and cute Ultrabook Style Quiz to help you figure out your ideal laptop, based on nontraditional questions! No, this isn't your basic quiz, this is one that I am sure you will smirk a few times or chuckle at the questions! Promise!
Me? What was my Ultrabook Style?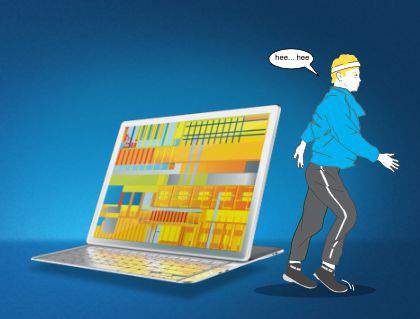 Well, I ended up being a "Slider"… just a bit fancy, not too crazy, and I was paired with the Sony VAIO Duo 11 Ultrabook! Ohhh how on point were they!!!! You know, I have a tendency to bust out in dance, my personal style is a bit laid back, BUT you wont catch me rocking the headband! LOL
And… OMG. So, Nowww I have an Ultrabook that will fit into my mega sized handbags, does the work of my desktop and a tablet, and has a fancy and crazy cute keyboard that pops up! Look!!!
Had to give you a little taste of my new toy! Playing with int in bed, on my desk- working from home, I have the pleasure of versatility and flexibility!
You know, it was funny when I first received it, as I was like… how do I open it? BUT, I figured it out and life is all better. Now I get to pretend to sketch too!!! WOOT! And it has Windows 8? Even better! But let me dig a bit deeper…
I am always on the go. Whether to an event, to my sister's or mother's house, or on a plane to wherever, having a device that gives me the battery life I need (which I have only charged once since opening it- whoa nelly!), the compact punch of a new lightweight tech toy, packed with all the bells and whistles I need in my life? YES! AND it moves fast and can handle multiple apps at the same time! But, with a swipe of the finger, poof, its gone!
But get this, my techie brother in law digs it. Like sat down and got lost, ordered dinner, played around and then finally let me have it back- loves it. Score! I cannot wait to dig even deeper into this and play with the Sony features! Does the happy dance!
AND you know what? It fits perfectly into my Thursday/Friday travel Bag! You cannot even tell it is in there! BOOM! How chic am I!!!!!!
Yes, it fits comfortably enough into my PURSE! It is THAT compact!!! DUDE. I am living for and in this!!! It will essentially go with anything, cause it fits into almost everything! YESSSSSSSSS! I already ordered my sleek and sexy embossed case from Amazon and I am about to be stylin! AND Studious- remember that I am also a teacher at College! PERFECTION!
BUT guess what? YOU have to take the quiz too! 😀 One, because I loved it, and TWO I want to give one lucky reader an Ultrabook TOO!
MMHMM you heard that right!
One of you lucky ducks will be able to score an Ultrabook that is JUST your style! You have to ENTER NOW!
In the form below, enter in your steps to earn as many points as possible! The more actions, the more chances you have in winning! You have until September 2nd to enter too! YES, you have some time, but you also have time to keep adding entries!
Giveaway closed
Rules here!
How cool is this?!? Hurry and enter! You have all month to do so!
Disclosure: Intel has sponsored my giveaway and this campaign, but all excitement and thoughts are my own!