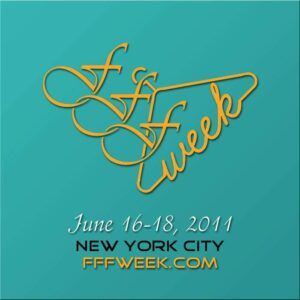 With Full Figured Fashion Week NY on the horizon (June 16th-18th), registration for Models, Designers, and Volunteers have opened up and for its third time, The Curvy Collective opens up for the plus size community's leading and most influential plus size fashion bloggers!
What is the Curvy Collective?
Launched at the inception of Full Figured Fashion Week in 2009, the Curvy Collective is a collaborative network of plus size fashion bloggers and digital magazines and the monumental Full Figured Fashion Week™. As the virtual street team of FFFWeek™, the Curvy Collective disseminates the latest news, fashions behind the scenes access, and co-hosts one of the hottest events of Full Figured Fashion Week: "The State of the Curvy Community" industry panel discussion.
Are you a fashion blogger interested in joining?
Are you attending FFFWeek™?
This year for 2011, FFFWeek™ and The Curvy Collective is taking applications for YOU, the plus size fashion bloggers interested in joining the Collective, attending FFFWeek, participating in the events, and sharing the latest FFFWeek news!
The goal of The Curvy Collective is to round up some of the top, diverse, and most active plus size fashion bloggers around the world! Do you have what it takes? Are you wanting to be in the know and share with your readers an up close and personal view of what is going on?
The deadline to submit is March 31st and spots are extremely limited! Applications for The Curvy Collective are here!
visit www.fffweek.com for more information!