*Disclosure* This is a dedicated post, sponsored by Good American.
The items I chose to wear, and my opinions are my own.
Soooo, what do you wear when you work from home, hardly ever get dressed up, or have to run errands? If you are anything like me and not in your pajamas most of the time, you rock a cute plus size activewear set or leisurewear, right? Well, what about a plus size activewear set from Good American Activewear?
Being that I work from home and life oftentimes calls for comfort and ease, I find that when I do pull together something that is functional, comfortable, it has some style or panache to it. If not my pjs, then definitely activewear, especially as I often take my rescue doxie, Mocha out for a walk or three during the day.
No stranger to the site, Good American is a brand that I have been rocking, especially with their plus size denim options. But if you have not checked it out, lately, Good American has been having fun with their activewear options! Not only in black and not only in smaller sizes, but also in plus!
Their plus size activewear has been giving us a sexy, playful, and confident vibe, so I decided to partner with them, to give their activewear a whirl while I walk Mocha a few times around the block…
How I am Rocking My Plus Size Good American Activewear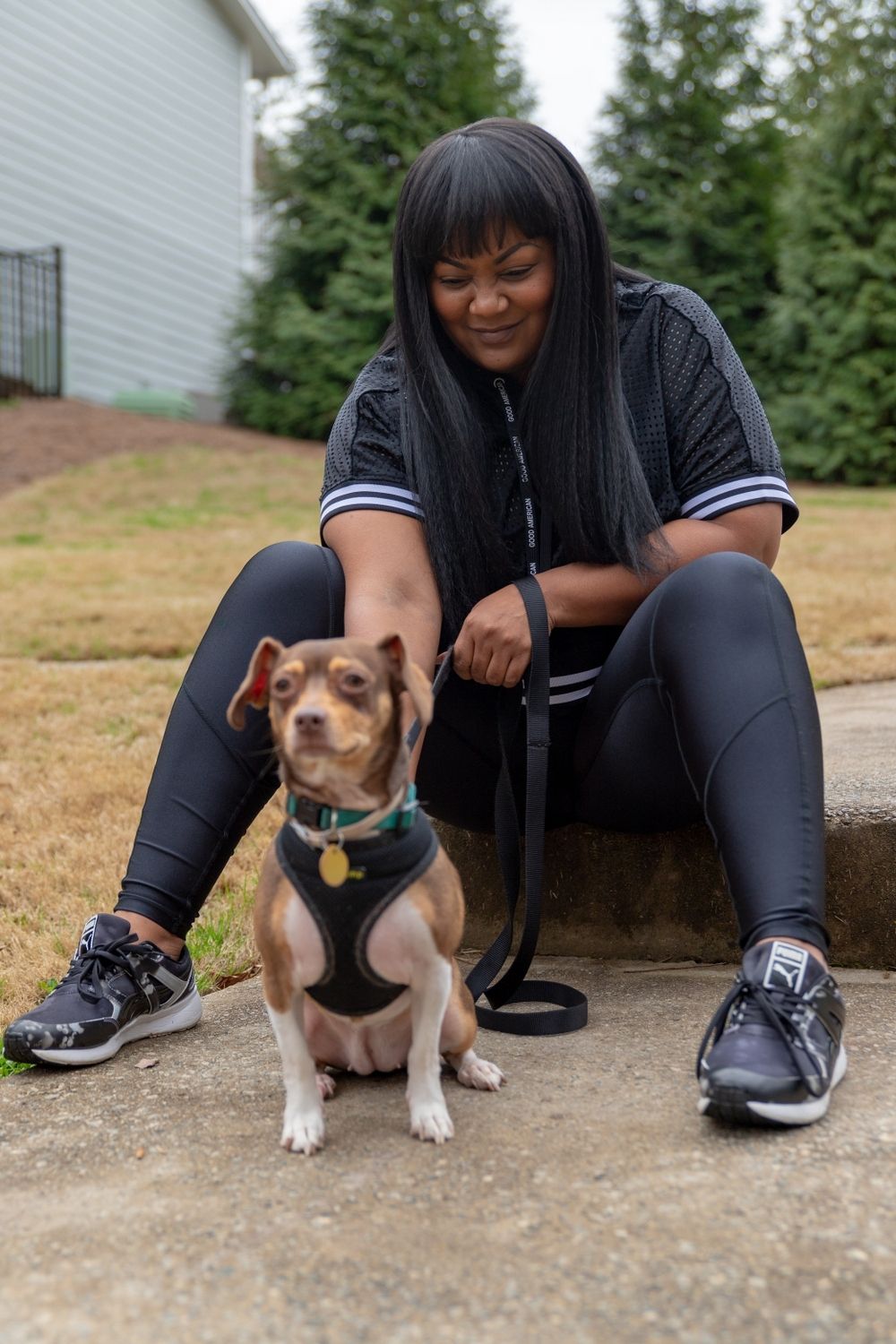 Decked out in their Core Plunge Gloss Sports Bra, my Core Strength Gloss Leggings, and a playful Mesh Boxer Hoodie, Mocha and I went for a stroll… because this is legit MY version of being active- going for walks. And let me tell you, there are more than a few things I appreciate about this set!
The Good American Activewear Collection is available up through a size 7, which equals a size 26 and blindly, I chose a size 5 in all three pieces. The size 5 equates to an 18/20. While I had room to play in in all three, I went for comfort first. And honestly, I have no complaints.
The Mesh Boxer hoodie?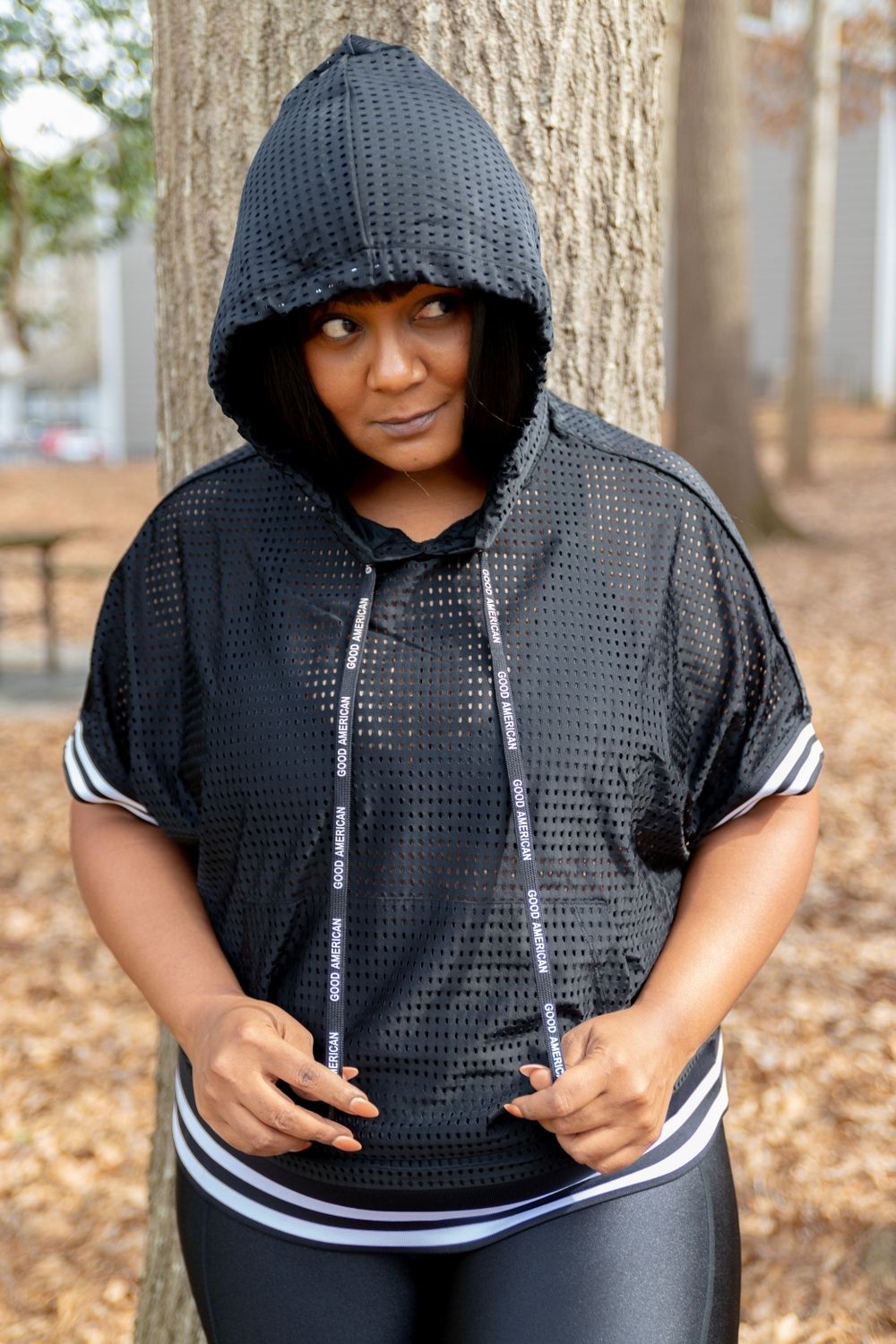 If you missed my karaoke on my Instagram Stories, then you missed the movement in action! BUT, I appreciated the relaxed fit, the details, and the quality of fabric used for this hoodie! I can see myself navigating the neighborhood in this more than a few times, without feeling naked.
The Gloss Sports Bra?
As a 38 DDD/E, I found myself held in with moderate support. I wanted to see just how well this sports bra could hold me in, so feeling a little playful, I busted out a handstand! Not captured, I did a few cartwheels, too… to see just how well I could be held in, without flashing the world.
Listen, the girls stayed in there, secure and supported!
I will say that if you want to go for a jog and do not want any movement, you may want to test out their other sport bra silhouettes, as this one is definitely a lightweight and secure option, but not for heavy duty activities.
My Core Leggings?
Ohhh they were high rise, hitting me right at the top of my waist, thank you! These gloss leggings held me in and were long enough for my 5'8" frame, and then some! I will be living in these for days to come… No lie, I am also wearing them as I type this.
Check out these hot images from the current campaign featuring Lizzo and her body-positive, self-love, "Do You" message.
You can shop them now and get an EXCLUSIVE 20% off, at GoodAmerican.com!
You have to check out the other Activewear pieces in the Good American collection, as I have my eye on a few more items that I need to add to my office wear collection!
Have you had the chance to play in their plus size options at Good American? Which pieces are your favorite? Let me know what you think and what you think of my fit in the comments below!
Shout out to Howell Designs for the photos!
*Disclosure* This is a dedicated post, sponsored by Good American.
The items I chose to wear, and my opinions are my own.