I have been watching. Sitting back and observing an interesting shift.
the Shift in Plus Size Fashion
From the time that I started blogging until now, there has been an interesting shift and evolution that has me both excited and curious. But before I delve in, let me first preface this article with this, I have worked in retail for 12 years before blogging in various roles and levels of management. I do have my MBA in Marketing in which I dedicated to the plus size market.
I share this because when I address issues within our community, I come at it from both a business and personal place. Not just out the side of my neck or without merit.
Now, as I was sharing…
Plus Model Magazine, Mark Fast, Crystal Renn, CNN, V Mag, Velvet D'Amour, FFFWeek, Beth Ditto, Melissa McCarthy, Evans, Plus North, Good Morning America, British Plus Size Fashion Weekend, Qristyl Frazier, Big Love, Curvy Girls, Elle Quebec, Vogue Italia
to name a few impactful points over the past few years. 
There is a shift, an evolution, a slow change happening in the plus size fashion industry.
And from the looks of things, I like where this is headed.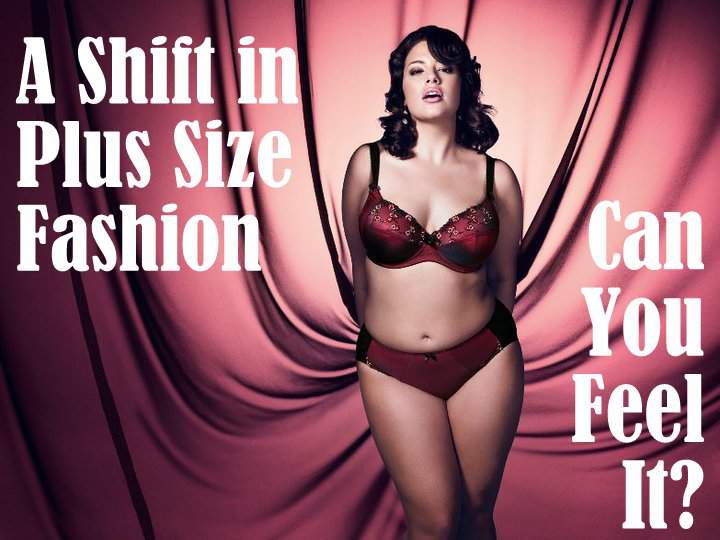 Now why do I note a shift? Well, there are quite a few key indicators that have raised my interest that leave me intrigued and hopeful:
On the heels of a successful 5th annual Full Figured Fashion Week, this has allowed designers and brands to create collections more on the schedule- already presenting their pre-fall collections (years ago at the start of FFFWeek) this was not the case.
Mainstream media's talking points have shifted AWAY from delving RIGHT into "obesity" and have now started to focus on other staggering numbers: The nearly $16B of retail revenue and the 67% of the apparel-purchasing population.
Mega fashion media darlings like Christie Brinkley from Wall Street On Style, calling out retailers and designers about this money left on the table? Well hello ma'am and thank you.
We cannot forget Media Planet for their inserts on plus size fashion in USA Today.
EVEN Huffington Post, Jezebel, XOJane, and various other fab sites have acknowledged and questioned the presence and state of plus size fashion!
We have students who have addressed the plus size fit model and have created a form to help address fit issues!
And then we have Business Insider who has so eloquently addressed and acknowledged the shift, change, and evolution of the plus size industry– thank you Margaret Bogenreif for your amazing breakdown of this (and also my inspiration for this post).
We cannot leave out the magazines that have paid attention to the consumer. We have Marie Claire, In Style, and Rebook taking note in their print publications. Lucky Magazine has dedicated a presence online (Heyyy Margie!)
So what does this all mean? Why is this something to note?
As I shared in a past post,
At the end of the day, it is all about the dollar
In this case of plus size fashion, SIXTEEN BILLION DOLLARS.
Does this mean poof! Plus size fashion will be fixed? Nooooo, and with any great change, it must happen slow and steadily in order to stick. I have written my Open Letter to the Fashion Community… I have, along with other bloggers and social media mavens voiced our irritations, concerns, and frustrations about the state of plus size fashion.
While mainstream media and straight sized designers are taking note and watching, there are a few things or suggestions I have in order to bring about some great change…
For the mainstream fashion industry:
PLEASE introduce

plus size fashion design into your design schools

. How can one learn the intricacies of the plus size form and her aesthetics if you do not study OR include her?
Designers,

STOP blindly sizing up your patterns

, opt for a plus size fit model or two to help ensure a proper fit which will then only help your sell through and bottom line. Regardless of size, a great fit is paramount to any design.
Please do

research into your plus size shopper

. We are not a monolith. We have varying styles, preferences, and price sensitivities. We mirror the straight sized shopper just like your current target audiences. We are drawn to the SAME items which leads me too…

STOP watering down the fashions

as they FINALLY reach us. If you have a thigh high slit in straight sizes, then give us a THIGH HIGH SLIT in plus. If you have structure in your jacket, please DO NOT change our version to a ponte knit. FIT CAN BE perfected.
For the Plus Size Fashion Community:
We must hold each other accountable in and on various levels. If we want to be taken seriously, then we must deliver. Designers, boutique owners, bloggers, models, online stores, magazines, every facet must understand that:

There is room for everyone

There are those who do it for a love of, passion, full-time jobs, hobby, and have different objectives and this is fine and doesn't mean more or less than you

With the various options and opportunities, there are ways you can be a part of the community beyond being a model. We need more women AND MEN in and on the business side, infiltrating, learning, making change from the inside out as well as the outside in.
Community is key. What we have done thus far is quite commendable and notable. As Margaret shared, "Instead of simply accepting the fashion industry's refusal to acknowledge this marketplace, 

these key players have created a community

 that rewards those retailers eager to cater to the plus size shopper while punishing those shops that fail to live up to traditional consumer standards."
So you see, there is a lot to be proud of, hopeful for, and excited about. While there is still a ways to go and changes still to be had, these are just a few indicators and observations that I have noticed that make me smile. A few reflections that get me going and thinking.
For the plus size fashion community, keep on doing what you do! Knocking down barriers, kicking down doors, and using your voice to affect change…
They are finally listening and hearing us.
And with this… I will keep on blogging.