We took a break from Fashion Blogger Spotlight last week, but you can catch up with Jerae of Curvyology here. Today, we're bringing you Shay of A Thick Girl's Closet! Shay slays in a variety of colorful looks, showing off those gorgeous long legs in lots of skirts and dresses.
Shay not only serves up great fashion – she also blogs on hair, make-up, travel and more and runs a popular YouTube channel. Oh and just yesterday, she joined Marie in a fun video about accessories! Shay, of A Thick Girl's Closet is a plus size blogger YOU NEED TO KNOW!!!
Meet Plus Size Style Blogger, Shay of A Thick Girl's Closet!
Blog: A Thick Girl's Closet
Age: 26
Height: 6'0″
Location: New Jersey
How long have you been blogging? 5 Years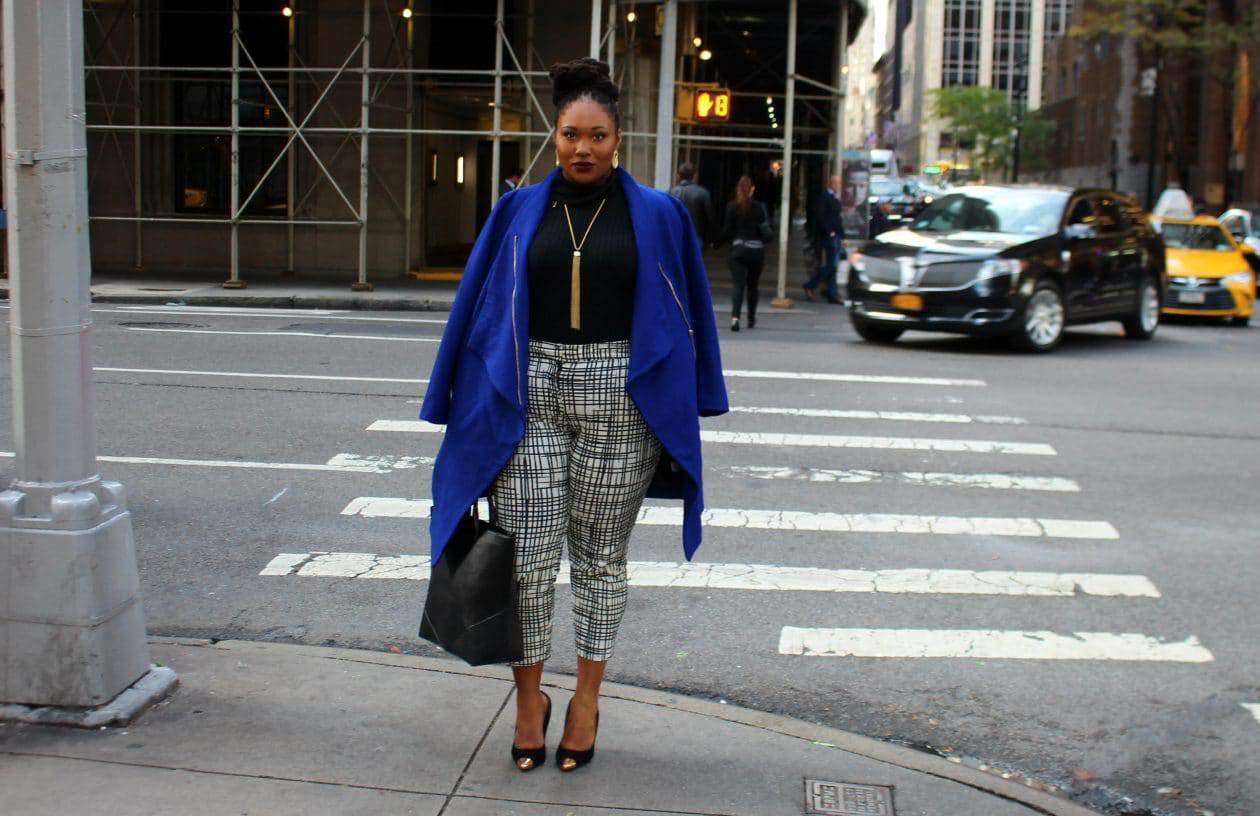 What or who inspired you to become a fashion blogger? What led you to it?
Honestly, nothing inspired me to start blogging. It was March of my senior year in college. I was procrastinating on my homework; I was completely over Facebook (there was no Instagram at the time), so I went on Tumblr & started A Thick Girl's Closet.
When I saw that people were actually starting to follow me, I then started to take it a bit more seriously and started to post more frequently. 5 years later, here I am.
Do you blog full-time, for fun, as a hobby? Share your evolution!
In college, it [blogging] started as something fun, just to do. The first couple years after college, it was a major hobby while working a full time job. But as of 2016, i made the choice, took a leap of faith, and I decided to blog full time.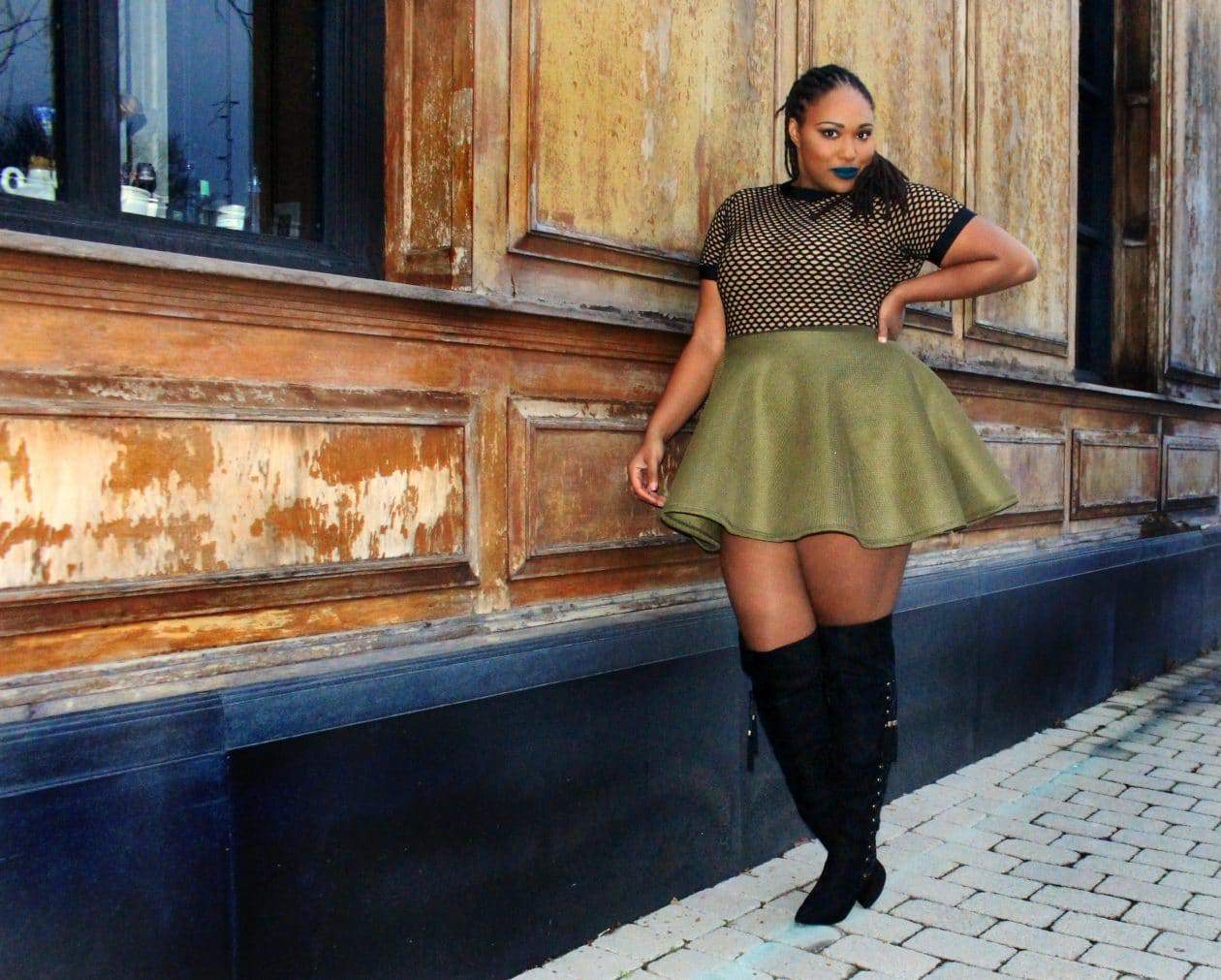 What is your favorite asset? Your legs, arms, waist? How do you play that up?
Everybody who knows me, knows I LOVE my legs. I take every single opportunity I can to show off these gams, honey!!! I like to play them up by wearing nice dresses. My early post-college days, I used to wear ultra short skirts lol. Not so much now. But 9 times out of ten, you'll probably see me wearing a skirt of some kind.
In the summer, I love to be in shorts. I also pretty much live in heels. I own all types of heels: pumps, wedges, stilettos, etc. A good pair of heels really elongates your legs (which I really don't need, but I'll take anyway lol). A good pair of heels will amp not only your outfit but your confidence as well.

What are the challenges, if any, you face regarding being plus size?
For me, it's about dealing with people who still have this stigma about plus size people. The surprised looks I get when I work out, or when I'm moving at the same fast pace as slender people. The looks I get when I'm proud of my body and confidence because people expect me to loathe myself. T
he looks I get when I wear certain things that plus size "aren't supposed" to wear. It's the constant trying to prove that I am still a person – I just happen to be plus size.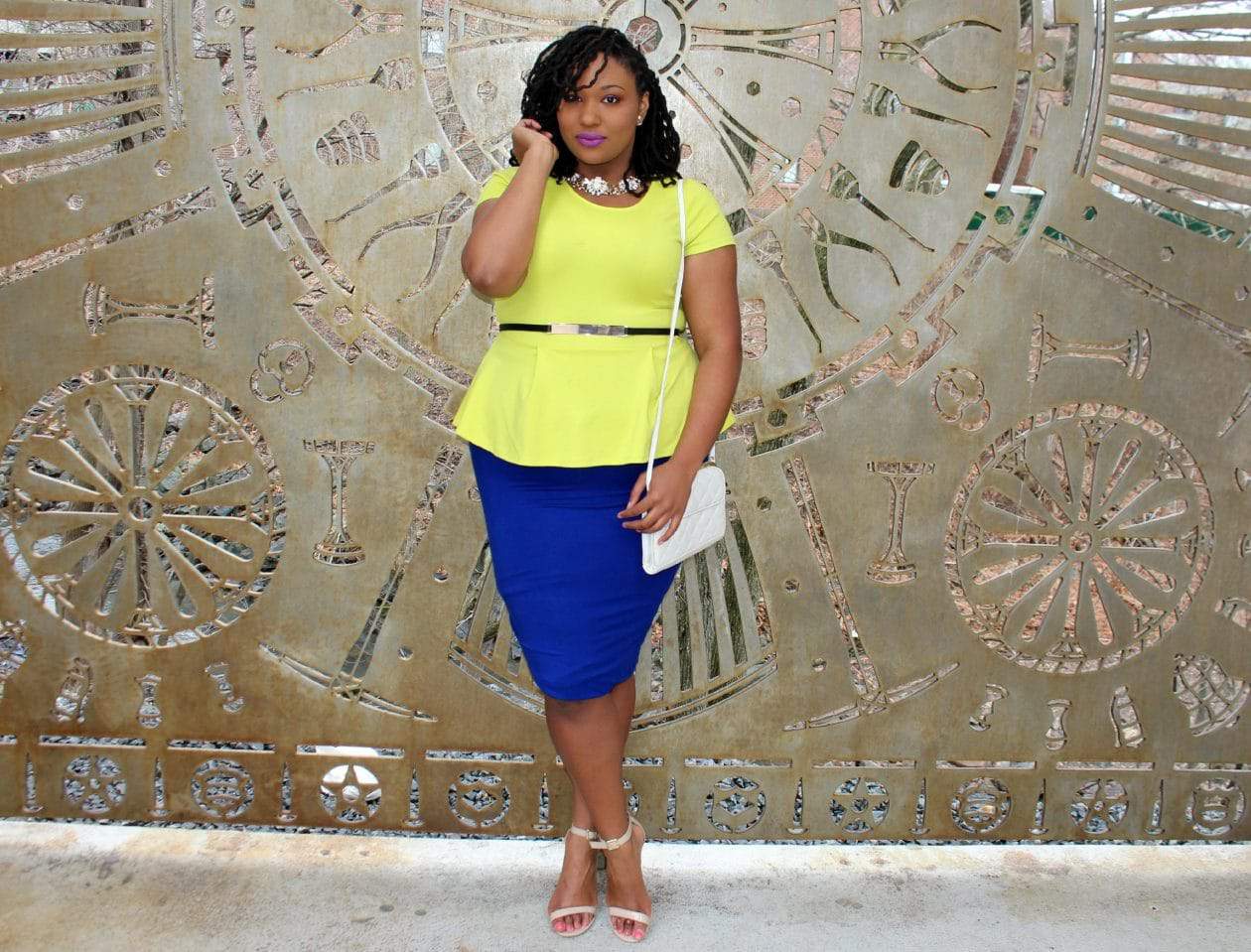 What's your favorite thing about being plus size?
I don't know if I have a favorite thing about being plus size, but I just love that because of plus bloggers, the rise of plus models, & the plus industry as a whole, young girls coming up who are plus size, now have access to something positive. To show them that they can be fierce, fabulous, smart & awesome just like their skinny friends.
What's your favorite thing about being a blogger?
It's a mix between the opportunities I've been blessed with and the amazing women I've formed friendships with. The blogging community is big, but it can get very small very quickly, especially in the NY area. But a lot of these women I do consider friends and we offer a level of support for each other.
Also, being a blogger has allowed me the chance to work with brands that I've admired for years. I've shopped at Lane Bryant since I was about 14, and now I know the people behind the brand personally. Blogging has allowed me to meet some amazing celebs, go to venues I never would have visited, it's helped me to travel, it's helped me reach girls all over this world and that is a blessing for which even a thousand thank-yous wouldn't be enough.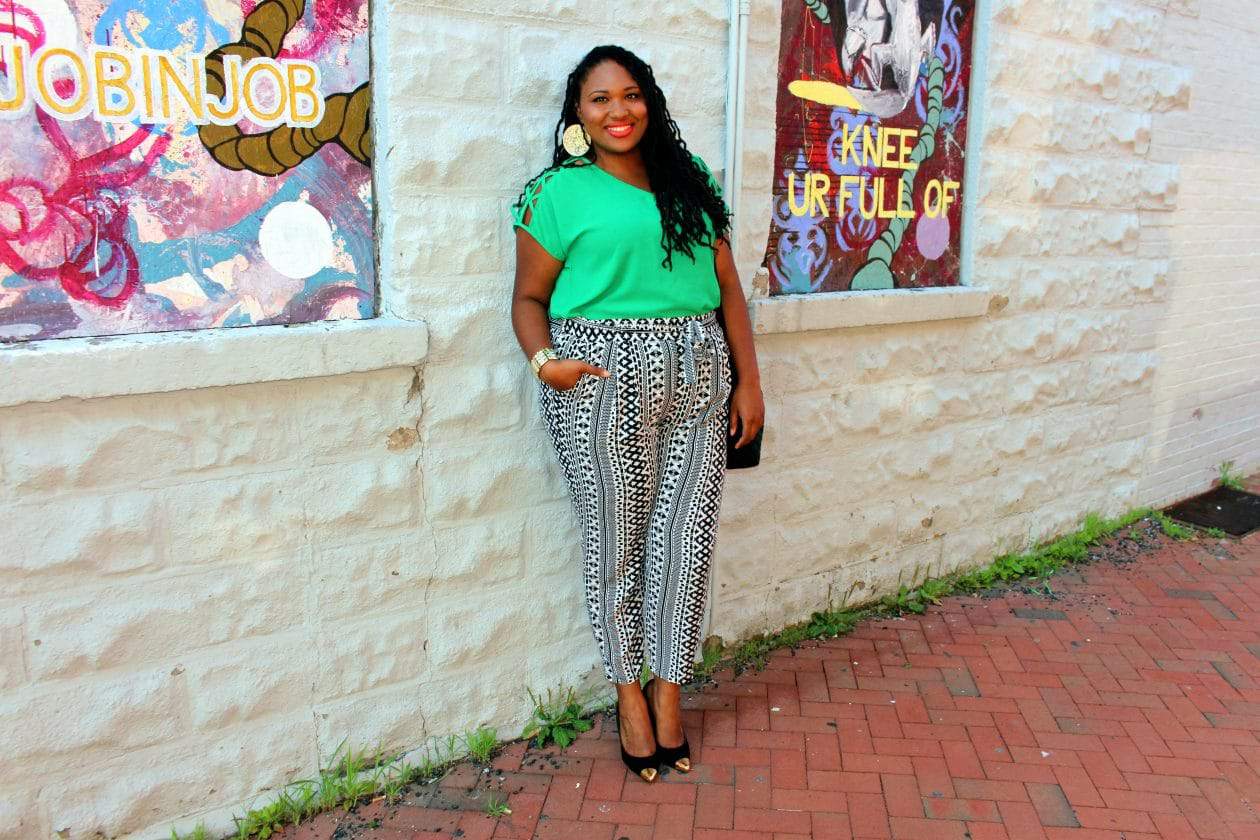 Who/what are your favorite designers/brands?
Mainstream brands: Lane Bryant, Eloquii, ASOS, Calvin Klein, NYDJ, Fashion to Figure, Forever 21, City Chic, JCPenney, Ashley Stewart, Harper & Liv
Independent Brands: Zelie for She, Courtney Noelle, Jibri, Rue 107, Nakimuli, Ready to Stare, Monif C.

Describe your personal style.
I like to think my style if fun, it's loud.

Which bloggers inspire you? Plus or straight size! Any bloggers currently on your radar?
So many bloggers inspire me. Kelly Augustine – I'm obsessed with her. Not just because she is someone I'm close with, but because she slays on the regular. She can give you a commercial smile but turn around and easily give you sultry & sexy. She is the definition of carefree black girl.
I love Beck of Manfattan because she is giant like me. But she is drop dead gorgeous, & I've never seen this girl not slay! I love Gavyn of Curvy Cutie, her effortless style is so bomb. I love Rochelle of Beauticurve, Mo of Lion Hunter, Annika of The Stylish Reid, Kellie of And I Get Dressed, Jami of Style Over Size, Sandra of La Pecosa Preciosa, Darlene of Suits, Heels, & Curves, Alissa of Stylish Curves, Ty of Gorgeous in Grey, and of course, Marie of The Curvy Fashionista.
I don't really follow too many straight size fashion bloggers, but I follow a number of straight size YouTubers like Jackie Aina, Jaclyn Hill, Shirley Eniag, Ms. Rosh Posh, Alissa Ashley, Jouelzy, just to name a few.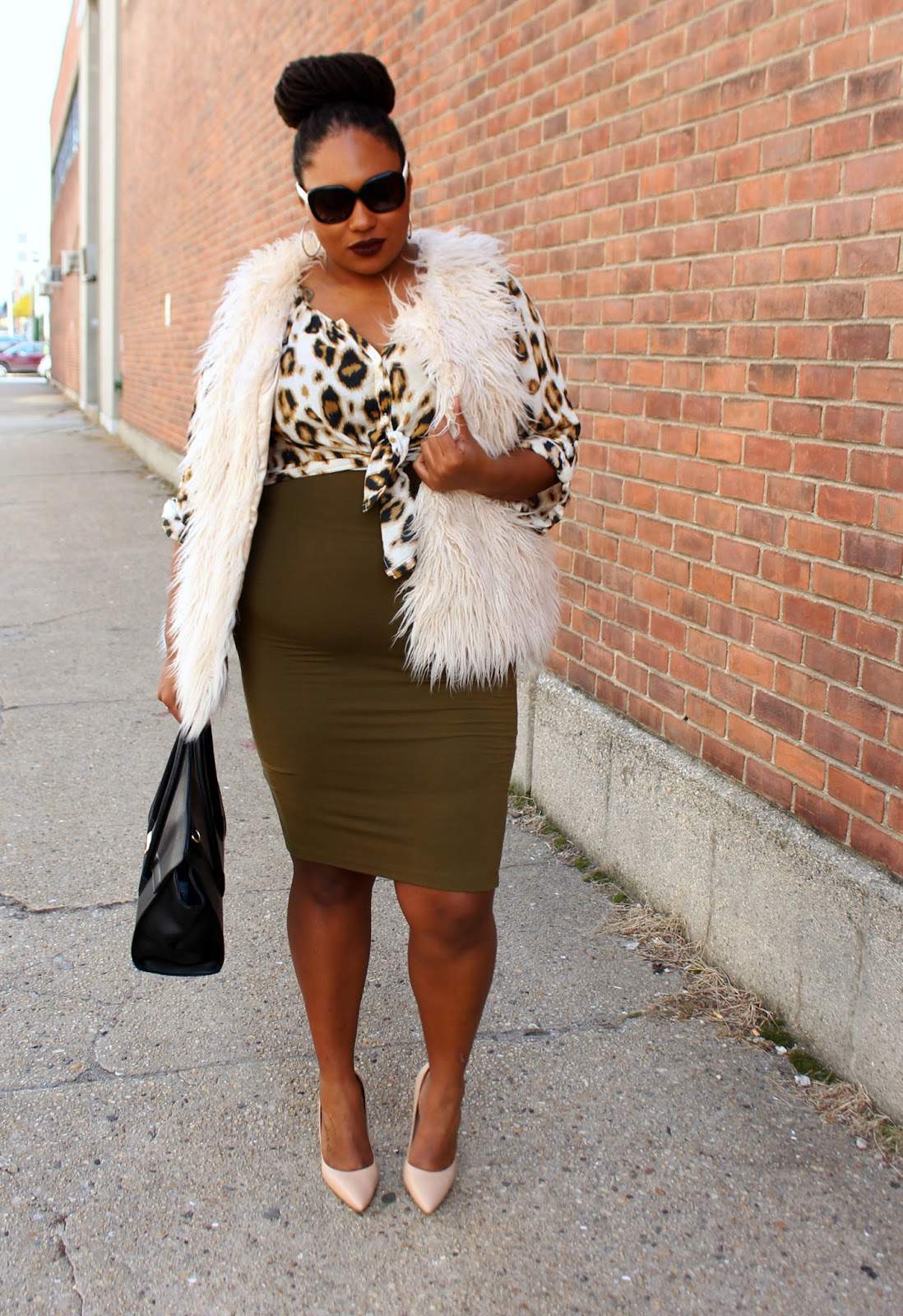 What do you think about where plus size fashion is today versus a few years back?
I think we've come a looooooooooong way in terms of options. A few years ago, all we had was Lane Bryant, Ashley Stewart, Catherine's, and a few other brands within different department stores. We definitely have a lot more places to pick & choose from.
A number of exclusively straight size brands like Forever 21, Rue 21, Wet Seal or BooHoo are now creating plus lines which I totally rock with.
A number of designers like Vince Camuto, Ivanka Trump, Calvin Klein, Michael Kors, Eileen Fisher, and Nic & Zoe are creating plus clothing, so we have very high end plus size clothing. It's really amazing to see. Plus size fashion is really expanding into areas that we as plus women aren't "supposed" to wear. We now have bathing suits (SEXY bathing suits), jumpsuits, crop tops, midi skirts, bustiers, etc.
What do you think or hear from readers, is one of the biggest myths about plus size fashion?
The main ones I always see are that plus size women shouldn't wear crop tops, two-piece bathing suits, or show their arms. And for me, it's crazy. Granted when I was younger and before I started a blog, I bought into these thoughts & ideas as well.
But as I got older, and especially once I started blogging, I realized that I don't get dressed for anyone but myself. And if the outside world isn't paying for my clothes, then it has no say in what I wear.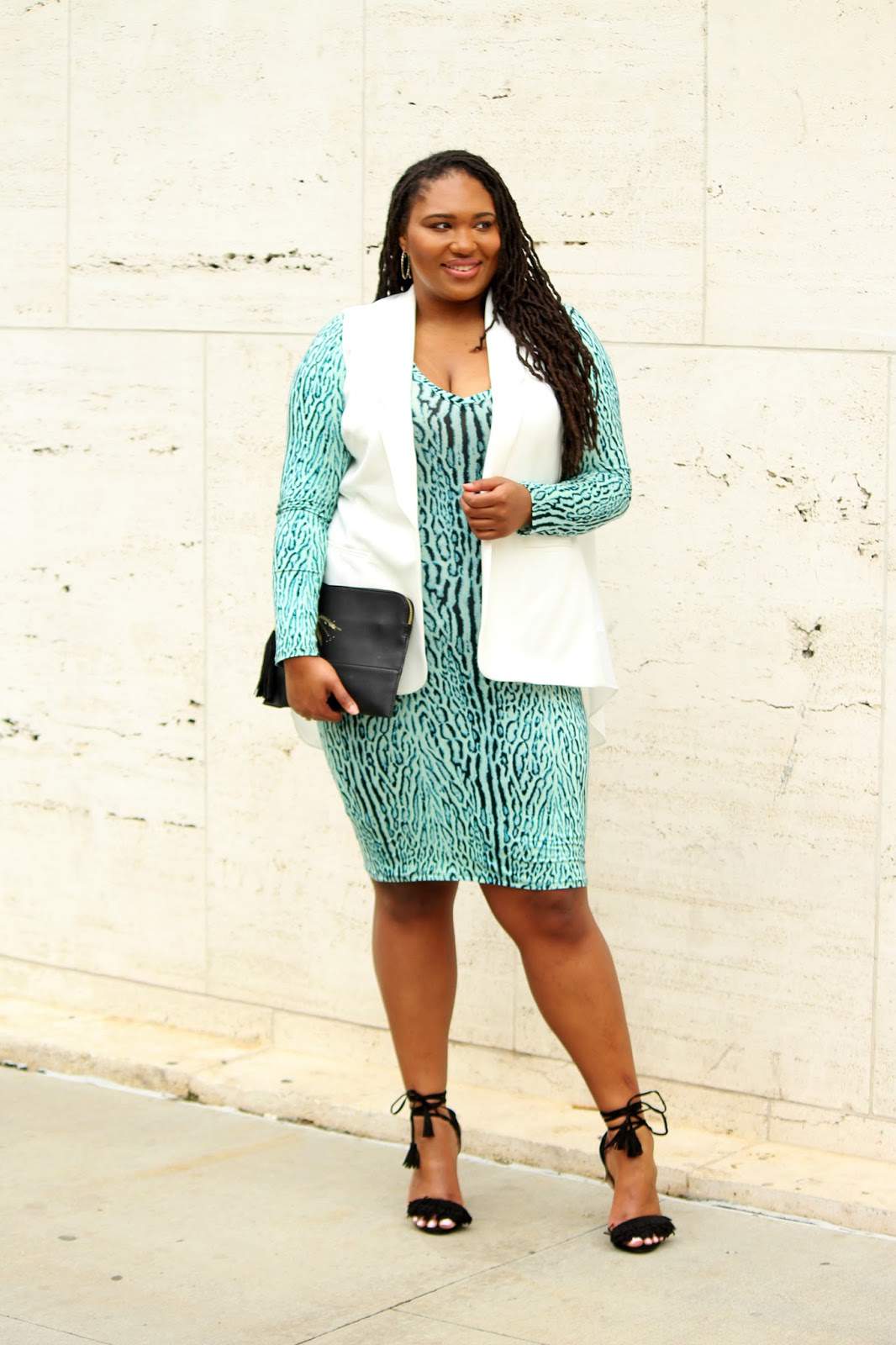 Are you working on anything or have anything to share? Anything else you want The Curvy Fashionista's readers to know?
Right now for me, it's all about just continuing to build my brand. So my focus is on my YouTube Channel (A Thick Girl's Closet) where I talk about hair, make-up, fashion, and give advice.

Lastly, what does Curvy.Confident.Chic mean to you?
Curvy. Confident. Chic., to me means that any of us can be stylish, trendy, & fashion forward regardless of our body size. We can be awesome women, mothers, wives, professionals, students, etc., regardless of our size.

Do you dig her style? Which look is your fave? Let's talk about it below!!
Want to be featured?
Make sure you fill out your deets here,
so that we can feature you!
Looking for more plus size blogger style inspiration?
Make sure you check out all of the other plus size blogger spotlights!
Aaronica
One dope woman/mom/wife/entrepreneur learning to conquer the world one cute outfit at a time.