Heyyyy girl! Today we are back with another fashion spotlight and I cannot wait to share! But did you catch Gavyn of The Curvy Cutie last week? Well after New York, we head down south to Atlanta to chat with Tami of Talking with Tami!
This over 40, finger on the pulse of Atlanta, uber stylish, and always dressed blogger is where we are shining the light today! She is definitely a blogger to know and follow! Keep reading to learn more!
Meet Fashion Blogger, Tami of Talking with Tami!
Blog: Talking with Tami
Age: 40's
Height: 5'5″
Location: Atlanta
How long have you been blogging?
9 Years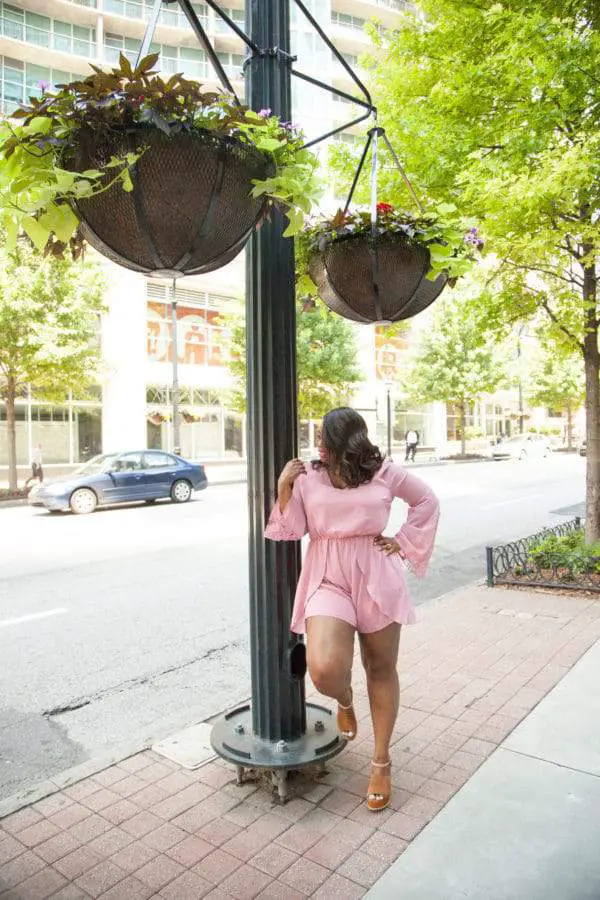 What or who inspired you to become a fashion blogger? What led you to it?
I always loved fashion since I was a little girl. So I would have to say my mom and my god mom. My mom loved more of the high end fashion brands while my god mom loved to thrift shop. So now I combine high and low end pieces with my personal style.
Do you blog full-time, for fun, as a hobby? Share your evolution!
Yes, I blog full-time. I started blogging years ago when there was not that many African American bloggers online. I first had a cable access TV show here in Atlanta called, 'Talking with Tami' then blogging came around a few years later and I transitioned to that. It has been quite a journey I must say!
What is your favorite asset? Your legs, arms, waist? How do you play that up?
I think my favorite asset is everything about me, lol. I've learned to embrace my curves that at first, I was shy about. Now, I love my boobs, butt, thighs and especially my hips! People always said to me, "girl you got some birthing hips" lol.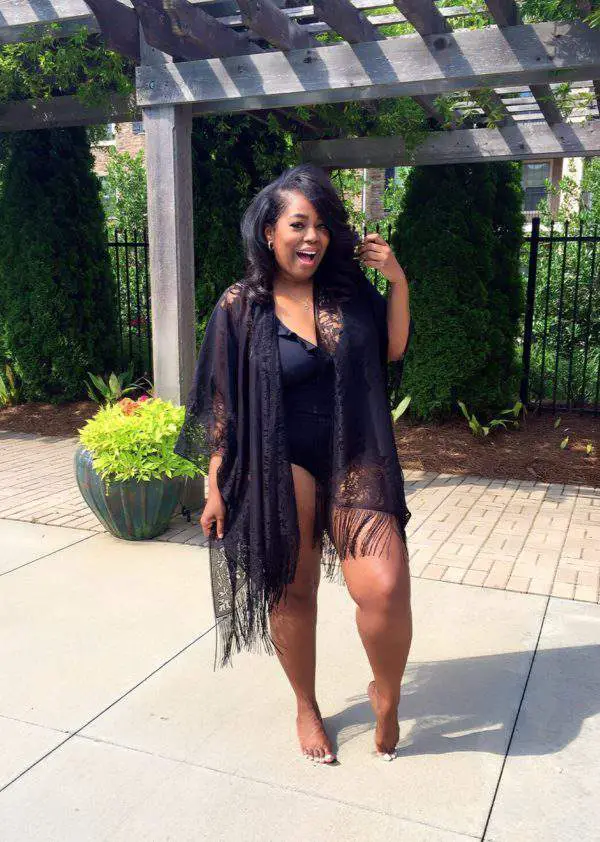 What are the challenges, if any, you face regarding being plus size?
Most of my challenges are that I'm more of a "junior plus" fashion blogger, so sometimes clothing doesn't always fit my body type and I have to spend a ton of money on tailoring for most of my looks. I'm a 10/12 in most cases but my waist is small. So most times I have to run to my tailor for alterations before wearing a look.
What's your favorite thing about being plus size?
I love that a lot of brands like working with me because of my body type. I also fill out clothing well because I have a curvy frame and busty with legs. My body shape makes clothing look proportioned and neat.
What's your favorite thing about being a blogger?
I love being a fashion blogger because I can express myself and post about any and everything I want to. One fashion post may be a hip hop look, while another may be a romantic getaway look, it's such a creative space! I love all the opportunities and brands that I have gotten to work with over the years too and one of my greatest accomplishments is working with Vogue as a Style Influencer.
Who/what are your favorite designers/brands?
My favorite designers are Gucci, Chloe, Chanel, Valentino. Boutiques and other brands…I like working with Chic and Curvy Boutique, Fashion To Figure, and Ashley Stewart.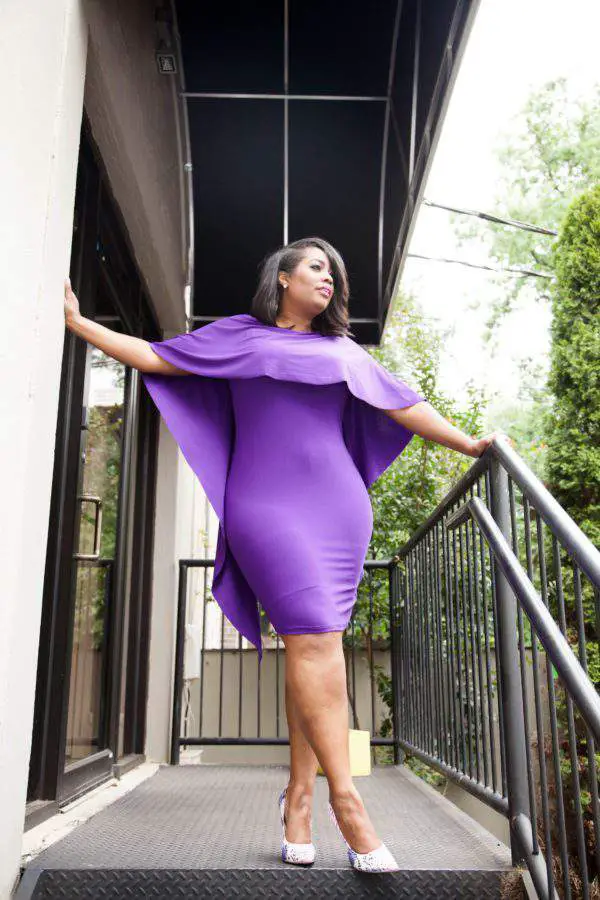 Describe your personal style.
I'm very eclectic in style and a mood dresser. I do love color with bold prints and shapes. I do favor wearing dresses more than anything because I just find them easy.
One minute I might be seen wearing something very dressed down then the next day I'm wearing a ball gown. I have no particular style, I just like to wear what I think is pretty and fits my body well.
Which bloggers inspire you? Plus or straight size! Any bloggers currently on your radar?
I like Blair of Atlantic-Pacific, Emma from The Sweetest Thing, and Stella with Jadore-Fashion!
What do you think about where plus size fashion is today versus a few years back?
A few years back, plus size fashion was not the best. The fabric choices were quite frumpy and matronly, not flattering silhouettes at all. I always remember not being able to find my size in the stores, I had to order online or be out of luck if it was already sold.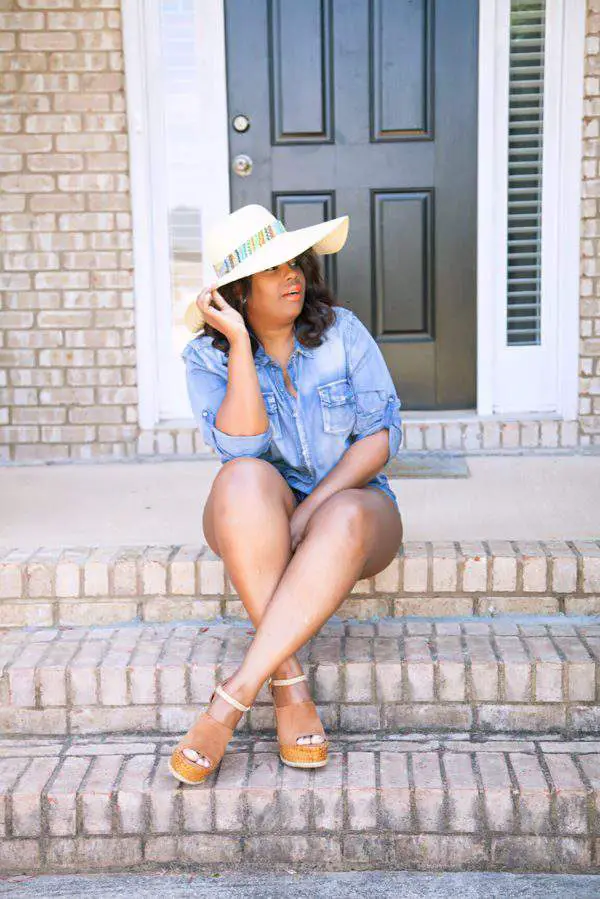 What do you think or hear from readers, is one of the biggest myths about plus size fashion?
That most women are afraid of color or patterns, crop tops etc. We can wear anything you want to! You just have to make sure that it fits your body type well and that you are wearing the proper undergarments! That's what my stylist Jon tells me all the time lol.
Are you working on anything or have anything to share? Anything else you want The Curvy Fashionista's readers to know?
Gearing up for BET Awards in Los Angeles then a few press trips and then off to New York Fashion Week.
Lastly, what does Curvy.Confident.Chic mean to you?
Curvy means embrace to totally embrace you
Confident means to exude it but not to be too arrogant
Chic means to be fierce and own it
Do you dig her style? Which look is your fave? Let's talk about it below!!
Want to be featured?
Make sure you fill out your deets here,
so that we can feature you!
Looking for more plus size blogger style inspiration?
Make sure you check out all of the other plus size blogger spotlights!