Marie has been hard at work building an amazing team of contributors. Last week, you met Chakayla of Stylishly Decadent, and this week, we're so excited to introduce you to Alysse of #StareStyle. She is the plus size fashion designer behind Ready to Stare, a fun indie brand that recently threatened to break the internet with a certain red dress.
Alysse has a background in gender and women's studies, and in addition to being a creative designer, she is an established fashion and beauty writer, professional speaker, and a fierce body positive advocate. Guys… she's kind of a bad ass!! Alysse is a plus size fashion blogger you NEED TO KNOW!!!
Meet Plus Size Fashion Blogger, Alysse of Ready to Stare!
Blog: #StareStyle at www.readytostare.com
Age: 27
Height: 5'1"
Location: Cleveland, OH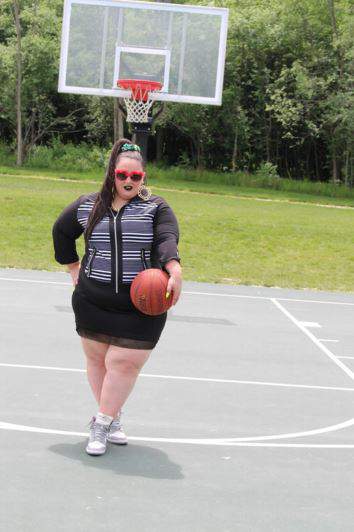 How long have you been blogging?
I have been a designer and small creative business owner since 2009, but I didn't start blogging until May 2014.
What or who inspired you to become a fashion blogger? What led you to it?
When I started designing for Ready to Stare in 2012, I felt like to be taken seriously that I had to keep myself behind the scenes. I let models represent my brand for almost two years, and then a friend told me that if I really wanted to connect with people that I should put more of myself into my business. That's when I came up with the idea to do #StareStyle.
It started out as a way to show people how I would style Ready to Stare pieces and has evolved into a full blown personal style blog.
Do you blog full-time, for fun, as a hobby? Share your evolution!
I work full-time as a designer and freelance fashion journalist. Eventually I would love for #StareStyle to also contribute to my income. That's the goal.


What is your favorite asset? Your legs, arms, waist? How do you play that up?
I love all parts of my body. I don't ever feel the need to hide or conceal certain parts, and on the flip side, I don't feel like I need to draw attention to certain areas. I let my love of fashion and not my feelings about my body dictate what I wear.
What are the challenges, if any, you face regarding being plus size?
At this point, I am very secure and confident in myself because being visibly fat on the internet is definitely not for anyone who doesn't have a thick skin. I've learned the beauty of the block button.
What's your favorite thing about being plus size?
My favorite thing about being plus size is the community of strong powerful individuals that I've met in the process of my self love journey. I have learned so much from them.

What's your favorite thing about being a blogger?
My favorite thing about being a blogger is definitely putting together looks and then seeing them brought to life in the photos. At the end of the day, I've always been a person who dreams about outfits and just straight up loves clothes. And now that I have an audience of folks who like my style, it's even more rewarding to share my style with them.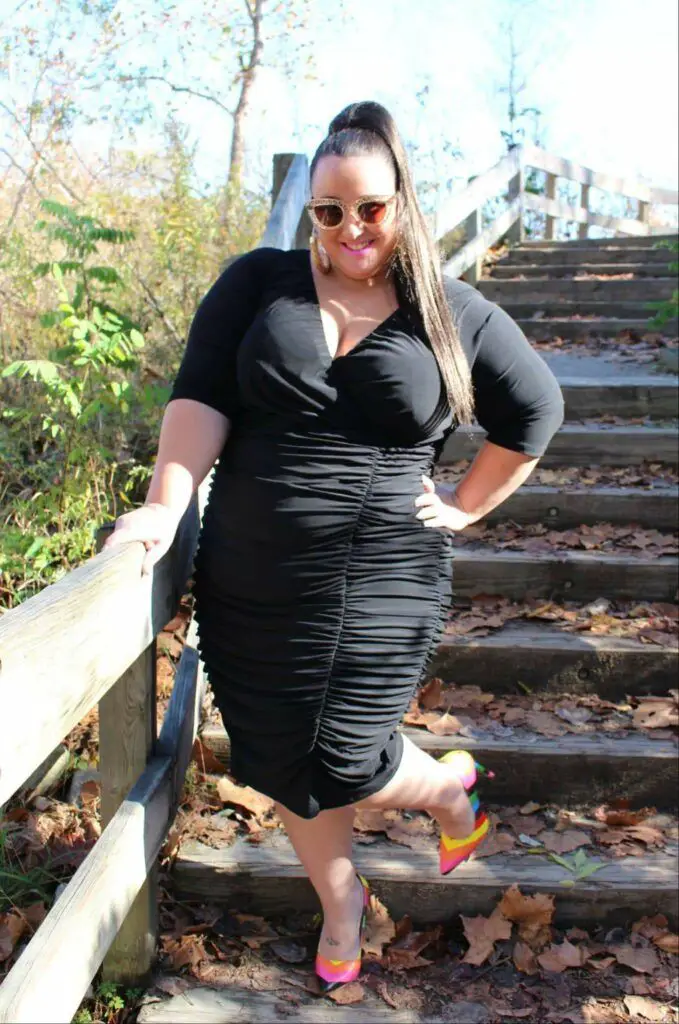 Who/what are your favorite designers/brands?
As an indie size-inclusive designer myself, I like to try and support as many indie brands as possible. I love Proud Mary Fashion, Re/Dress, Chubby Cartwheels, Jibri, and Courtney Noelle. In terms of more mainstream brands, I think ELOQUII is a brand that really gets it. I live for their extended size lookbooks.
Describe your personal style.
My personal style is always evolving. It's definitely bold and in-your-face. I love using my style to play with gender norms and I enjoy mixing traditional menswear pieces with something super feminine. My style is part streetwear and definitely very gaudy.
Which bloggers inspire you? Plus or straight size! Any bloggers currently on your radar?
I honestly cannot name a single straight size blogger other than Man Repeller who I have loved for years. I look up to the women featured on the blog, Advanced Style, because their style is often bold and funky like my own.
The list of plus size bloggers is super long but I really like Marie from The Curvy Fashionista (obviously), Essie Golden, Fat Girl Flow, Glitter + Lazers, Nerd About Town, Flight of The Fat Girl and anything that Virgie Tovar is writing, I will definitely read.

What do you think about where plus size fashion is today versus a few years back?
Plus size fashion in the past was something underground. There was definitely a strong community of individuals writing about plus size fashion and promoting fat acceptance, and now I feel like those voices are being brought to the forefront. We are still a long ways from being accepted in mainstream fashion, but people are listening. I do think we will continue to make major strides.
What do you think or hear from readers, is one of the biggest myths about plus size fashion?
I think one of the biggest myths is something that I encounter everyday: if you are plus size you must desperately being trying not to be. And that's just not the case. I love my body, and I am tired of it being so shocking for me to do so.

Are you working on anything or have anything to share? Anything else you want The Curvy Fashionista's readers to know?
As I have said, in addition to being a blogger and TCF Contributor, I am a fashion designer too! A lot of what you see me wearing you can buy on my site, www.readytostare.com.
Lastly, what does Curvy.Confident.Chic mean to you?
It means I am here, and I refuse to hide myself to fit someone else's comfort. I have a place in fashion.
What's your favorite thing about being a TCF contributor?
My favorite thing about being a TCF contributor is that I get to tell people's stories. I wanted to become a fashion journalist for that very reason. I wanted to give people a voice, and I am grateful to The Curvy Fashionista for allowing me to do that.
Do you dig her style? Which look is your fave? Let's talk about it below!!
Are you a personal style blogger?
Want to be featured?
Make sure you fill out your deets here,
so that we can feature you!
Looking for more plus size blogger style inspiration?
Make sure you check out all of the other plus size blogger spotlights!
Aaronica
One dope woman/mom/wife/entrepreneur learning to conquer the world one cute outfit at a time.