Last week, we enjoyed meeting Nikki of NikkiFreeStyle. Today, we're back with another amazing blogger/vlogger, Gavyn of The Curvy Cutie!!
Besides writing a popular blog, Gavyn runs a YouTube channel featuring lots of beauty, fashion, and lifestyle content – fitness, food, and friends, and so much more! She is a plus size blogger YOU NEED TO KNOW!!!
Meet Plus Size Style Blogger, Gavyn of The Curvy Cutie!!
Blog: The Curvy Cutie
YouTube: TheCurvyCutieG
Age: 28
Height: 5'7.5"
Location: New York/LA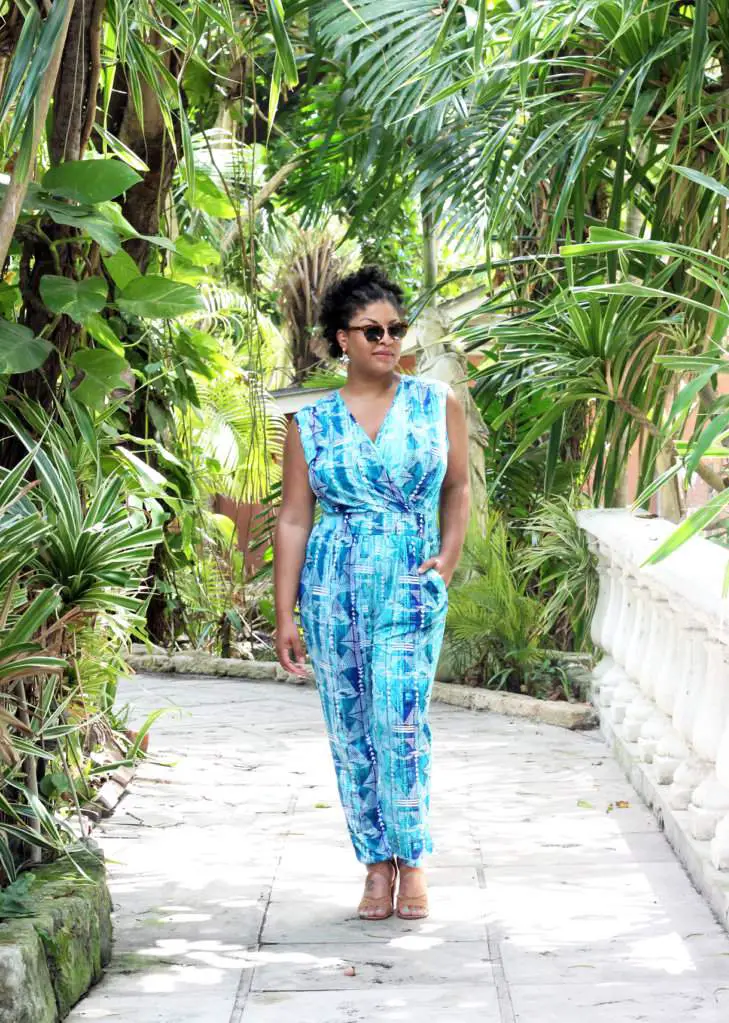 How long have you been blogging? 2 years in September
What or who inspired you to become a fashion blogger? What led you to it?
I am a singer/actor by trade, and I found a time where there was a lot of down time in my career. I wanted a space where I can create my own work outside of the beauty standards set in the theatre, film/TV, and fashion industry.
I was having a hard time coping with myself in the eyes of casting directors, teachers, and peers (I was always too fat, not fat enough, too black, not black enough etc.) I found that the everyday disappointments I felt in myself were subsided when I was creating content on my own terms. So I took a year to do all the research I could, attended events and met with other bloggers before I launched in September (2014), and I haven't looked back since.

Do you blog full-time, for fun, as a hobby? Share your evolution!
I am a performer full-time, but I'm also a Youtuber full-time. Thankfully due to my career, I can work from home and when I travel, so that allows me to blog/vlog and share my experiences. Its definitely more fun than work for me. At first it was a hobby; now its growing into a full-time job that I love to do. Creating new content is just as much of a thrill for me as performing on stage.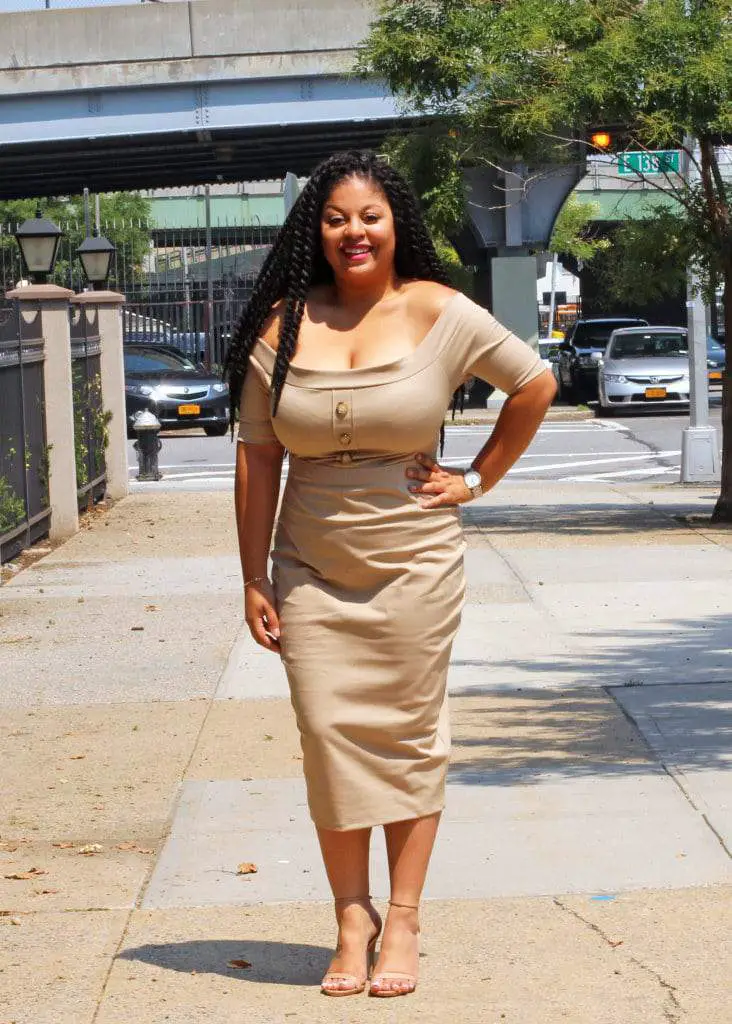 What is your favorite asset? Your legs, arms, waist? How do you play that up?
My whole body is my favorite asset! If I really had to pick just a few, it would be my legs and my bust. I try to play up every part of my body at some point during the season trends.
The part that draws the most attention currently is my breasts (apparently size does matter), so if I want to accentuate those babies I'll wear a properly sized bra, something with a deep neckline with patterns near my bust line, cinch the waist, and something solid on bottom. If I want to show off my legs, I basically switch the formula… unless it's summer… if it's summer then it's shorts all day, baby!
What are the challenges, if any, you face regarding being plus size?
I've actually struggled with this since I was a kid (my mother will attest to many fitting room stories) I struggle with finding something I love and knowing it won't fit. I actually hate going into dressing rooms still because I have this leering fear that as soon as I put something on, it won't fit properly.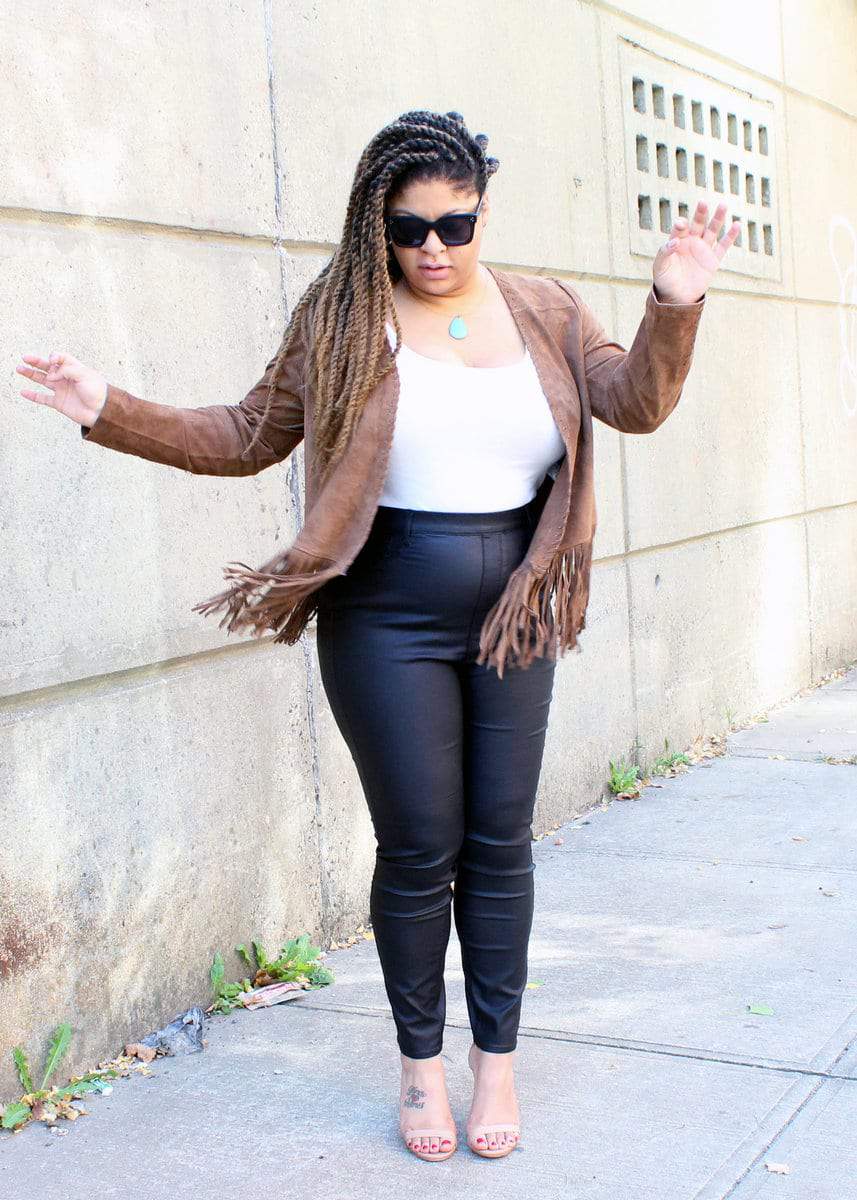 What's your favorite thing about being plus size?
I love that plus size women can command a room and stand out in a crowd. I think because of the growth in clothing options and the visibility in media that we are finally being recognized as trend setters rather than last in the know. So many women are becoming more confident in themselves, wearing bold options and standing tall in their bodies. It's truly a beautiful thing to be a part of.
What's your favorite thing about being a blogger?
I have made so many great friends throughout this community like Crystal of Sometimes Glam, Ty of Gorgeous in Grey, Sandra of La Pecosa Preciosa. There's a common mindset among us that makes me feel proud, loved, and not alone in my struggles. It's comforting to know I can call someone about thigh chafing or ask for a little proofread before a post.
Who/what are your favorite designers/brands?
Currently I am a fan of ASOS Curve, Marina Rinaldi, LOFT, Forever 21, Eloquii, and Demestiks NY.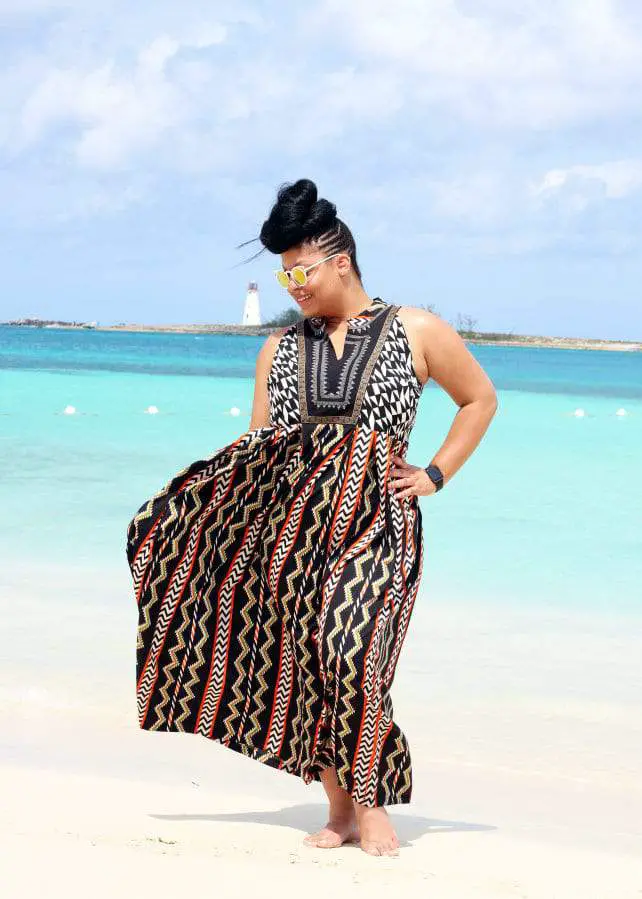 Describe your personal style.
Classically cute with edgy undertones and a twist of femininity, shake, pour, garnish with lime.

Which bloggers inspire you? Plus or straight size! Any bloggers currently on your radar?
I love Courtney of Color Me Courtney, Spankie of Spankie Valentine (YouTube), Rochelle of Beauticurve, Annie of Stylish Petite, and Wendy's Lookbook.

What do you think about where plus size fashion is today versus a few years back?
I definitely see a steady growth with plus size fashion and continued opportunity for creativity. There is so much more to be done but we are much further ahead than a few years ago. I still see a lot more avenues that can be filled and more creative chances to be taken in terms of style and trends especially for my 24+ sisters.
What do you think or hear from readers, is one of the biggest myths about plus size fashion?
That you shouldn't show skin. There's something about shorts, tank tops, and bellies that makes some plus size women uncomfortable. Understandably so since media and society has said otherwise for years. But now is the time for crop tops, shorts, and showing off those beautiful arms!
Are you working on anything or have anything to share? Anything else you want The Curvy Fashionista's readers to know?
Currently I'm traveling for the next few months, Upon my return I'll be working on expanding my YouTube to include more lifestyle like fitness, food, and DIY! Subscribing to my channel is definitely going to keep everyone updated on my newest endeavors.
Lastly, what does Curvy.Confident.Chic mean to you?
It means basking in the glory that is your body. Though your thighs may touch, your arms may jiggle, and your belly may bounce, you're still Curvy and Cute.
Be sure to check out Gavyn's blog at TheCurvyCutie.com!

Do you dig her style? Which look is your fave? Let's talk about it below!!
Want to be featured?
Make sure you fill out your deets here,
so that we can feature you!
Looking for more plus size blogger style inspiration?
Make sure you check out all of the other plus size blogger spotlights!
Aaronica
One dope woman/mom/wife/entrepreneur learning to conquer the world one cute outfit at a time.