Heyyy girl, hey! Can we talk about our feet for a second? Is this alright? Remember when I announced that Amope was going on tour with their popup beauty boutique? Hehehehe well, we have been busy little bees over here and I had to tell you all about the fun event I cohosted at the Lenox Mall last weekend, for the Amope Beauty Boutique!
After I rocked out at the She is B.A.E. event by La Janee Crosby, I made a mad dash to the Lenox Mall, made a quick switch of the shoes, and armed with coffee, I was on the scene at the Amope Beauty Boutique, talking product tips, color trends, and feet care with those who stopped by, came to say hi, or were curious!
Now for me, I am a bit over the top when it comes to my heel care. I have often found that after rocking an amazing pair of heels, the next day, my feet let me know they were not happy!
I mean, nothing gives me the heebeegeebees than when you're in the bed and your heels catch the sheets! I KNOW I am not alone here! So when Amope reached out to collaborate, I was all game- because listen- when your feet are NOT happy, neither are you… unless this is just me?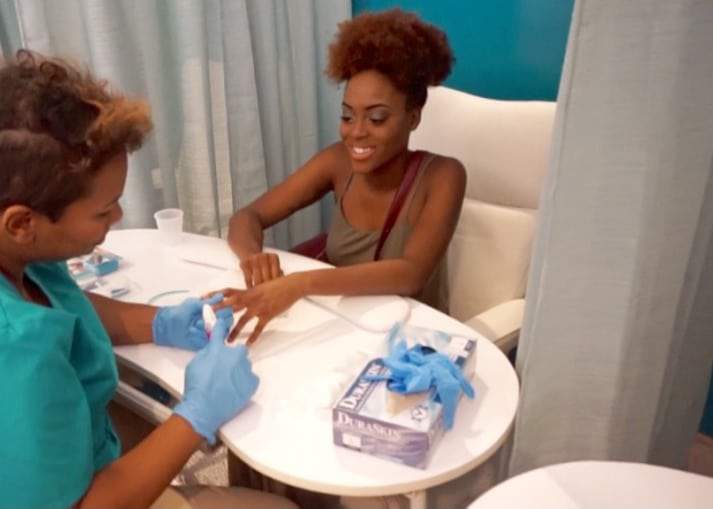 Guests were treated to a for-reals mini spa treatment with nothing but Amope products! For the feets, guests were introduced to the Amopé Pedi Perfect Wet & Dry Rechargeable Foot File. And for the hands? Guests enjoyed manis with the Amopé Pedi Perfect Nail Care System! But my fave? I am in love with my foot lotion! Like, this baby is super thick but not sticky or oily! Fancy that! The pop up boutique was wayyyy too cute! The layout, the team, and the experience! I even recapped a little video for you!
If you missed this Amope Beauty Boutique stop in Atlanta and are curious, you can see if the tour is coming to a mall near you! Yes honey, it is actually a tour! Take a peek at the future dates and locations! After Atlanta, you can catch the Amopé Beauty Boutique Tour in Dallas, Chicago, Philadelphia, and Long Island!
Now make sure you tune in on Tuesday, when I show and share with you how I rock my Amope!
Learn more about the tour and products at  Amope Beauty Boutique!
Do You Amope?
If you do, make sure you tag #doyouamope with your images!
Disclosure: Amopé has hired me to host the Atlanta Beauty Boutique, but my thoughts and excitement shared is my own!
Marie Denee
I am the Editor in Chic of The Curvy Fashionista. Often goofy. Forever emo. Always a Virgo. You can find me somewhere grooving to 90s R&B.