Hey girl, hey! How are you doing? Was Santa good to you this past Christmas? Well, if there were a few things that you missed under the tree, maybe this last giveaway for us turning 7 will be right up your alley! Have you ever wanted to pick out your favorite looks and have the all in one place? Well, thanks to plus size online retailer, Society+, we have a treat for you!
If you are not familiar, Society+, they are a plus size boutique that delivers curated plus size collections, featuring a few familiar faces in the plus size blogging world! Each month, a new plus size collection drops, with carefully picked out plus size looks and pieces to add to your wardrobe!
So what does that have to do with you?
Well, because I wanted to do something fancy and cool for SEVEN YEARS of The Curvy Fashionista, I am going to hook up ONE reader with her own collection from Society Plus! Yes! YOU! You will be able to choose the items in your own collection, shoot them, and officially be a part of the Society+ family! I may even rock a few pieces from your collection!
YUP!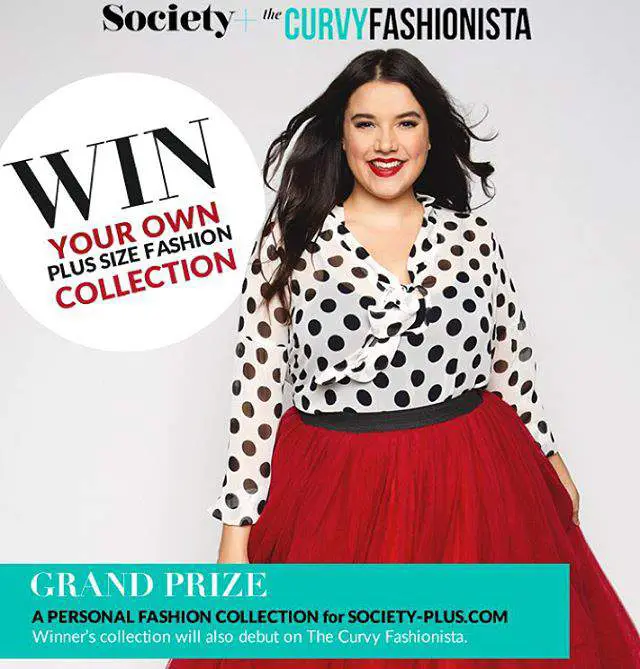 One reader will be able to curate her own collection and to enter is sooooo easy! So easy! All you have to do is follow the steps and tick them done in the form below!
Leave a Comment with your ideal collection inspirations and the who, what, and why about your dream collection!
Create a Pinterest board titled "My Dream Fashion Collection with The Curvy Fashionista and Society Plus" and pin your dream Spring Season Fashion Collection and hashtag #TCFxSocietyPlus
Make sure you follow @TCFStyle and @SocietyPlus on Pinterest!
For more points, follow @mariedenee and @iamSocietyPlus on Twitter!
Are you ready to win? Enter now!
WIN IT! Curate Your Own Plus Size Collection with Society Plus!
How cool is this giveaway?!?! I cannot wait to see what you come up with!
You have until Wednesday, January 6th at 11:59 pm PST to enter!