Happy Friday, loves!! Got any fun plans for the weekend? Spend your weekend in style with some fashion inspiration from the bloggers we love!! Last time, we met up with the amazing Vivi of Heart, Print and Style. This week, we're excited to bring you cute Canadian blogger Chantal of ModeXLusive!  A make-up artist and fashionista, Chantal shares her beauty secrets and style advice to inspire confidence in her readers and aims to show her readers that great style isn't determined by body type.  She is a plus size blogger YOU NEED TO KNOW!!!
Meet Chantal of ModeXLusive!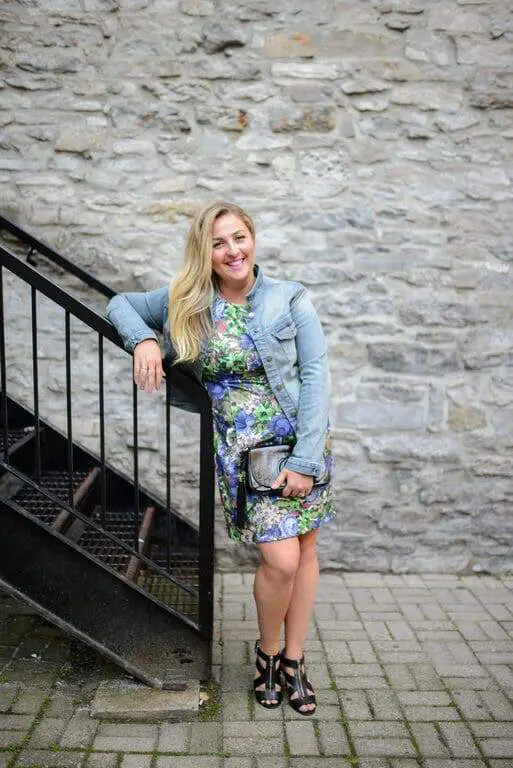 Blog:  http://Modexlusive.com/
Age:  32
Height:  5'8″
Location:  Ottawa, Canada
How long have you been blogging?  5 years

What or who inspired you to become a fashion blogger? What led you to it?
I was always into fashion, and I have always been a curvy girl. People have always complimented me on my style and have told me that I dress very well for my "size."  I live in the capital of Canada, Ottawa, and the plus size fashion scene is lacking. So I decided it was time to step up to the plate and combine all my passions to represent a body positive movement in this city and inspire women to look great at any size or shape.
Do you blog full-time, for fun, as a hobby? Share your evolution!
I blog as a hobby and passion. I hope to turn this into a full time gig. That would truly be amazing!

What is your favorite asset? Your legs, arms, waist? How do you play that up?
I was blessed with my long and lean legs. The secret is to wear shorter skirts, dresses or shorts and tight pants. I am also lucky to be able to wear boots and booties without looking like I have stumpy ankles.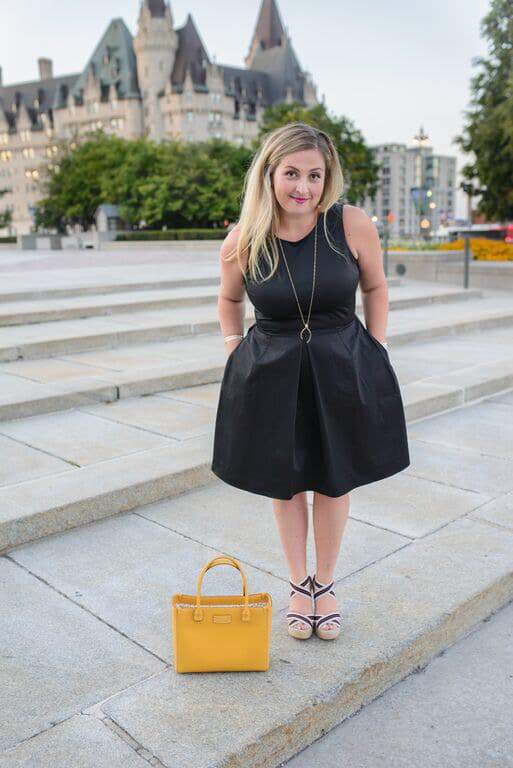 What are the challenges, if any, you face regarding being plus size?
I have broad shoulders, carry my weight in my stomach, and have a larger chest and arms. I find it always makes me look bigger than I am. Being an apple shape is less flattering and more masculine; it's also less healthy. Jackets have to be made wide, bras are hard to find and clothes are always tight around the chest and arm area.
What's your favorite thing about being tall and plus size?
I love my confidence and the skills I have developed to be able to dress for my body type without compromising style. I can wear different clothes, and I know that I won't be wearing the same thing as my friends.

What's your favorite thing about being a blogger?
I love being a role model for other women and helping them with tips on what to wear and getting dressed for your body type. People always tell me that I motivate and inspire them. There is no better feeling in the world.

Who/what are your favorite designers/brands?
I just discovered Eloquii, their clothing is very well made and tailored for your body. I wear XL, so stores like Banana Republic, Gap, Forever 21 and Old Navy are always on my go-to list. I have to admit that I am more of a bag and shoes kind of girl – that's truly where all my money goes!
Describe your personal style.
I am a fashion chameleon. I love classic, preppy, edgy, and feminine. It really depends on my mood though. Where am I going? Who I am going with? What new item is waiting in my closet for me? I change my look and style all the time and hate repeat outfits. I get bored very easily. While I like to blend in, I always find a unique way to stand out and add my personal touch. I hate wearing "what's in style" and strive to set trends… not be them.

Which bloggers inspire you? Plus or straight size! Any bloggers currently on your radar?
I love Lauren Conrad… I know, so basic. But I love following her journey and seeing how far she has come. On the other spectrum, I love following Olivia Palermo for style inspiration. My favorite curvy bloggers are Tanesha Awasthi of Girl with Curves and Nadia Aboulhosn.
What do you think about where plus size fashion is today versus a few years back?
I think there has been a great improvement for plus size fashion inspiration and clothing options. I love following other curvy girls and discovering new clothing brands. Social media certainly is a contributing factor.There is still a lot of improvement to be made around awareness, but as a blogger, I feel that I am contributing to it every day.
What do you think or hear from readers, is one of the biggest myths about plus size fashion?
Industry standards for plus size start at size 10 and 12, which is close to the average woman's size. Although these models represent the plus size community, there is still need for proper representation of larger women. More confident women like Tess Holliday are a must!

Are you working on anything or have anything to share?
You can follow me on Periscope at @TheChantsy and @Chantsy on Instagram (https://instagram.com/chantsy). Lots of great fashion advice and outfits! I'm on Twitter at https://twitter.com/thechantsy.
Anything else you want The Curvy Fashionista's readers to know?
Everything. It's not just about being yourself, it's about being your best self. We all feel good when we look good so let's strive to do more of this every day!

Be sure to check out Chantal's blog at ModeXLusive.com!!

Do you dig her style? Which look is your fave? Let's talk about it below!!
Are you a personal style blogger?  Want to be featured?  Make sure you fill out your deets here, so that we can feature you!