Hey boo! Remember when I told you about the ULTIMATE curlBOX Meet-Up? No? Well let me give you a quick recap and remind you to register or DONATE!
The Players
This fab subscription service is an affordable and simple way for all of my naturally curly people out there to try out products that can help them to tame their curls and rock beautiful natural hairstyles.
St. Jude Children's Research Hospital
St Jude is renowned worldwide as being THE place for chronically ill children to go for help. It is where doctors send their toughest cases. Why? Because they have developed a reputation for getting results where others have been unable to. In fact, they have the highest survival rate for even the most aggressive types of childhood cancer. They are truly doing great work in the battle against cancer.
The Event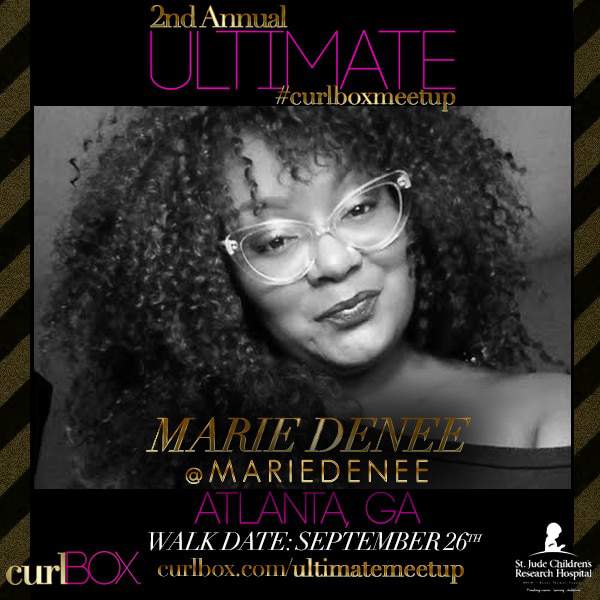 The #ULTIMATEcurlBOXMeetUp for the St. Jude Gives Thanks walk event is a collaboration between these two organizations. Last year, they were able to raise over $18,000 for childhood cancer research! Amazing, right! Well, this year, we are doing it again and the goal is to raise $25,000). Teams all over the nation are forming for the event that is going down on September 26th (or the 19th for some areas) and I have been selected as the captain for #TeamAtlanta. Let me tell you, I am sooo hyped to be able to play a role in such an amazing, important, and heartfelt campaign. I hope that you will join me as we try our best to reach our team goal of $2000. I KNOW that we can do this! So join me in Atlanta on September 26th at Lenox Mall.
Registering is simple!
Want to join me in Atlanta or DONATE?
Just visit the Atlanta curlBOX page and sign up to walk OR donate. Want to walk but live outside of Atlanta? No worries! There are teams in additional cities. Just visit curlBOX.com/ultimatemeetup for all of the deets!
Curious about last year's event? You can check out the fun pics by searching #ultimatecurlboxmeetup on Instagram.