Hope you enjoyed catching up with Allison of Inside Allie's World last week.  Isn't she great?!  Today, we're back with another blogger, Carol of Evolve Your Image. Carol is such an inspiration, and, at 50, she shows that fashion definitely knows no age or size.  She is a proponent of the idea that women can be both successful and stylish, which is clearly shown through her writing and outfit posts.  Her style is classic but fresh, and a woman who quotes India.Arie is a definitely a woman after my own heart! Carol is a plus size blogger YOU NEED TO KNOW!!!!
Meet Carol of Evolve Your Image!!
Blog:  http://evolveyourimage.me
Height:  5'7″
Age:  50
Location:  Vancouver, Washington
What made you want to become a fashion blogger?What led you to it?
I didn't see myself reflected in magazines, ads, or other blogs. It wasn't until I started blogging that I found other 40+ year old bloggers, but curvy and 50 with a style that I could resonate with? Not really.
What are the challenges, if any, you face in being plus-size?
My biggest challenge is finding clothes in a style and price point that I really like. I find that manufacturers either see plus-size women as young and sexual or old and neutered so finding classic sophisticated styles requires creativity and deep pockets. It's also frustrating that I have to order most of my clothes online since a lot of retailers no longer carry a comprehensive selection of plus-size clothing in their brick and mortar stores.
What's your favorite thing about being plus-size?
I've always been a curvy girl, even when I wore a 10 and 12. I've always loved and was celebrated for my thick thighs, shapely legs, and curvaceous hips. India Aire's song "Video" truly sums up what I love about my body when she said, "I'm not the average girl from your video and I ain't built like a supermodel, but I learned to love myself unconditionally, because I am a queen!"
What's your favorite thing about being a blogger?A plus fashion blogger? 
When I get a comment or an email from a follower thanking me for sharing my voice and my style. When women share they had given up or forget that at 50 they can take the time and effort to focus on themselves and make themselves look fabulous. I love that I can make a difference in the lives of other women.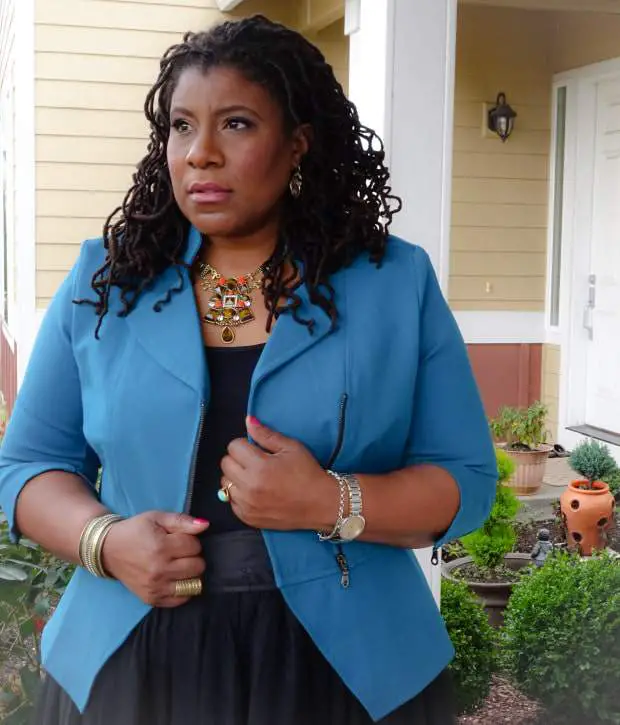 Who/what are your favorite designers/brands? 
Ralph Lauren (everything ALWAYS fits like a glove); Eileen Fisher (quality and comfort all in one); ASOS (very stylish and ahead of the trends); Lane Bryant (they have definitely stepped up their game over the years)
Describe your personal style.
Classic, elegant, and comfortable. If I have to iron it, I don't buy it.
Any bloggers currently on your radar? 
I adore Girl with Curves and her style.  Also, The Curvy Fashionista because she keeps me up to date on all things fashion.
Anything else you want The Curvy Fashionista's readers to know?
On a personal note I'm a wife of a fabulously supportive husband, mom of three incredible kiddos (one of whom is in college), and I'm a certified image professional and a fashion feng shui® practitioner doing work that I absolutely love. In other words, I'm blessed.
Also if you're interested in blogging, pick up the new book I co-authored, From Blank Space to Blogging Brilliance! Purchase your copy at http://bit.ly/blogbrillliance.
Be sure to check out Carol's blog at Evolve Your Image!
Do you dig her style? Which look is your fave? Let's talk about it below!!
Are you a personal style blogger?  Want to be featured?  Make sure you fill out your deets here, so that we can feature you!