Hey girl hey!
I hope you have been doing well! I am really excited to share with you and to show off my brand new site with you! After testing it our last week with the kinks and crashes,  I am ready to share! It has been a few months coming, but thanks to the ever so talented Sarah Huny Young (yes I got a female developer and coder) of Supreme Clientele, she whipped my blog and I into submission and hooked us up with a newer and fancier site! I cannot be any happier!
If you are new, then heyyyy boo! Welcome to the blog! If you are an OG reader, then you have seen the many iterations and I know that this has to be the best one! Are you ready to see the new look for the Curvy Fashionista?
What's New?
 Well, for starters, the whole layout. It is faster, cleaner, sleeker. There are quite a few bells and whistles on the site that are slightly hidden, so let me share with you! Are you down for a really QUICK tour?
Okay! Can we start with the navigation? It is cleaned up, better organized for native searching! And hello recent post from each category!
What's trending?! Well, this can be minimized if it is too much for you (we kept you in mind)! But this will show the most popular posts on the blog right now!
We have a new layout on the front page, highlighting the galleries, drawing attention to the content! All the fabulous content that you have missed from FB because well, you know, they have been minimizing how many people each page can reach… womp. So, hopefully you are able to see and read more! Which leads me to…
The responsiveness and mobile friendly viewing of the blog! Yessssss honey. HUNY put her foot into the mobile, iPad, cellphone, and desktop renderings of the site! I am all geeked about this! Which means those fancy galleries I now have on the site will be visible on all forms of your devices for your viewing pleasure!
Have you seen my galleries?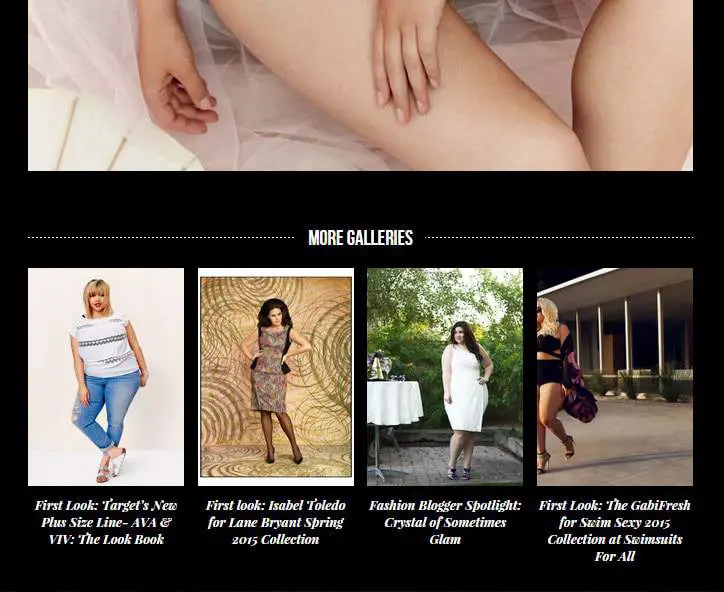 I feel sooooo fancy! LOLOL
BUT in addition to the galleries, we have added something new to the site– Shop our favorite picks from a few fave retailers and brands. If you are looking for the newest and latest- visit my lil shop of my favorite plus size finds from across the web! So if you are looking to go shopping, make sure you check out the shop section on the blog!
Updated and made a little prettier, the Plus Size Boutique Directory, the TCFStyle Forum, and our fave Plus Size Designers pages are still here! We have updated the Plus Size Blogroll too!
And not only has the makeover been applied to the blog, but the newsletter too! Have you subscribed? If you are subscribed then you must have seen the new newsletter! (If you did subscribe and didn't get it, check your spam, and add us to your contacts!)
I feel like singing:
I GOT A NEW ATTITUDE! Oooh ooh oooh oooh ohhhhhhh I GOT A NEW ATTITUDE!
What do we think? Liking the changes? Thoughts?