A few months ago, I shared with you a few
irritations about plus size design
. Then we talked about the brands taking notice like
ModCloth and giving the plus size woman some love
… Well, while we have made strides there are still quite a lot of inroads to be had. We are segmented, have different levels of income, varying styles and personal tastes! On the heels of
JMS's Plus size fashion and confidence survey
, we have the chance for you to sound off even more!
Even me over the past five years of the blog, my personal style has changed as I have gotten older- and I love it! I welcome it. As we have our own personal developments, it is comforting to know there are quite a few plus size brands and boutiques that are making themselves know to us! I happily welcome this. Shop on darlin… Shop on.
SO this is where YOU come in! A brand cannot know how you feel if you do not open your mouth and sound off! To help you along, Robin from The Runway+ has fashioned quite the survey that you have check out!
Talk Back to Fashion and Let Your Voice Be Heard!
It's about getting MORE Fashion-forward choices for plus size shoppers:
Tell the fashion business world 

exactly

 what you want
Less than five minutes, the questions are about preferences – from which kinds of clothes you'd like to see more of to which designers you would buy from (if the options were available!) to what you'd be willing to spend for that dream item
You may even have the chance for a one-on-one follow up interview if you have more you'd like to say
It's Rewarding:
The stronger the voice from the plus size fashion community, the more the retail industry will listen
Your feedback will go directly toward creating the next great plus size fashion experience
And for simply letting your voice be heard, you can also 

enter for a chance to win a $100 Amazon Gift Card
It's Confidential:
Responses are 100% confidential and anonymous and will be used in aggregate to demonstrate the overall fashion preferences of plus size shoppers
It's Easy:
If you'd like to take this survey, visit Runway+ Here!
Answer each question and click "Submit" at the end
After completing, the option will be provided to enter for a chance to win a $100 Amazon Gift Card
A "Thank You" page will let you know it's completed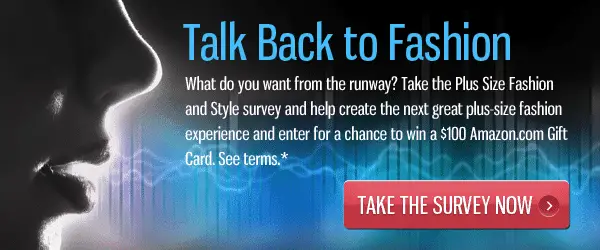 The More You Talk, The More Businesses Will Hear, Listen, and Take Action- Let Your Voice Be Heard Today!