Shorts. I am all over them this season. Denim, cotton, and everything else in between, I am here for shorts. Today, I was relaxing, playing around at my friend's house and thought, maybe I should share… So, I did! As I have shared in the past, I have a thing for shorts. Probably, because of where I live. It gets to over 100 degrees in the summer!
I am sooo in love with this oversized sweater from Simply Be. I love a good knit and even better, one with a little attitude. Love it. In white too?
These ASOS Curve Lace Shorts? Mmmhmmm I bought them. They spoke to the inner bohemian in me. Easy breezy and fancy free? I was surprised with them to. They fit perfectly! I was concerned that the leg would be too tight or that they would cut the tummy in an awkward place and these shorts (there are only a few left here) MADE ME HAPPY.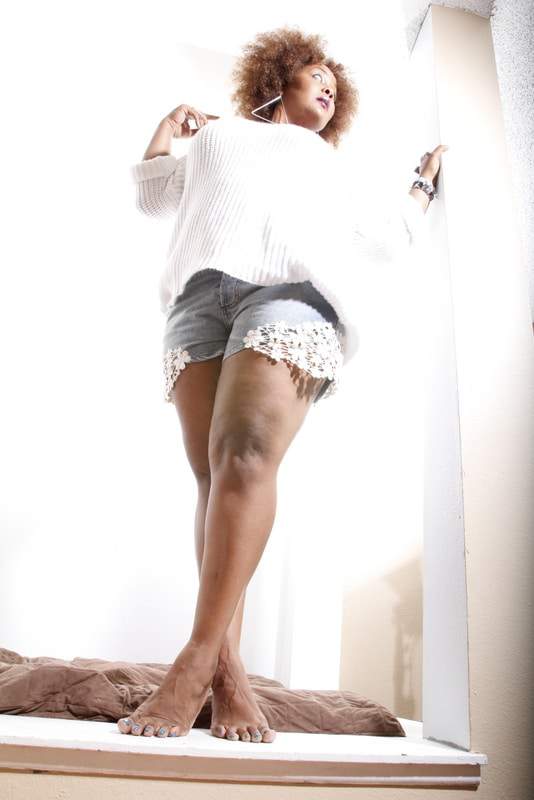 The button fly was a pleasant surprise as well! The coverage of the lave hit longer than I thought, only making my comfort level in these bad boys higher. Being that we were lunging around and playing, we shot in this nook with killer lighting!
I cannot wait to rock these shorts all summer long. Do NOT be surprised if you see these making another appearance on the blog! I can tell you that this uber comfy, segzy, and yummy oversized knit from Simply Be? THIS one will make its debut later this week, with some killer news!
You can score what is left of the ASOS Curve shorts here and the Simply Be Sweater by Joe Brown here!
Special Thanks to Will Utley Photography who shot me! Like his FB page here!
Are you a fan of these shorts from ASOS Curve? What about a chunky white knit oversized sweater? Can you get with it? Leave a comment below and let's talk about it!