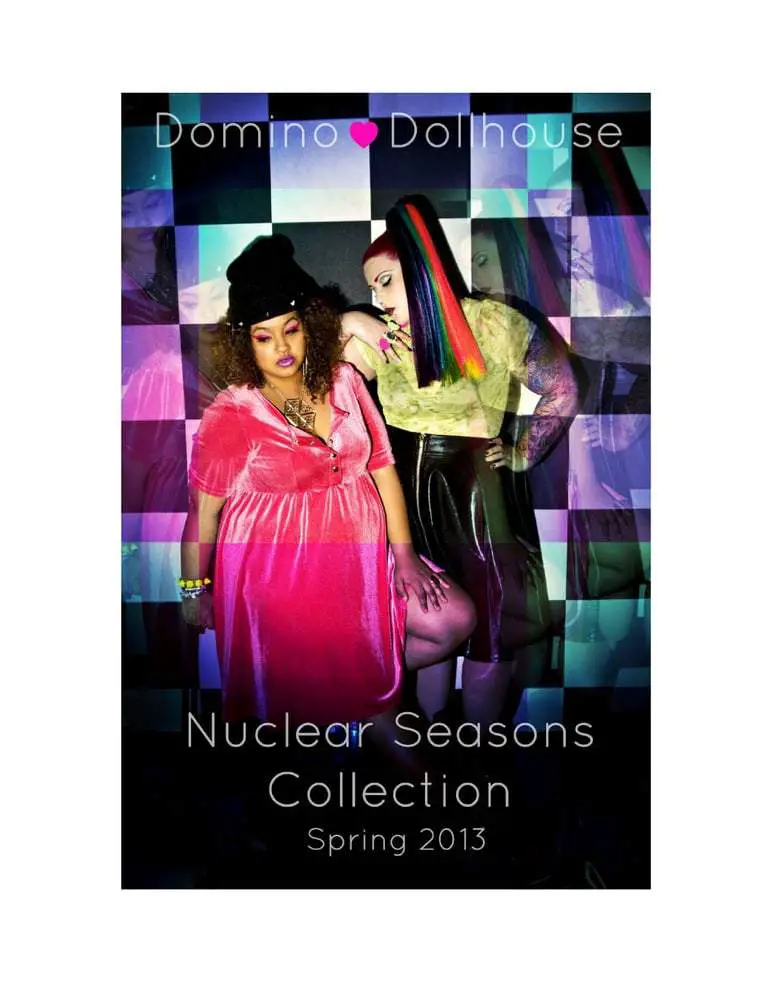 Are you familiar with Domino Dollhouse? The retro, edgy, sassy, and playful plus size fashion line fashioned by Tracy Broxterman and made in the USA? I have rocked out in one of her dresses and I love it! BUT, today, I get to share with you her latest collection, the Nuclear Season Collection that has me all excited and stuff…
If you haven't noticed, across many of the plus size spring collections, there is an interesting nod to the 90's and I think I am here for this. I don't know… I am happy and curious, and intrigued, but with Domino Dollhouse, they draw inspiration from the 90's but in a cool and updated way! LOL
I mean though, let me share with you the inspiration of the collection:
About the Nuclear Seasons Collection:

We had full on 90's nostalgia for Spring '13 and thus created the Nuclear Seasons collection. We continued focusing on spectacular fit and threw in a heaping dose of print mixing to create this bold and bright Spring collection. We focused on street-wear; totally wearable pieces for everyday life that are ANYTHING but pedestrian.
[slideshow id=13]
The Nuclear Seasons pieces are available in sizes 1X- ­4X and range from $34.99 to $99.99. The first part of this collection (there are two parts) launches in April and will be available for immediate shipment.
What do you think of this collection? Are you a fan of the 90's fashion comeback? Which is one trend that you'd like to stay in the 90's and one you'd love to see NOW?