If you don't know, I live in the IE about 60 miles east of LA (soon to be 40 as I get ready to move to Ontario). As you can see, me trekking out to LA for a fashion event with gas now at $5.00+? It's a challenge!
So, when I heard that one of my old school favorite shopping spots, the Ontario Mills (the EPICNESS of outlet Malls- like over 400+ stores) was to have a fashion centered event AND they wanted ME to sit on a panel? I WAS ALL OVER IT! ALL OVER IT!
Let me introduce you to "Style Stop"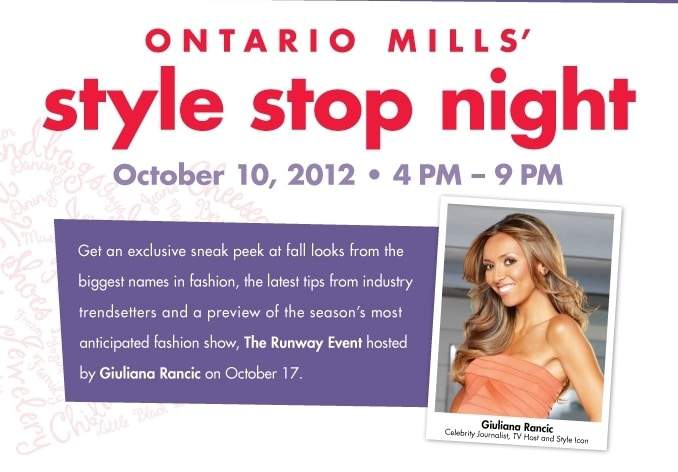 Ontario Mills celebrates fashion and women with a fashion event on October 10th from 4-9 pm! Imagine if you were to marry Fashion's Night Out with your favorite Outlets celebrating women and fashion for one night? You get Style Stop– an eventful night with special discounts, informal modeling, trunk shows, personal shoppers, giveaways, entertainment, refreshments and more from your faves like Saks Fifth Avenue OFF 5TH, Calvin Klein, Ann Taylor Factory Store, Gap Outlet, Watch Station International, Banana Republic Factory Store, DKNY Company Store, J.Crew Factory and more!
But wait, there is more!
The following week culminates this celebration with the highly anticipated Celebrating Women Runway Event! SO to get YOU excited, on October 10th, you get the chance to meet fashion show producer James Campbell, celebrity stylist Vincent Boucher, and celebrity jewelry designer Devon Leigh!
And there is still more!
There will be a Style Maker blogger panel hosted by MYSELF, Mary Hall of "The Recessionista" and Anna James of "Fash Boulevard" at 7 p.m At Neiman's Last Call!
All leading up to…
The Celebrating Women Runway Event hosted by E! News co-host Giuliana Rancic on Oct. 17! Sponsored by Mercedes-Benz of Ontario on Wednesday, Oct. 17 at 7 pm, this is one of the IE's MUST ATTEND EVENTS, hosted by Giuliana Rancic and produced by James Campbell.  The dazzling show under the stars, with top professional models strutting the oversized catwalk, will highlight a collection of the best that Ontario Mills has to offer for less!
Ontario Mills' Celebrating Women Runway Event and Style Stop night are free and open to the public.  For more information, please call (909) 484-8300, visit Ontario Mills or check out Ontario Mills on Facebook and Twitter.
Will I see you there? Come on DOWN!!!!