Welcome to our new weekly news roundup in the mighty world of plus size including: fashion, community, and industry news you can use!  Again, many thanks go to Di from Fat Chic for allowing us to share her roundup with you!  And she gives us the news- straight up no chaser!
Are you ready?  Here we Go!
Word on the Street: 5.7.2012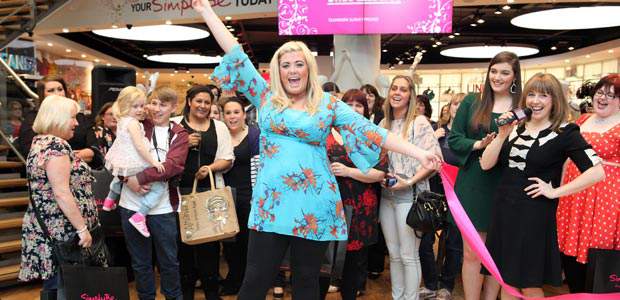 Gemma Collins, at the launch of a Simply Be store in the UK
The Atlantic reports on the anorexia problems inherent in the fashion industry. Oh, they knew, Ms. Greenfield. This article is related to Vogue'ssudden decision to promote a "healthier" body image – I remember reading an article less than five years ago that mentioned body image/health being "shoved down our throats," in sister publication W, and similar sentiments expressed in the corresponding issue of Vogue. I'm curious as to what went on behind the scenes – my bet is a wrongful death lawsuit, but I do not know this for a fact. All this fuss reminds me of the campaign Pizza Hut waged about removing corn syrup from its pizza, only to put it back in unannounced six months later. The corn syrup of the fashion industry is the underage, underweight models who are expected to fit clothing instead of the designers using their actual skills to make the clothing fit them.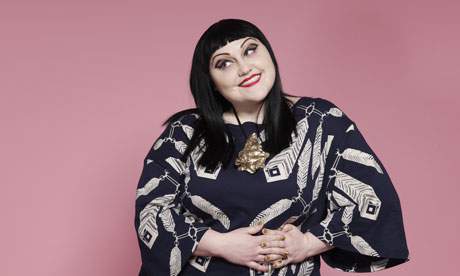 An interview with Beth Ditto where she talks about everything from Adele to her experience coming out of the closet appears in the London Evening Standard. You can get more details in her interview with the Guardian.
A study commissioned by the New Atkins Diet found that thinspiration doesn't work – pictures of Victoria Beckham actually puts women off of dieting.  What's notable about this is that the blog made sure they found out who paid for the diet study.  Always find out who pays for it – that often tells you more than the study itself does.
British plus-size model Seymone talks about companies bringing her in on casting calls – and not having the decency to bring her clothing that actually fits. You want the look, you dress it – you don't ask the model to fit the clothes.People have died of that crap, so knock it off.
British designer Theo Paphtis has taken notice of a Harrogate (UK) based designer that is bringing in plus-size clothing for women over 50.
Comedian Gemma Collins participated in the opening of a store, as part of the launch of Simply Be storefronts.
Another examination of whether it's possible to be fit AND fat.  "A small but growing group of exercise researchers are saying that fitness, by itself, is enough to improve your health. And even the mainstream health officials agree that it's OK to step off the scale and focus on regular exercise and healthy eating."
Season 4 of Drop Dead Diva is appearing on June 3. Reality show Big Brooklyn Style airs on May 29.  Vaguely suspicious that 30 Rock's fictional clothing line Cheek (pronounced Chic) is a send up of Fat Chic. But they probably don't know about me, it's just common to misprounounce "chic" (sheek) as "chick" or "cheek."
Caitlin Bradley is yet another UK-based plus-size fashion blogger now getting some press attention.
Former Miss World (from India) Aishwarya Bashing has had a baby, and as a result put on weight – and the spiteful behavior towards her in India is on the same level as spiteful female violence anywhere else in the world.
 The Business of Plus
The big news is that Ascena bought out Charming Shoppes. This was covered on Fat Chic last week.
Hot Topic  Inc. (owner of Torrid) is reporting a boost in sales since last year.
British fashion brand Nougat is launching a plus size fashion line aimed for the 40+ customer.
Retailers in Victoria, Australia are reporting a 70% increase in the plus-size fashion business.  Not all sources see this as good news.
Charming Shoppes is employing new software to reduce operation costs.  No word on whether the savings will pass down to the customer.
RedCats brands have added 90 countries to its international shipping options.
Deb Shops will be remodeling stores throughout the US.