I already know that summer is about to be a scorcher.  Just from the randomness of the hot days in April! So how does one stay cool, covered, and in control?
Enter in a trend that gets better with each season: SHEER!
Sheer play is quite fun, sexy, playful, chic, modern, and functional!  Whether you fancy a dress, blouse, skirt or beach cover-up, there is a look for you!  From pastels, neon, floral play or insets, you will find sheer as an accent or focal point that has be beaming with anticipated-100+-degree-weather glee!
Rather than give you one item that I love, I rounded up a few pieces that have me geeked out! Ohhh and if money weren't an issue, I'd have them all!  Take a peek at some of my faves from Dorothy Perkins and Navabi that have me excited for this trend!
Gotta Have Sheer, Sheer, and More Sheer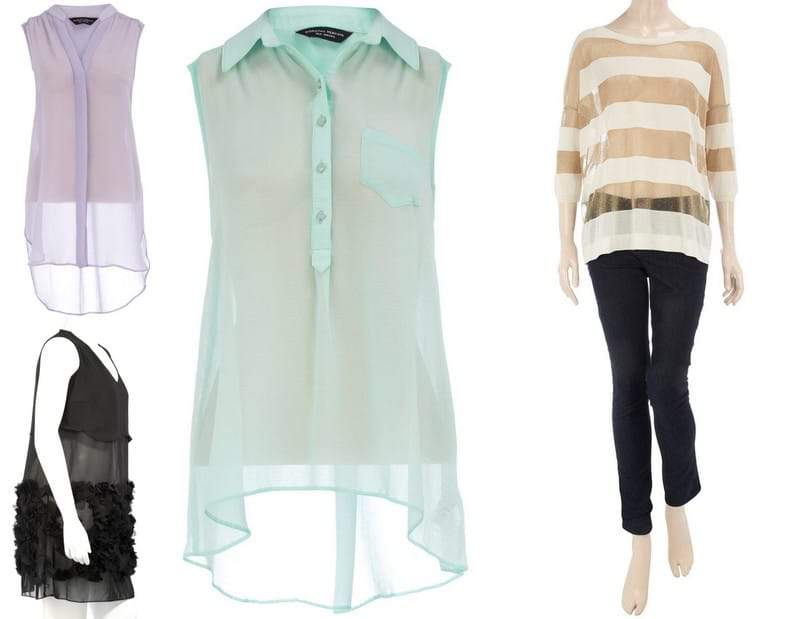 Clockwise from left to right: Dorothy Perkins Lilac Blouse, Mint Dipped Hem Blouse, White Sheer Striped Top, and Navabi Carleoni Sheer Dress.
Which are your favorites?  Are you a fan of the sheer trend?  I want to know!  How would you pair it!