Launching today, "Le Shoppe" by Los Angeles Fashion Council, features the work of some of the designers they took to London; Alana Hale, Jen Awad, Curly V, The Bohemian Society by Victor Wilde, Sires Crown Eyewear, Kittinhawk and Bijou Van Ness. The collection also features Los Angeles Fashion Council original t-shirts. For many of the designers, this is first time their collections have been available at retail, and many pieces are exclusively available through their store.
And Guess What? 
I modeled hats for Bijou Van Ness!
Asked to bring in some of my dresses and shoes (I was told to bring fancy church attire! LOL ), I was styled by Kristen from Glitter N Glue and had my hair pressed, makeup done and voila! I am on the site! Here are my looks and links below: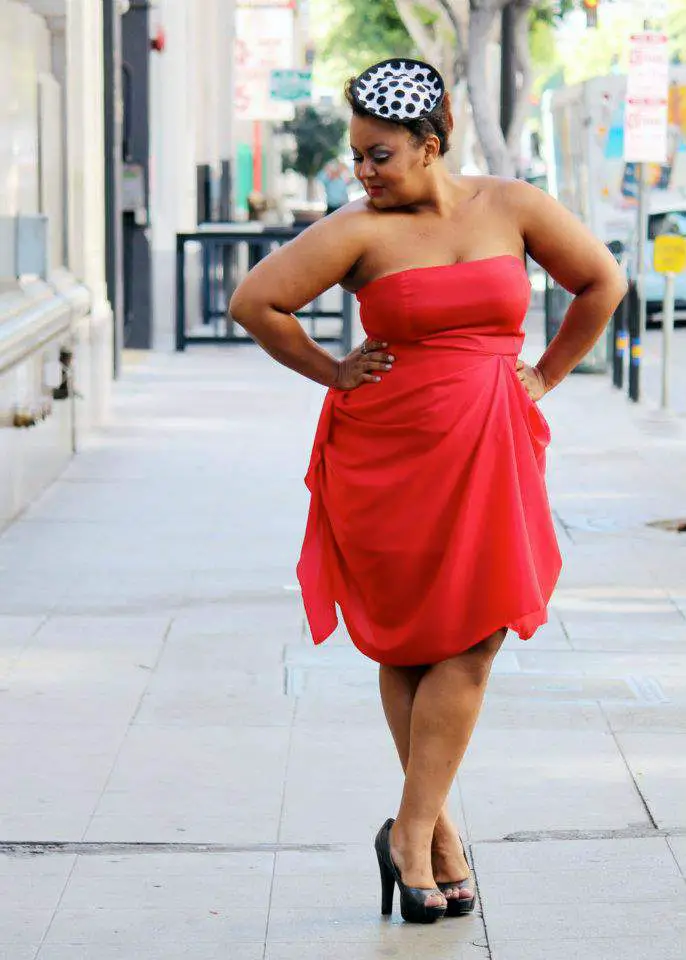 The Polka Dot Cocktail Hat by Bijou Van Ness. Fascinator made from sheer silk organza fabric with black cotton polka dots. Grosgrain ribbon around edge and purple silk taffeta lining. Secures to head with elastic headband. In this shoot, I am rocking a red drape dress from eShakti!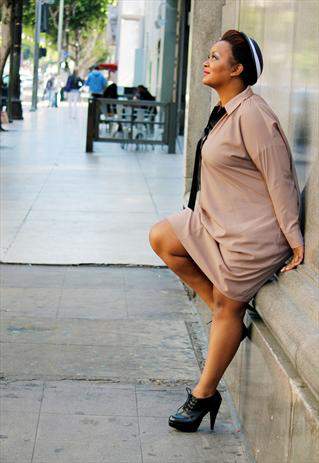 Le Petit Cap by Bijou Van Ness. Navy parasisal straw hat with cream grosgrain ribbon around crown. Secures to head with elastic headband. Here I am wearing a ASOS Curve dress and shoes from Sole Society!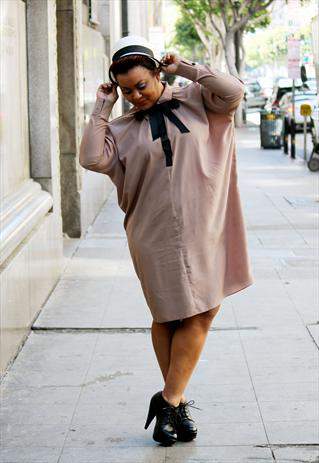 The Voyager Cloche Hat by Bijou Van Ness Natural parasisal straw cloche hat with black grosgrain ribbon hand-sewn around brim and crown.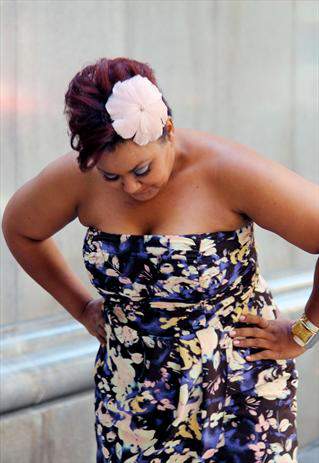 The Simone Hair Piece by Bijou Van Ness. Individually applied champagne-colored goose nagoire feathers with a gold crystal ball in the center and ultrasuede backing. LOL Again a dress from ASOS Curve (last year) and Micheal Antonio Shoes!
The Feather Bow by Bijou Van Ness. Silk satin bow with crystal brooch, individually cut and shaped feathers and veiling. Secures to head with metal hair comb. This dress is from Cherry Velvet!
The designers chose bloggers from Two Point Oh La to model their collections! Photography for the store was shot on the streets of downtown Los Angeles, by Los Angeles Fashion Council Director and Founder, Kelsi Smith. The collections were modeled by some of LA's fashion bloggers from  Two Point Oh! LA including, Olivia Lopez of Lust for Life for Alana Hale, Lux Leonard of Lux Likes It for Jen Awad, Chanelle Laurence of The Penelope Times for Curly V, Jenny Wu of Good, Bad and Fab and Peter Adrian of The Hobbyist for The Bohemian Society, Bethany Struble of Snakes Nest for Kittinhawk, ME!!!!  The Curvy Fashionista for Bijou Van Ness and again, Peter and Bethany for Sires Crown Eyewear.
 You can view the entire collection NOW at Le Shoppe by LA Fashion Council on the ASOS Marketplace!