I have always been a fan for color. Like BOLD in your face color. So when I saw these fancy orange pants, my mind started to race with ideas and combonations that I could rock these with! Wear to work, out with the girls, or running errands, the possibilities are endless!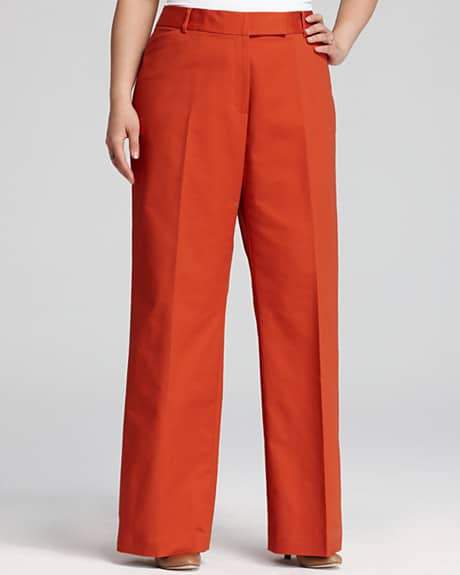 No seriously!
And what I really love about the hue of these Orange Elie Tahari Plus Size Carina Pants is that it is bold enough for spring, yet the hue is deep enough to take me into fall! AND the cotton blend of these pants means that they can be dressed up or down without a step to be missed!
Don't believe me, well, I have tried (don't laugh at my collage) to show you just two ways that these pants can be styled, both for daytime and casually!

First, I paired these with this Lafayette 148 Tie Neck Blouse, going a bit more sophisticated. If it got chilly, then I'd pair with I am thinking a yellow cardigan- yes? Or if I needed to be more formal, a white blazer!

On a more casual note, I would rock a denim blouse tied at the waist layered over a white tube top! Grounding the tones, I would play with different hues of brown and caramel to keep more understated and let the pants do the talking!
These pants can be found at Bloomingdales and are only $98! For Elie Tahari, their regular pants are usually at least $198 for their casual ones, yet you get the same quality! In my smaller days, I had a few pairs of Elie Tahari pants and adored them to bits! They worked for my thighs and midsection quite nicely!
Love them? Well, what are you waiting for? Go get your Carlina Pants NOW!