I arrived to the Levi's backstage area a little early so the chaos had not even begun. Models were still munching on the snacks. I even had a few muffins myself. I chatted a bit with the lead makeup artist and hair stylist about the looks they were creating.
BEAUTY: Sarah from Stila Cosmetics provided the classic yet modern looks for Levi's. The Levi's collection included lots of vintage pieces so the makeup reflected a very youthful and ageless feel. Stila's One Step Illuminate was used on every model (including the male models). The skin was prepped with a very natural beauty balm to erase some of the redness and blemishes. The eyes were kept very matte and warm to match the blue denim, and the coffee colored vintage inspired hats. To add more fabulousness the makeup on the brows were shaded for a deep strong Sharon Stone look.
Sarah's Spring Makeup Tips: COLORS! Think of PopArt. Wear it like you mean it. Choose one feature and go bold but subtle. Use pink violets, teals and fuchsia for your eyes but keep the cheeks sunkiss bronzey and lips nude. Don't try to mix too many combos — keep it balanced.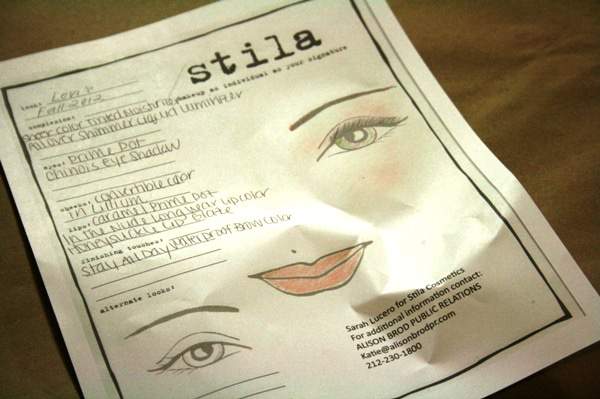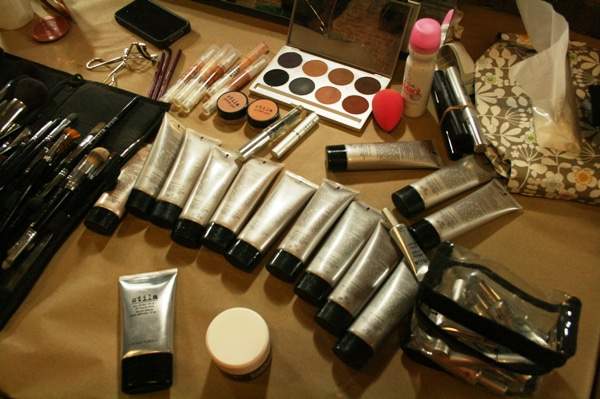 HAIR: Very causal and relaxed to compliment the feel of Levi's denim. Classic and timeless.
The LOOKS: Check out a few of my favorite from the show.
[portfolio_slideshow id=14010]