I am so excited and honored to be sharing with you the next giveaway in celebration of Turning Three! So, what is up for grabs today?
I have had the pleasure of snatching up an Elomi bra or two and now I get to share this fanciness with you! How about a mini shopping spree for bras, panties, hosiery, shape wear, and all those goodies Underneath It All!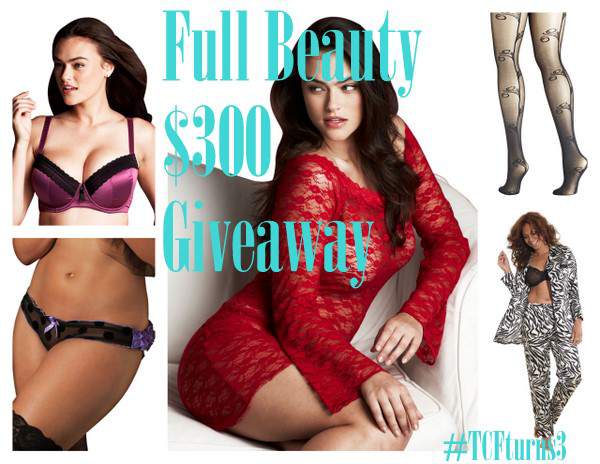 So, to help you sail into 2012 in high style, we have Full Beauty to Thank! With $300 to spend, Full Beauty is going to give one lucky reader of The Curvy Fashionista, $300to get your full figured curves into some fancy lingerie!
Could this be you??? Did you know that Full Beauty fashions bras up to a 50N? YUP!
So what do you need to do to grab your chance at $300 in lingerie? Well, to be eligible, you need to make sure you are signed up for The Curvy Fashionista's newsletter! Next, follow these steps in the form below! You get extra points/entries for tweeting and sharing on Facebook!
Contest ends on the 22nd at midnight (EST)
Good Luck! And don't forget if you are in the LA Area, you are invited to come out to my Blog Anniversary Party (<– RSVP at the link)!
In the meantime, make sure you check out the latest #TCFturns3 giveaways!