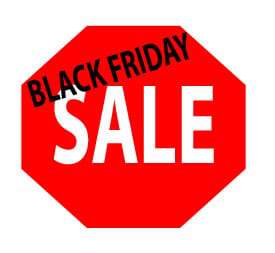 Its that time again! Black Friday is amongst us and the deals and savings are already taking place! I have been working tirelessly trying to roundup some of the coolest deals and they are still coming as you read this! Even losing internet at my home couldn't stop me from sharing with you! Thank the lord for wifi hotspot! LOL…
So I wont keep you reading, as some of these deals are active now! To help you out, I have tried to categorize them for you! If you are not going on, there are some deals (actually quite a few) online, and then stay tuned for Cyber Monday Seal coming in its own special post!
In store:
Boutique Larrieux (315 N. Broadway, Milwaukee, Wi 53202) Spend $200, pick your promo! FREE scarflace or 15% Off. Shop Online at Boutique Larrieux and choose your promotion as well! Online codes FSCARF & 15OFF
Couture Queen (8400 1/2 Harford Road, Parksville, MD 21234) is offering 30% off all merchandise in the store including shoes, handbags and accessories for Small Business Saturday from 9am-7pm. In addition to the sales, the boutique will also offer light refreshments for patrons and the opportunity to network with each other and share with other small business owners. She will be closed for Black Friday.
Jenette Bras (Los Angeles Ca) 'Black Bra Friday' Sale Nov. 25 10am-7pm at Jenette Bras. Up to 40% off fashion bras, swimwear, lingerie and underwear. Different brands will have different discounts. This is the first time all colors are on sale; previously it was only black bras. 
Johntines Boutique: (332 Malcolm X Blvd. Brooklyn, NY 11233) Pink Friday Sale. 11:30 AM- 8pm. Select dresses, tops and jeans 20%, 30% and 50% OFF
The Beautyfull Boutique:The BeautyFull Boutique will be participating in the Old Town Black Friday Sale on November 25th. The sale will include clothing and accessories from BeautyFull Boutique, Nicky B's Accessories and Pop Up Plus boutique for curvy girls. They will be open from 6:00 a.m. to 6:00 p.m. We will offer the following discounts on Friday: 30% off from 6:00 a.m. to 8:00 a.m. 20% off from 8:00 a.m. to 10:00 a.m.10% off from 10:00 a.m. to 6:00 p.m.
The Voluptuous Vixen (818 Chartres Street NOLA, 70116) Two day Black Friday Sale with up to 20% off!
Online:
Trips/Vacations:
Voluptuous Voyage: Plan your next vacation today to sail with us to Mexico! You've worked hard in 2011, now enjoy yourself aboard the Voluptuous Voyage Cruise, April 28, 2012 – May 3, 2012, sailing from Galveston, TX! Now is the time to start thinking about your next vacation! Just in time for the BIGGEST shopping day of the year, BBW Empowerment, Inc. is offering a Deposit Sale! Deposits from November 25, 2011 through November 28, 2011 are only $75!!!
Beauty:
Sephora: Black Friday Exclusives: 10 specials. $10 each. Stock up before they're gone!
Stila Black Friday Happy Hour at Stila with exclusive deals and steals! 
Benefit Get a free high beam mini with $35 order. Enter HLDYMINI at checkout. Offer valid 11/22 – 11/28 11:59p PST.
Clothing:
Anna Scholz
Addition Elle: This Black Friday, get 20% off your order at AdditionElle.com! Use Promo Code: AEBFNOV (Valid Nov 25 thru Nov 27)
Adora Om Black Friday, Small Business Saturday and Cyber Monday your shipping is FREE with any purchase of $99.00 or more!
Ashley Stewart:  30% OFF EVERYTHING – NO EXCLUSIONS + Free Shipping on $75 or more at Ashley Stewart! Offer Valid 11.28 – 11.29 at 7 AM EST.
ASOS Black Friday at ASOS! Save 20% off Women's sitewide (including Sale) with code HAPPYBLACKFRIDAY at Checkout. Valid 11.24.11 – 11.28.11.
Avenue: Avenue Thanksgiving Sale up to 50% off + free shipping on $50 on 11/23-11/26 only
Bare Necessities Enjoy $15 Off orders over $75 with code GIVETHANKS! Exclusions apply, 11.22.11-11.23.11 and check out all Black Friday Deals at BareNecessities.com – up to 40% Off! 11.22.11-11.29.11
BedHead Pajamas BLACK FRIDAY/CYBER MONDAY SAVINGS up to 55% on great deals at Bedhead Pajamas – all Sale Pajamas only $69!
Big Girls Bras Thanksgiving sales at Big Girls Bras!
Bloomingdales Big Brown Bag Sale: Save 25-40% on a great selection plus, take $25 off almost any $200 purchase at Bloomingdale's! Offer valid 11.24.11 to 11.27.11
City Chic CityChicOnline is giving their customers 60% off eveything Until 28th Nov 11, get the party season must haves while stocks last. Free shipping and returns
Dorothy Perkins 24 hours to get 20% off partywear / Exclusive online
Eddy and BriFor Black Friday, Small Business Saturday and Cyber Monday, will be doing $20 off any purchase of $80 or more and free shipping. The promo code will be TGWKND.
eDressMe eDressMe Black Friday through Cyber Monday 25% Off Coupon cyber11
Eloquii Save 50% off everything with code: INSIDER50 and spend over $100 and get a free tote 
Evans Save up to 30% off across the entire site! Online shoppers can get early access to these great savings this Wednesday, with the promotion available both in store and online from Thursday. 
F3  is offering $20 off of any purchases of $100 for black friday! ENTER COUPON CODE "BLKFRI"
Fashion To Figure Use coupon code DOORBUSTER and save 40% for Black Friday! This offer is valid from November 25th Midnight – 11am. AND Use coupon code THANKSGIVING and save 25%.This offer is valid from Nov 25th, 11 am – Nov 27 midnight. Offer expires December 31, 2011
Forever 21+ Free Shipping and 10% off Forever 21+ orders over $50 Use Promo code: F21PLUS10
Full Beauty30% off Highest Priced Item + Free Shipping on $100 or more. Use code FBA7570.
11/25/2011 – 11/28/2011
Hanky Panky:Thongs as low as $11.99. Boyshorts and panties up to 50% off Camis and tops up to 50% off. FREE Ground shipping on all orders (no minimum purchase). Sale starts 9:00 pm EST on Thursday, November 24thand ends Tuesday, November 29that 10:00 am EST
Hips and Curves:Save up to 80% off selected items!
Jessica London 40% off your highest priced item when you buy 2 or more with code JLA4428
Jibri Save 50% off all items from midnight until noon  (est) using code: Black11 
Jill Alexander Designs In Thanksgiving for our customers, our BLACK FRIDAY SALE! 50% off of ANYTHING and free shipping on all orders over $150. This means you can pick up the Gwen jumpsuit in time for holiday parties, and get one free for your friend so she doesn't steal yours! Coupon code: THANKSJAD. Begins Friday at 12am and ends Cyber Monday at 11:59pm.
Kiyonna 30% off orders of $150 or more
Kmart- Blue Friday Special Doorbuster Sales Online Only 4am- 1pm (cst) and free shipping over $49 use code: HOLIDAY
Lane Bryant Black Friday at lane Bryant! Save 50% off online!
Lovey's Boutique: 50% off Online on Black Friday
Macy's Black Friday Specials + Free Every Day Shipping Sitewide with $99 Purchase at macys.com! Valid 11.24.2011 – 11.26.2011 and an extra 15% Off at macys.com Thanksgiving Day Sale. Use promo code GOBBLE at checkout. Offer valid 11/24-11/25
Ose(Uh-Seh) at 12am this Friday and save up to 50% off some of the most popular searched items on the site!
Penningtons This Black Friday, get 20% off your order at Penningtons.com! Use Promo Code: PBF20 (Valid Nov 25 thru Nov 26)
Qristyl Frazier Designs: Save up to 30% off Epitome Collection through December 2nd
Queen Grace:  4 Day  50% OFF Thanksgiving Sale, starting on Black Friday and ending at night of Cyber Monday
QVCOne time only values this Black Friday! Hurry, this offer won't last! Check off your gift list & shop QVC.com today!
Rachel Pally– site-wide 35% discount for Black Friday weekend!
Rafaella: Save 35% off the entire site
Sealed With A Kiss SWAK is doing 25% site wide on everything in the store. Plus, for each $25 a person spends, they get back $5 SWAK Bucks that can be used next year. Sale is Thursday through Tuesday. Code to checkout is ILOVETURKEY.
Sears Black Friday! 80% off Women's Outerwear and Up to 60% off Kids' and Men's 11/25
Shop Translated: Save 50% every item on the website!
Sonsi  50% off Lane Bryant Outlet Free ship on $75 – use code FREESHIPSI
Spanx: Spanx 20% Off all orders at Spanx & Free Shipping!
Svoboda Save 50-75% off all premium denim with Svoboda!
Style 369 is offering up to 30% off everything starting today – Wednesday 23rd until Monday 28th 
Ted Baker is offering an amazing30% discount across the entire site for Black Friday and Cyber Monday from November 25th through Monday 28th.
Woman Within Shop the latest Woman Within Black Friday Deals!!
Shoes and Accessories:
Dannijo:DANNIJO is going to be 20% off site wide for Black Friday through Cyber Monday (excluding MR DANNIJO and Falling Whistles).
DNA Footwear 15% off Sitewide except UGG, Sorel and Pajar Items – coupon code TGBF15
Endless.com Black Friday Sale $30 off $100 orders, $60 off $200 orders, $100 off $300 orders 11/27-11/28
or 33% off Slippers, Boots, Athletic and Accessories 11/24-11/26
and Black Friday 33% of Select Jewlery (site wide) 11/25-11/26
Glitterrings:  Free Shipping (11.25 – 11.28) and 20% off sitewide – code GLIT 20. 
Heels.com  Get $50 off orders of $150 or more at Heels.com for Black Friday! Use Code: YAMS
Jessica Simpson Black Friday/Cyber Monday: Get $50 off ANY Boot Purchase at JessicaSimpsonCollection.com. Valid Online Only, 11.21 through 11.28
KarmaLoop 25% off plus FREE SHIPPING on all orders over $65+ at Karmaloop.com. Orders $100+ get a gift code for $10. Orders $150+ get a gift code for $20. Orders $250+ get a gift code for $40! USE CODE: BLACKFRI. Valid 11.25.11
Max and Chloe After Thanksgiving sale! Save up to $250 at Max&Chloe with offer code THANKS11MC.  Offer ends Nov 28th
Nine West: Nine West – Up to 60% Off Booties + FREE Shipping. Shop Now through Nov. 28. Discount reflected at checkout.
Payless Shoes Payless Thanksgiving 5-Day Sale: Save up to 50%
Piperlime:Piperlime is going to be 20% off site wide for Black Friday through Cyber Monday.Getting the right gift just got easier!
Rebecca Minkoff   Save up to 50% off a large inventory of handbags as well as a selection of apparel, shoes, accessories and Ben Minkoff
Via Spiga: In addition to a site-wide 20% Off and Free Shipping promotion, Via Spiga fans can vote on Facebook for one of three shoes and the winning shoe will be an EXTRA 30% off black Friday through cyber Monday. Voting period is November 16 @ 8am through November 20 @ 11:59pm.
The Sample Sale Shopping Sites:  
Beyond the Rack: Black Friday Fever at Beyond the Rack! Join today and receive a $15 shopping credit and Free Shipping on purchases over $100. Invitation Code: BLACKFRI15 Starts 11/25 at 12:01 AM EST and ends Nov 27th 11:59pm EST!
Other Cool Places: 
Barnes and Noble Black Friday Sale! Save 30% off 1 Item at BN.com – Use Code C9Y8K3H at checkout!

Amazon.com Black Friday Deals of the Week: Black Friday Deals of the week
Make sure you bookmark, share, tweet, and checkback as this list WILL be updated! J