!!!!!!!!!!!
That awkward moment when you just bought a handful of fun pieces and then a sale pops up- ugh my life!
Did You See This?
YES, it is VIP Week at Dorothy Perkins, who is quickly skyrocketing to the top of my favorite places to shop, if not already there… and I am particular where I spend my money! LOL
Now, when I say that I shop there often, just last week I spent about 200 pounds…. The time before that? Around the same…
BUT, thank God for New arrivals! LOL And this Leather Dress I have had my eye on! But I have looped up some of my faves in the new arrivals for you to take a peek at then make sure you head on over to Dorothy Perkins !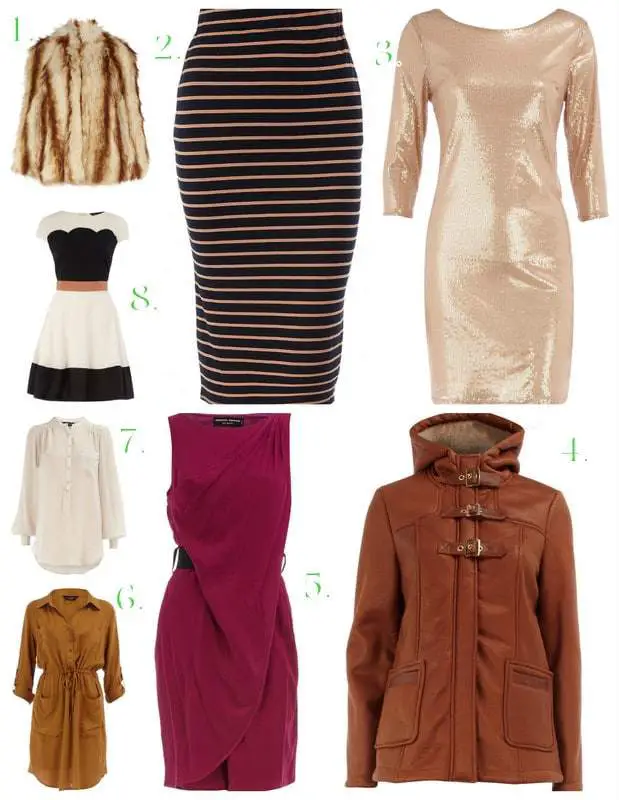 (1. Faux Fur Cape, 2. Midi Skirt, 3. Champagne Sequin Dress, 4. Rust Shearling Jacket, 5. Satin Wrap Dress, 6. Camel Drawstring ShirtDress 7.Champagne Collarless Blouse, 8. Deco Colorblocked Dress )
But what is really cool about this VIP week, is that when you go to the site, only those with the code and in the know will know to enter the special code…
When shopping at Dorothy Perkins, here are a few tips:
The sizing is UK, for me as a size 16 us, I find myself shopping between an 18 and 20 UK at Dorothy Perkins!

I pay via paypal, so I do not get dinged in conversion fees from the bank (yes some do charge this!)
They DO ship internationally, but

DO NOT

have an expedited option for the US, so you will have to wait those 5-9 days!

L

New arrivals come weekly, AND they have shoes and accessories too!

Dorothy Perkins VIP Week endson October 30th2012!
How do you get this discount?
You enter DPVIPE at checkout! Tahdah! 25% off your total!
What are you waiting for?