Wear to Work. Date Night. Daytime Casual.
I was invited by Hanes to create three looks out of their fall 2011 Hanes Collection- and let me tell you I was nervous!
Why?
Well, because not only do I get to share my outfit posts with you, my three looks are going to be judged and voted on by you and everyone's mother on Hane's Facebook Wall! EEK!
So while I was putting my looks together, it was kind of funny. Here in Cali, it is still somewhat warm- definitely not hosiery weather yet… lol. So, me fashioning my looks required me to conjure up a seasonal change of mind!
After countless outfit changes, a pregnant sister, and a rambunctious nephew- WE DID IT! LOL. My sister had to think I was a bit nuts… but she loves me and my neurosis, but that is what a sister does- YES? Oh, and she shoots me! Thank you sissy poo!
Here are my three outfits! If you can do me the hugest favor and vote for me? You can do so here!
My Hanes Style Challenge
Daytime Casual:
Black Out Opaques
This is what I would like to call daytime luxe. I paired my opaques with a leather mini and open knit sweater for a little bit of playfulness and spunk. With my wedge peep toe booties, I would be comfortable and chic, running about town from lunch with the girls to whatever life has to throw at me for the day! Of course, I have to add more flair with my accessories! With my hair short, I love a good dramatic earring! Right now I am also obsessing over rings! Easily I could go from day to night in this look!
In this look: Victoria's Secret Sweater, Dorothy Perkins Leather Skirt, Chinese Laundry Wedge Booties, Bebe Earrings
Wear To Work:
Sheers
Being a full time blogger, my work is usually in my pajamas, BUT when I have to go to important meetings, dressing up is called for! Wanting to stay true to my playful spirit, I threw in a polka dot high low top, and believe it or not, I fashioned this pencil skirt as a dress. I did not want to take away from the feel and cut of the top, so I played with this! Sky high heels and a power statement ring? Yes, please! Poised and polished!
In this look: Dorothy Perkins Polka Dot Top, Embody Denim Pencil skirt, Patent Heels from Ideeli
Date Night: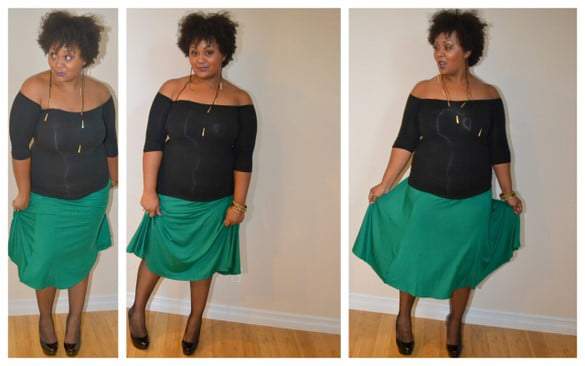 Fishnets
Ahhh, date night! Headed out for a night of dancing to live music and great food calls for a few flirty elements! Pulling out the fishnets, with an off the shoulder top and bold midi skirt, I show just enough skin and playfulness. I fell in love with these earrings, definitely calling an interest to the neckline (wink)! These heels? Yes! These heels give good leg!
In this Look: Rachel Pally Top, Dorothy Perkins Skirt, and Patent Leather Pumps form Ideeli
What do you think? Which look do you like best?
You can vote once a day for my look at Hanes Hosiery Facebook Page! Just click like!