First off, I apologize for the severe lack of posts this week! I have literally been across the country and back! But before I recap for you the fabulousness of New York Fashion Week, I have to tell you all about Fashion's Night Out LA!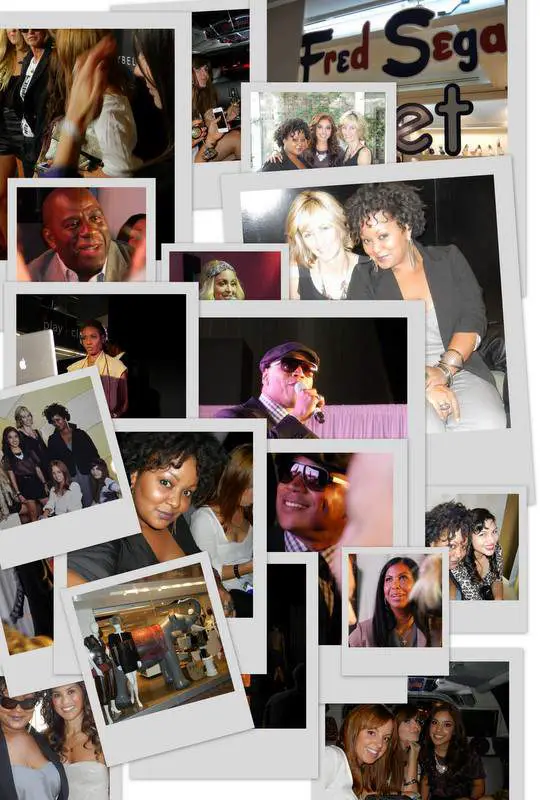 Last week, on the 8th of September, the world come together to shop and celebrate fashion and its impact on the economy with FNO and as one of LA's official FNO LA Bloggers, we had the chance to celebrate in and around LA in style!
It all started with hair! I was invited to get my curls tamed at Serge Normant at John Frieda in Melrose by the fabulous Chris Megia! Lousie, her assistant was just as fabulous as they washed and twist set my hair and smoothed it out with a few curls defined with the curl iron! Definitely a different and playful look for me! And can we say the location? TO DIE FOR!
A pool in the middle of the salon?
YES! It is the home for where you sit under the dryer, making you feel like you have escaped away to a special garden!
After we (I caught up with sweethearts Mom in Red High Heels and Dulce Candy) got our hair did, we jetted over to the Beverly Center where the night's festivities kicked off!
The Beverly Center was PACKED and abuzz with shoppers, celebrities, and lovers of fashion! We made a mad dash for the VIP Room and hung out until the Fashion Show kicked off! BUT before we did, we managed to get our heels on the red carpet for a picture with the ever so fabulous West Coast Editor of Vogue, Lisa Love! Can I just tell you- she is soooooo laid back and cool! I think I have a new crush!
Fast forward to the fashion show at the Beverly Center! Hosted by the petite and boho luxe, Nicole Richie with a really cool appearance by Randy Jackson, the show was to begin! Myself with the other fabulous FNO LA Bloggers had feasted our eyes upon the (uh… boys) fashions with the latest fall looks and trends! Quite a few that caught my eye- if ONLY I could have them all in MY SIZE! (But that is another story!).
After a few more moments in the Beverly Center and we jetted over in high style (a limo!!!! with special shout out to Platinum Express Limo) to the Century City Mall! Okay. So… Please excuse my extreme excitement, but LL COOL J hosted the Century Center FNO LA Fashion Show!!!!!!!!!!!!!!!!!!!!!!!
OMG. While he was with his family (his daughter and Magic Johsnon's daughters walked the runway), this did NOT distract from the fact that I fell in love with LL's sexiness- OK?
*SWOON*
The scene and stage set for the Century City Fashion Show was quite chic, especially as it was outside, and it was warm! The DJ was MC Lyte! How amazing was that! She looked gorgeous! And Magic and Cookie Johnson were in attendance as well! Loved it!
After Century City, we headed to Robertson and made our way up and down the stores and to grab a MUCH needed bite to eat! From there we jetted over to Fred Segal! Got snapped at the SmashBox studios booth which was quite fun!
Because we were on a schedule, we dashed through the store and hopped back into the limo to head back to the Gen Lux after party! HOWEVER, since I had a 6:30 am flight to NY in the morning, I had to bow out! (I know right?)
I had a fabulous whirlwind of a night- even as my feet hurt!! Thank you sooo much to the City of LA and FNO LA, Nicole, Kelly from KIP Morrison and GEN LUX Magazinefor the amazingness of FNO LA!
You can catch all the photos on my Facebook Page FNO LA Album!