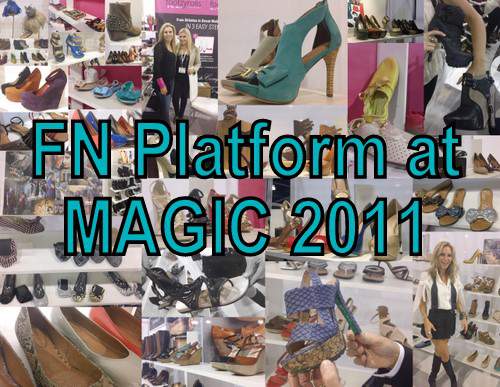 So, as you know, last week I attended Magic in Las Vegas and if ever I had sensory overload- last week was evidence of that. In a Great Way!
FN (Footwear News) Platform deserves its own post because quite frankly- what girl does NOT have a mini fetish with shoes? Even if your closet does not have the collection you avidly and vividly dream of- I literally walked through seas upon seas of shoes!
Day One of MAGIC, I toured FN Platform with the editors of Footwear News along with the other WWD MAGIC Bloggers and with the amalgamation of shoes, I KNEW I had to do a take two and make my way through the amazingness of FN Platform AND this I did on Day 2! On our tour, we made a fabulous circle around the Black Diamond section of Platform! The Black Diamond area featured luxury designer brands, including Jerome Rousseau, Marc by Marc Jacobs, Pollini and Missoni!
On day two, kicking off our morning, we were invited to a fabulous roundtable with shoes designer Miss Trish and were surprised with the ever so brilliant Jerome Rossueau!  We talked trends, blogging, authenticity among bloggers AND designers, the Louboutin case came up and we shared thoughts about that as well! I really enjoyed this roundtable!
Take a look at all the pics form FN Platform!
[portfolio_slideshow]
All in all… I wish I could spend like five days in FN Platform (Yes, I know MAGIC is only 3 days long!)  There were sooooooooo many brands I hadn't the chance to visit! 🙁 There were quite a few brands I had not heard of. AND there were brands I was familiar with that had a few pairs of fabulosity that I have to go and research! Please check out more coverage of FN Platform at WWD!
Basically…. FN Platform- you and I have a date in the spring… 
**Disclosure: I was sponsored by WWD Magic to attend Magic in Las Vegas! **