Have you Heard My latest news?
I am beyond elated about this! A few weeks ago, Fashion's Night Out Los Angeles announced that they were holding a contest to be the official blogger for Fashion's Night Out.
I applied and crossed my fingers. Filed out the mini essay form, listed my Klout, Twitter, and Facebook numbers. I mean what a better way to bring in my 30th birthday right, being that Fashion's Night Out is September 8th, and MY birthday is September 9th?!?!
And guess what my fellow Curvy Fashionistas?
I was CHOSEN!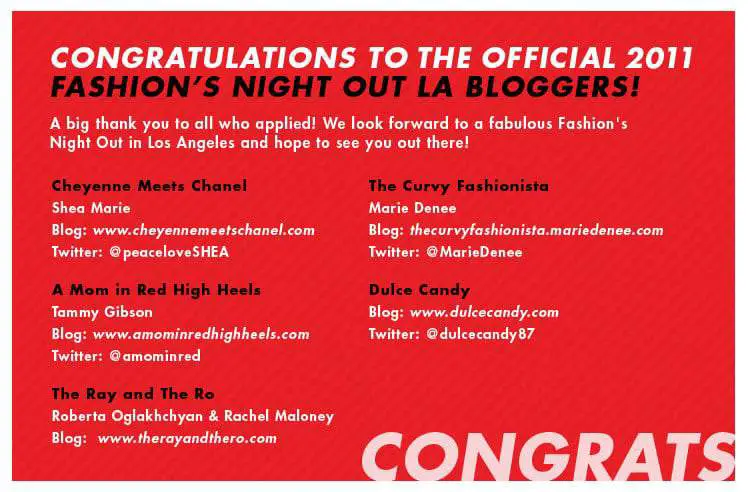 What does this mean? Well, asides from having a curvy fashion blogger representing for the plus size woman; think of me as your Curvy Correspondent for all things Fashion's Night Out in Los Angeles!
What's Fashion's Night Out?
Only the largest Shopping Party internationally! But seriously, Fashion's Night Out is an international project created in 2009 in a partnership between American Vogue, the Council of Fashion Designers of America, NYC & Company, and the City of New York to "celebrate fashion, restore consumer confidence, boost the industry's economy, and put the fun back in shopping."
TODAY, Los Angeles welcomes its third installation of Fashion's Night Out hosted by the Mayor's Office of Economic and Business Policy (seriously, Antonio Villaraigosa and Will.I.Am kicked off last year's FNO at the Bev Center! AMAZE I had so much fun!) and kicking off FNO LA again at the Beverly Center!
SO, with just under 21 days until Fashion's Night Out on September 8th, I will be giving you updates on the happenings Los Angeles and beyond!
On Septemeber 8th, you can follow me on Facebook, Twitter, and Tumblr for my live updates, as I bounce around town to partake in all of the festivities! Seriously, I am BEYOND excited and now- the most serious question of all:
WHAT am I going to wear?
In the meantime, while I ponder this ever so serious question, you can learn all about the official FNO happenings in Los Angeles (follow FNOLA on Twitter, FNOLA on Tumblr, and FNOLA on Facebook!) or locate YOUR closest city's OFFICIAL FNO celebration here!
If you are NOT going out but still want to partake in the celebrations, you can check out Fashion's Night Out ONLINE!
I am beyond GEEKED!