Vote for your favorite cosmetic, beauty, and fragrance for Nordstrom's Beauty Awards!

As I have recently admitted, I am a makeup junkie! I love my eyeshadows, eyeliners, scared of red lipstick, die for a great brow, and am always on the search for the ideal foundation!
BUT, I do have my favorites, as I am sure YOU DO and Nordstrom wants to hear all about it! For the first time EVER, Nordstrom is holding a Beauty Awards, letting US vote for our favorite beauty product!
For one week only:
Few will be able to vote (once a day, during the voting period) via Facebook and on Nordstrom.com for our favorite cosmetic, skincare and fragrance beauty products! It gets better! When you vote, you have the chance to be one of three lucky winners (chosen at random) to win a must-have beauty wardrobe with ALL of the winning products!
WOOT! How is that for an incentive?
Here are the categories that you can vote for your favorite beauty product:
·

Blush

·

Cleanser

·

Eye Cream

·

Eyeshadow

·

Foundation

·

Fragrance

·

Lips

·

Mascara

·

Moisturizer

·

Serum
In conjunction with the Nordstrom Beauty Awards, they are offering a special gift with purchase! From August 8th – 14th, you will receive, while supplies last, a cosmetics bag with 12 deluxe samples (worth $90) if you spend $125 (which is quite easy!) on any cosmetics or fragrance purchase!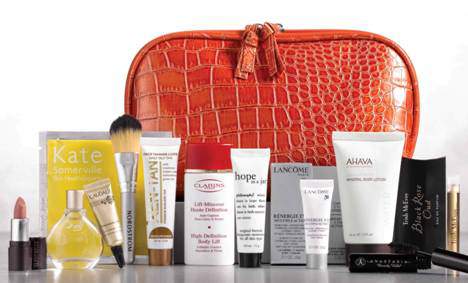 The fabulous and chic gift bag includes products from Laura Mercier, Trish McEvoy, Lancôme, Kate Somerville, Philosophy and more!
Cast your Vote NOW for the Nordstrom Beauty Awards!
Voting ends August 15th 1:00PM EST
Q. Do you have a favorite beauty product? Which products do you go gaga for?