Happy Valentine's month! Whether you have a boo or you are celebrating the love you have for yourself, PLUS Model Magazine has you covered!
I  mean, LOOK AT THE COVER!
HAUTE!
Read all about the cover shot here with Getting To Know Our Cover Models Jennifer Maitland and Laura Wells
From a Fashionable Perspective: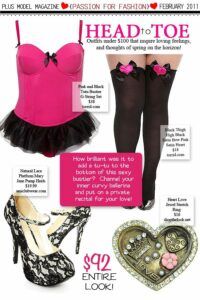 Etsy Love Sugar & Spice
Sweet As Candy by Crystal Cunningham
Up Close and Personal- The Interviews
"The Barriers Are Being Lifted" Our Interview with Australian Plus Size Model Jessica Leahy, Challenging Stereotypes – The Sheroes Behind "True Sheroes", Stylist and Blogger Kristen Turner – Be Vain or DIY!, and Tess Munster: Modeling Against All Odds!
Confidence Boosters
My Shape, My Silhouette, I'm Confident – Sneak Peak into Plus Size Model Angellika Mortons New Documentary and What I Love About My Curves by Tawanna Sams
And I haven't even shared with you all the juicy plus size industry news! So, head over to PLUS Model Mag NOW to catch all of the latest in plus size fashion and modeling at PLUS Model Magazine!